Windchime Walker's Journal


*In addition to this web site I now have TWO blogs--a daily Photographic Peace Quotes Calendar (started 1/1/06) with my original photographic, artistic & written reflections on peace, and my Windchime Walker blog that's been going since 12/23/03. Come visit me!

To read previous journal entries, please go to: Journal 1 archive 2/25-3/24/00, Journal 2 archive 3/25-4/24/00, Journal 3 archive 4/25-5/24/00, Journal 4 archive 5/25-6/24/00, Journal 5 archive 6/25-7/24/00, Journal 6 archive 7/25-8/24/00, Journal7 archive 8/25-9/24/00, Journal 8 archive 9/25-10/24/00, Journal 9 archive 10/25-11/24/00, Journal 10 archive 11/25-12/24/00, Journal 11 archive 12/25/00-1/24/01, Journal 12 archive 1/25-2/24/01, Journal 13 archive 2/25-3/24/01, Journal 14 archive 3/25-4/24/01, Journal 15 archive 4/25-5/24/01, Journal 16 archive 5/25-6/24/01, Journal 17 archive 6/25-7/24/01, Journal 18 archive 7/25-8/24/01, Journal 19 archive 8/25-9/24/01, Journal 20 archive 9/25-10/24/01, Journal 21 archive 10/25-11/24/01, Journal 22 archive 11/25-12/24/01, Journal 23 archive 12/25/01-1/24/02, Journal 24 archive 1/25-2/24/02, Journal 25 archive 2/25-3/24/02, Journal 26 archive 3/25-4/24/02, Journal 27 archive 4/25-5/24/02, Journal 28 archive 5/25-6/24/02, Journal 29 archive 6/25-7/24/02, Journal 30 archive 7/25-8/24/02, Journal 31 archive 8/25-9/24/02,Journal 32 archive 9/25-10/24/02, Journal 33 archive 10/25-11/24/02, Journal 34 archive 11/25-12/24/02, Journal 35 archive 12/25/02-1/24/03, Journal 36 archive 1/25-2/24/03, Journal 37 archive 2/25-3/25/03, Journal 38 archive 3/26-4/24/03, Journal 39 archive 4/25-5/24/03, Journal 40 archive 5/25-6-24/03, Journal 41 archive 6/25-7/24/03, Journal 42 archive 7/25-8/24/03, Journal 43 archive 8/25-9/24/03, Journal 44 archive 9/25-10/24/03, Journal 45 archive 10/25-11/24/03, Journal 46 archive 11/25-12/24/03, Journal 47 archive 12/25/03-1/24/04, Journal 48 archive 1/25-2/24/04, Journal 49 archive 2/25-3/24/04, Journal 50 archive 3/25-4/24/04, Journal 51 archive 4/25-5/24/04, Journal 52 archive 5/25-6/24/04, Journal 53 archive 6/25-7/24/04, Journal 54 archive 7/25-8/24/04, Journal 55 archive 8/25-9/24/04, Journal 56 archive 9/25-10/24/04, Journal 57 archive 10/25-11/24/04, Journal 58 archive 11/25-12/24/04, Journal 59 archive 12/25/04-1/24/05, Journal 60 archive 1/25-2/24/05, Journal 61 archive 2/25-3/24/05, Journal 62 archive 3/25-4/24/05, Journal 63 archive 4/25-5/24/05, Journal 64 archive 5/25-6/24/05, Journal 65 archive 6/25-7/24/05, Journal 66 archive 7/25-8/24/05, Journal 67 archive 8/25-9/24/05, Journal 68 archive 9/25-10/24/05, Journal 69 archive 10/25-11/24/05, Journal 70 archive 11/25-12/24/05, Journal 71 archive 12/25/05-1/24/06, Journal 72 archive 1/25-2/24/06, Journal 73 archive 2/25-3/24/06, Journal 74 archive 3/25-4/24/06, Journal 75 archive 4/25-5/24/06


*5/1/03 In reorganizing my web site files, many photo links--particularly those in my journal archives--have been broken. Please be patient; time heals all broken links...

*Now that I have a digital camera, journal entries may be linked to related photos. To access the photos, simply click on the words within the text that are printed in color.The easiest way to navigate going back and forth between photo links and journal text is to click on your "back" button at the left of your tool bar.

THURSDAY, JULY 27, 2006
As I'm sure my regular readers have already figured out, I have been updating my blogs exclusively of late. I intend to continue to do so for the forseeable future. Those URLs are:
http://windchimewalker.blogspot.com
http://peacecalendar.blogspot.com
Please come visit me there. There's LOTS going on right now that I am sharing through photos and words.


SATURDAY, JULY 1, 2006
Friends, this is a BIG weekend here in Detroit with our annual 4-day Taste Fest. I plan to be down there most every day, so won't have a lot of time for journaling. I invite you to check out my two blogs--Windchime Walker and Peace Calendar--to see whatever photos and words make it into the ethersphere. Have a good weekend yourself!


THURSDAY, JUNE 29, 2006
Tonight I had a real treat. My sweetie joined me at an outdoor jazz concert! If you know Ed, you will know how unusual that is. It just kind of happened, and he said he really enjoyed it. This was a fabulous free concert in our community with the Alvin Waddles Quartet showcasting music by Fats Waller. Charlie Gabriel joined him on sax, vocals and clarinet. Marion Hayden on bass, and Alex Trujano on drums. Such professionals! And you couldn't listen to them without smiling.
It feels like I'm shifting gears in my life right now. I'm finding myself drawn to more creative pursuits. Maybe the sad state of our country and the world is getting too much for me to focus all my attention on. Whatever the reason, I'm exploring new options and they feel good. Photography is one.
I've been salivating over Kim Antieau's most recent photos of flowers on her blog, "The Furious Spinner," and have emailed her to find out what camera she uses. So now I'm waiting for the brand new Pentax K100D digital SLR camera to come into the stores in July. It has the option of using the automatic features that I've gotten used to with my old Fujifilm FinePix 2800 Zoom, but also allows for the use of manual controls, including special lenses. I feel that I'm ready to take my interest in photography to the next level, and this camera will let me do that.
The other creative avenue I want to explore is singing...and with a group that is more professional than anything I've yet tried. In the last two days I've met two women who sing professionally--one was at Leesa's hair salon in Windsor where I get my hair cut, and the other was at tonight's concert. Both were women I'd met one other time, but this time we really talked about their lives as singers. Katherine in Windsor is a mezzo-soprano who is a soloist with the Windsor Symphony Orchestra, as well as other venues in Canada and the United States. She teaches voice at the University of Windsor and privately, and was on her way to the Berkshires Music Camp in Massachusetts where she will teach for five weeks. Cyd sings with the Rackham Symphony Choir, one of Detroit's most prestigious and musically diverse choruses. Believe it or not, I have just filled out and sent in an online audition registration form to the Rackham Symphony Chorus! There is little chance that I would be accepted, but I'd like to give it a try anyway.
There are lots of ways to be a peacemaker; bringing joy and healing through art and music are two of the best I know.


WEDNESDAY, JUNE 28, 2006
Back when I could run and walk with ease, I'd have flying dreams. There I'd be, sometimes under my own power, other times on the back of an eagle or one time it was Big Bird from Sesame Street, flying through the air, always delighted to be doing so. Now I have running dreams, and these give me the same sense of delight as my flying dreams used to do.
In this morning's dream I was running through the streets of Detroit, often sprinting ahead of the men and women who would try to keep up with me. I must have run at least ten miles in that dream--it seemed to go on forever.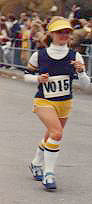 When I dream like this, my body memory kicks in so that I find myself moving with the effortless rhythm that used to be my running style. I was a good runner in my time and my body doesn't forget. I finished my second marathon (26.2 miles) in 3 hours and 44 minutes, just 14 minutes shy of qualifying for the Boston Marathon. That was in 1980 when I was 38 years old. I loved to run then...and I still do today.



MONDAY, JUNE 26, 2006
We got home last night after a wonderful visit with Nan in Hannibal, Missouri. I'm going to send you to my blog to read all about it and see some of the many pictures I took. Deepest gratitude for your gifts of good healing energy for my friend Nan. It appears to be working!
It's getting late here in Detroit and after having taken a nice long swim tonight, I'm feeling ready to turn in. I'm sure you understand.



©2006 Patricia Lay-Dorsey. Please use with attribution.

---
I love when my journal encourages conversation with readers.
Please contact me if you feel so inclined.
---