Michigan Womyn's Music Festival 2001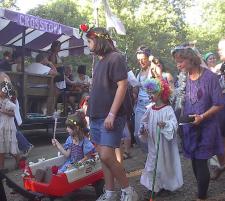 *The easiest way to navigate going back and forth between photo links and journal text is to click on your "back" button at the left of your tool bar.

SUNDAY, AUGUST 5, 2001
I awoke to a bright sunny day with expected highs in the mid-80s. Eddie finished packing the car--to the gills, I might add--and off I went heading west from Detroit on I96 at 9:45 AM.
The drive was most pleasant with open windows and music--Margie Adams' most recent CD and the National Women's Music Festival 25th anniversary sampler--getting me ready festival. By noon the sun was pretty hot so I rolled up the windows and put on the AC; the music continued. Just before Muskegon on the western coast of Michigan, I headed north on M31 for another 30 miles, and took the exit into Hart. From past experience I knew that would be my last chance to call Eddie on my cell phone, so after gassing up the car at my usual station, I called my sweetie. I promised him I'd go out to the pay phones at the Main Gate once during the week to check in. Next stop, the line!
Well, after driving through the small town of Hart, then out on open roads through farmland and forests, I pulled onto the dirt county road 3.2 miles from the MWMF front gate. The end of the line was 2.7 miles in; it was 2:30 PM. I parked in the shade and got out of the car.
As I'd anticipated, a womon (festi-word for "woman"--heaven forbid the word "man" or "men" might be used to identify us!) appeared to help unload and assemble Ona the scooter so I could "do" the line. Thanks to Amy, I was soon out on that hot, dusty road, visiting old friends and making new ones.
"The line" is a Michigan Womyn's Music Festival (MWMF) phenomenon. Every year, womyn get here earlier and earlier to celebrate a pre-festival festival all their own; this year a womon with kids apparently started the line on Wednesday. The MWMF front gate does not open until Monday at 1 PM.
This is a two-lane county road with a speed limit of 55 MPH, so it is necessary to pull way over to the right, and be extremely cautious when walking up and down the line, which is the activity of choice. On years like this--when rain has been scarce--it is a true dust bowl.
Except for security workers trying to keep us safe and to the side of the road, there are no festival services on the line: no porta-janes, no food or water, no entertainment, no healthcare facilities, no childcare. What there is, is terrific community. Womyn come prepared with coleman stoves, coolers, tents, campers, RVs, books, battery-operated CD players, cards, tables, flowers for the tables, comfortable chairs, etc. They set up tarps to sit under or they camp out under the trees for shade, as did Turtle and Rose and their friends. Enterprising womyn like Drea and Jeny use this opportunity to sell handmade crafts. In their case, I heard voices calling "Anyone want to buy a womon?" before I saw them. Ona now proudly carries one of their wire womyn hanging from her front basket.
After visiting lots of festi-friends up the line, I returned to my car. Once there, I saw two womyn walking by with backpacks that obviously contained all their festival gear. I asked where they'd come from and they said they'd gotten a ride to the line from town. Turns out Moniela and Brenda were not from Hart, but from Vancouver, British Columbia! They had left Vancouver on Wednesday and had hitchiked all the way to festival. They were even festi-virgins. That's the way it is with MWMF; womyn from all over the world dream of attending. It is an icon, especially in the lesbian community.
Around 5 PM, I connected with Bonnie and Kathy, with whom I would be spending the night in a local motel. They were the first friends I made in the DART (Disabled Access Resource Team) tenting area during my first festival in 1994. I remember their kindness that year in inviting me to share their tarp at Night Stage performances and sitting with me at meals. Although we only see one another at festival, our friendship is a deep and lasting one. It doesn't hurt that Bonnie and I share a diagnosis of MS, so understand and support one another with that as well.
We left my car in line--Kathy marked the spot I'd saved for them in front of me with a line of shocking pink tape on the ground--and drove in air conditioned comfort to the motel in their elegant van. Did I mention that it was very very hot on that dusty road?
Well, it was heavenly at the motel! We shared a large air conditioned room with two queen-sized beds. Bonnie went next door to the Subway to get our dinner, and we had a picnic in our room. The best thing about this motel was the pool. Luckily Bonnie had told me ahead of time so I'd brought my bathing suit. At dusk we went down to a lovely, large indoor pool that was surrounded by windows looking out on trees and sky; it was filled with festi-goers. I swam a good number of laps and luxuriated in the element of water, knowing I'd be away from it for a week. We went to bed early and slept well. Bonnie's concern over her snoring proved unfounded; I was most comfortable with their sweet sleeping sounds.

At the motel's continental breakfast this morning, a young girl asked me, "Are you going to the music festival?" I asked how she knew about festival and she answered, "I've been going since I was a baby!" In three days, she'll be having her ninth birthday on the Land.
Bonnie, Kathy and I got back to the line about 10:30 PM, two and a half hours before the gates would open 1 PM. By then cars were parked close to the backtop, 3.2 miles from the front gate. Before parking, we decided to drive those 3.2 miles to see how many cars were ahead of ours. Well, Bonnie not only counted every car, van, camper and RV, but every space that might have been reserved as theirs was. According to this method of counting, we were #278 and #279.
Back in line, Kathy kindly unloaded and assembled Ona--we'd recharged her overnight at the motel--and I was soon scooting up the road, checking things out. I enjoyed an impromptu guitar, fiddle and vocal performance by the Yeastie Grrls, and reconnected with Rebecca, a young womon I'd danced with at a Day Stage concert on the Land last year. I saw many other festi-friends along the way.
By 12:15 PM I thought I'd best go back to my car and get Ona packed away in readiness for the gates opening. As soon as it was 1 PM, I knew from past experience that I'd be in the car stopping-and-going for at least 1? hours before I got on the Land.
When I returned to my spot, all I had to do was ask a group of womyn for help and help was there. That's the way it is at festival; often help is offered before I even know I need it. Just the way we'd want the wider world to be.
Soon enough a truck of festi-workers drove by yelling, "Gate's open; get in your cars!" I didn't turn on my air conditioning but did keep Margie Adams piano CD playing to sooth any frazzled nerves I might develop while stopping-and-going for however long it would take to get to the gate. This was my view of the line of cars ahead of me.
The two hours passed quickly, and soon I was waved in the front gate and greeted by smiling womyn. One womon took my ticket and snapped on my lavender Michigan 2001 wrist band. Two more directed my car to the DART unloading zone, where a couple of strong womyn graciously unloaded and assembled Ona my scooter, and then loaded a huge wheeled cart with all my belongings. One of them parked my car while I scooted and the other womon wheeled my stuff over to the DART shuttle stop.
The process from then on is one I know well: 1) get each item in your pile of belongings stickered with a number (mine was #20 this year); 2) go over to the Orientation tent; 3) either watch the orientation video or not (I didn't); 4) sign up for two 4-hour work shifts (I decided to get it all done at once so I signed up for Night Stage Traffic Tuesday morning and Acoustic Stage Security Tuesday afternoon); 5) fill out an index card with your name, address, phone number and work shifts; 6) receive your festival program--what you live by for the week; 7) go back to the DART shuttle stop and wait for your number to be called; 8) watch your stuff as it gets loaded on Duck, Demming, Doris or Dottie, get on the shuttle yourself and enjoy the mile-long ride to DART downtown, your home for the next week.
The surprise this year was that my picture was in the program. At festival, that's like being on the front page of The New York Times. I found out later that I was in the orientation video as well. Gosh.
Everything went swimmingly and I was soon on Doris riding through the Land. As I'd expected, many of the ferns were dried up and browned out, and the leaves on the trees looked mighty droopy. I understand there had been no rain for 39 days.
Unfortunately my own tears watered some of the Land after I heard of the death of Laurie, my next door tentmate for years. What a loss to our community.
Roseannah, DART's strong and compassionate coordinator, was among the first to welcome me back. For five years that dear womon has tied an orange plastic ribbon with my name on it to reserve my special spot under the grandmother oak across from the DART workshop tent. Kristin, a new DART worker, was a delightful and generous-spirited helper who not only carted my gear to my campsite, but put up my tent and organized all my stuff inside it. I'd never before asked for so much help, but it meant I was not exhausted that first day and could truly enjoy the afternoon and evening. Here I am in front of my festi-home.
Dinner was delicous as always. I love their chick-pea hummous and salad, everything cut and prepared by loving hands. While I was eating, three friends from home--Mary, Jackie and Nancy--stopped by for a brief visit on their way to the showers. They looked as hot and happy as I.
After dinner, I visited with a lot of DART friends. I was happy that Laura, Linda, 12 year-old Kaya and her friend Hillary were my neighbors again, and that Natalie and Steph, a sweet couple, were tenting in Laurie's old spot. Melinda and her dog, Klark, were down the path in their usual location, with Andrea and her partner across from them. The neighborhood felt quite familiar.
Risa, a craftswomon and friend, came by to visit and ended up helping me fill out the raffle tickets that I bought from Yemaya. The festival raffle is a grand thing that not only supports MWMF but offers a lot of chances to receive "Oo, ah, fabulous prizes!" (a traditional chant as names are pulled during the Night Stage concert intermissions). The 135 craftswomyn donate the prizes, and a pair of festival tickets for the following year are also given away each day. But the ultimate prize is the festival quilt that is worked on by womyn during the year and by festi-goers all week long; it is always an exquisite creation. One year I won in the raffle. You might wonder what it was that I won? And if I said a "pocket rocket", would you know what I meant? But, hey, I won!
Here are Yemaya and Risa sitting in front of my tent, with the DART workshop tent behind them.
As it was still plenty hot and I knew I had a long day ahead of me with my two work shifts, I decided to hit the hay pretty early...after a shower, that is. Fortunately, I'd gotten smart and brought a sheet so I wouldn't have to crawl inside my sleeping bag. It was so still, I hardly even needed the sheet.

I beat my alarm getting out of bed today. Well, "bed" is a bit euphemistic; sleeping bag is more like it. But even that isn't exactly right; it was way too hot to go inside my sleeping bag last night. OK, I beat my alarm getting off the air mattress today. That's more accurate.
I'm not real fond of setting an alarm at festival, but since my first work shift started at 9 AM and I had to scoot a distance to check in, I knew I'd best use a mechanical wake-up call. But the heat woke me up just fine. Yes, it was plenty hot by 7:30 AM.
I used windchime walker to walk to the outdoor communal sink to brush my teeth, then went to shower off my nightime stickiness. For once I was happy when the water cycled through its cold spell (there's no adjusting water temperature; it's either on or off). I continued walking the paved path through our DART (Disabled Access Resource Team) tenting area until I reached the office where Ona's battery light blinked her readiness to get on the road. That is where electric wheelchairs and scooters are plugged in for recharging every night.
My breakfast was blueberries at the DART kitchen tent and a grapefruit juice that I bought at the Saints, a food-to-buy tent across the main road (Lois Lane) from my campsite. I wasn't really very hungry. Soon it was time to scoot down to Triangle and check in at Traffic headquarters.
Each 6-day camper (festival runs officially from Tuesday-Sunday) is expected to sign up for two 4-hour workshifts during festival week. With anywhere from 5-10,000 womyn and children to feed, welcome, entertain, care for and keep safe, this is necessarily a communally-run endeavor. There are 600 staff and workers who spend from 2-5 weeks on the Land, and a handful of staff who work all year getting ready for festival. For one week every August, the MWMF is the largest city in Oceana County, Michigan.
This year, instead of taking two Night Stage Security work shifts during the week as I'd done in years past, I decided to get it all out of the way the first day. My morning shift was at Night Stage Traffic from 9 AM-1 PM, and my afternoon shift was Acoustic Stage Security from 3-7 PM. I just hadn't taken into account how hot it was going to be on that one day!
But even with the heat, I had a wonderful time at Night Stage Traffic. Meg was a delightful supervisor and it was the perfect spot--as I'd known it would be--to see everyone and everything. The work itself was pretty simple: stopping foot traffic when vehicles drove in or out of the Night Stage road. I even got to go over to the Belly Bowl for my first time ever--it is the workers' and performers' inner sanctum--to pick up some Gatorade mix for the womyn out at Shuttle Base in the parking lot. Gatorade was a prized commodity at this festival.
By 1 PM, I was feeling the effects of the heat. I'd already eaten lunch while working my Traffic shift, so figured what I needed was a rest. It was way too hot to even imagine going inside my tent, so I sat out under the trees and let Eddie's fabulous fan do its work.
This combination fan/water spritzer was a true treasure on the Land. Ed had bought it for me on the Saturday before I left for festival and I can never thank him enough. It got so womyn were buzzing around me like bees around honey, just waiting for a cool-down. As my friends said, it was a real girl-magnet!
After resting, I visited with my neighbors for awhile; Kaya even modelled her beautiful new dress for me. I took another cold shower to lower my body temperature and stopped by the Womb, our healthcare tent, for a cup of Gatorade to rebalance my electrolytes. I'd been faithfully drinking lots of water all day long and had worn my straw hat whenever I was in the sun.
It was soon 2:45 PM, time for my next work shift. One of the most restorative parts of the day was my ride through the forest of beautiful overhanging trees on the way down to the Acoustic Stage.
Again, the work itself was easy. The other two work shift womyn, Christine and Victoria, and Jai, the Acoustic Stage Security coordinator, and I sat around and talked in the shade until folks started gathering for the 5:30 PM performance. My jobs were to make sure able-bodied womyn didn't use the one accessible porta-jane that was reserved for differently-abled womyn, and to keep womyn from sitting on the stage side of the path. Victoria even went up to the kitchen tent to get our dinners, so I was able to eat on the job.
The performances by Alix Olson, a powerful feminist slam poetry artist, and by the Urban Bush Women, an ensemble who weave dance, theater and music into their culturally-aware original works, were breathtaking. This was partly why I had signed up for this work shift; it was where I would have been anyway.
But after working eight hours in the heat--even easy jobs--I was one tired puppy. I visited with friends for awhile, took another shower--my third of the day--and went to bed early. I even managed to sleep through the Tuesday night dance down at the Day Stage. And believe me, with their powerful speakers blaring, that was a true indication of how exhausted I was. Fortunately the night air had a lovely coolness to it, so my tent was quite comfortable.

I was so happy this morning that, except for my required work shifts that were now completed, I'd decided to have an unscheduled festival. It was only the second of my eight years here that I was not going to 3-hour singing or drumming rehearsals every day. Much as I love both of these activities and the communities that form there, I felt the need to lay back and just float on the winds of happenstance. Of course, my definition of "laying back" might be different from most!
The first thing that happened was that I ran into Jamie Anderson on the DART path as I was scooting off to breakfast. Maybe you remember Jamie from my journal entries about the National Women's Music Festival in Indiana last June. She was the bellydancing, baton-twirling, folk singing, comic MC who helped raise so much $$ for the NWMF on Saturday night.
This morning at Michigan she was scheduled to offer a bellydancing workshop at the DART (Disabled Access Resource Team) workshop tent. When I'd read my festival program, I'd been intrigued by the prospect of bellydancing, especially as a differently-abled womon. But I had doubted that I'd be up and ready to move at 9 AM--after all, it was scrambled eggs morning (Wednesday, Friday and Sunday) and I didn't want to miss that. So Jamie and I visited a few minutes before I went on to breakfast.
Food at festival is quite delicious, in my opinion. Totally vegetarian (with vegan options), locally-grown fresh vegetables and fruits, everything cut up by hand and prepared by 100s of womyn every day, hot things cooked over open fire pits. And because the menus are pretty much the same year after year, you can make sure you don't miss your favorite meals.
By the way, breakfasts, lunches and dinners for the week are included in the price of admission, which is on a sliding scale starting at $290 for adults and a fixed price of $75 for children aged 3-16. That includes everything--performances, workshops, a weeklong film festival, dances, health and childcare, shuttles and tractor-run surries, you name it. If you were happy just drinking water--which is good tasting and readily available out of faucets everywhere on the Land--and could stay away from the Craftswomyn's booths, you could enjoy festival without spending a penny over the admission price. I appreciate that MWMF is committed to making festival accessible to all. There are a limited number of ticket subsidies for long-term low-income womyn and/or their children, and womyn 65 and older who are on fixed or no income can receive a 50% senior discount at the gate. That's why Michigan cuts across the cultural barriers of class and economic abilities.
So, after thoroughly enjoying my eggs scrambled with mushrooms, onions and broccoli, I scooted back to DART and joined Jamie's bellydancing workshop. What fun! There were only five of us in the class (she had over 100 at her afternoon Community Center class in the sizzling sun!), so we got a lot of individual attention. And she was great at adapting the moves to our unique abilities. For instance, sometimes I danced standing up as I leaned against my scooter, and other times I danced sitting down with my scooter seat turned to the side (giving me more room to move my arms). Whatever I could do was fine; that was true for all of us.
I haven't yet mentioned the weather conditions on this lovely sunny festival day. Can you believe a high of 100º F, and a very very humid 100º at that? So you can understand why we took a lot of water and rest breaks during our three-hour workshop! Even so, Jamie acceded to our request that she bellydance for us before the workshop was over. Such a good-spirited womon.
By now it was noon and time for lunch. I scooted over to the DART kitchen tent with my paper plates, fork and spoon at the ready; I kept them in Ona's backpack all week. This is definitely one of the advantages of being disabled at festival. Even on the weekend, when there were over 6000 womyn on the Land, I never waited in a food line for longer than 10 minutes. And the able-bodied womyn? Let me show you what their dinner line looked like one afternoon as womyn were getting their food to take down to the Acoustic Stage for a performance (usually scheduled from 4-7 PM). Of course, I've heard of womyn meeting new girlfriends while waiting in those lines!
Speaking of food, I wanted to show you the food preparation tent. This is where the kitchen work shift womyn stand around tables and cut bushels of tomatoes, celery, onions, shuck corn and clean broccoli, smash chick peas for hummous, and accomplish a multitude of culinary miracles. If you look closely, you can see cartons and boxes of fruits, vegetables, lentils and such piled around the inside of this tent. By Sunday, there's practically nothing left. Off to the left out of view is the refrigerated truck--as big as a moving van--that keeps things cold.
There's lots of silliness at festival. Some of it spontaneous and some orchestrated. One of the ways to keep up the morale of womyn who are asked to work hard on hot days is to teach them musical routines to go along with their jobs. At lunch on Wednesday we were treated to a silly song with kitchen utensil percussion by some members of the kitchen crew. By the way, when you go to meals there are no tables to sit at except for the DART womyn; everyone else either sits on bales of hay, the ground or in their ubiquitous beach chairs. Having a scooter with a comfortable, always-available seat was a real perk!
It was hard to keep from snapping pictures every other minute at festival, especially of the children. Every year it looks like we have more young ones, and they seem to take to festival like ducks to water. On this hot day, these two little boys asleep in their wagon definitely had the right idea. And then there was my new friend, Xunan, who fell in love with Ona's horn. All week long she'd see me before her Mom did and come running over to give it a few toots.
After lunch and one of my three showers on this blistering hot day, I scooted down to the Crafts area. This is where I buy most of my clothes and gifts. There were 135 craftswomyn this year selling drums, jewelry, clothing, books, CDs, paintings, graphics, photography, sculpture, woodwork, ceramics, fiber art, glass, healing stones, herbal products, custom-made shoes, massages, haircuts, temporary henna tattoos...just about any creative item or service you can imagine.
Every year I have certain items I must buy: the most important is a new windchime for whatever adaptive device needs it. Ona's windchime had lost one of its bells so that was my first stop. Cynthia of Coyote Moon Music makes the world's best-sounding and artistic-looking windchimes; I've been buying from her for years. So now Ona is sporting a beautiful new windchime that hangs from a piece of manzanita wood from Oregon and is rung by a Mexican agate and assorted stones.
While there my dear friends Amy and Jack stopped by to visit. We first met last festival when my didgeridoo helped soothe Jack in one of his infrequent crying spells. At that time, Amy was in the process of trying to adopt Jack after having been his foster mother since birth. His special needs were causing the state to drag its feet, but Amy was not giving up. In October I received a grand and glorious announcement that Jack and Amy were finally family in the eyes of the state. I could not get over how his strength and general good health had improved over the year. And, boy, did he love Eddie's fan/spritzer!
Another of my regular stops is Wing of Heron drums. Raven, her helper Paloma and I have known one another since I bought one of her handmade Ashiko drums in 1995. This year I needed a wooden stick to play the Nigerian cowbells I'd bought at the National Women's Music Festival in June; not only a stick but some lessons as well. One thing led to another--including my Detroit drum sister Ella stopping by--and we ended up with a pretty good drum jam right there in the crafts tent. To be honest, we did a lot of drumming and chanting about rain, hoping to invite water energy to join us on the Land.
When you've been to as many festivals as I--eight and counting--it becomes like a family reunion. And my primary family are the womyn who tent in DART. Like Helen. I've admired this womon since we first met in 1994. She has never missed since then so we've just gotten closer and closer. And being close to Helen means being close to her "boys", Trystan and Vashti. Helen and her service dogs live by themselves in a cabin in the woods on 40 acres of land in West Virginia. It hasn't been that long that she's had running water, electricity and a phone; she is still without a flush toilet. She and her girlfriend have been together for 14 years, but live separately. Helen is a true womon of grace and power.
After dinner, I scooted down to the Night Stage field to save a good place for tonight's opening celebration and performances. Wednesday is always the best attended concert on the Land, so even though DART womyn have their own seating area, it can get pretty crowded. While there, I ran into one of my favorite festi-sisters, Sparky.
For years, Sparky was a DART worker and I think she was the first womon I met at the Front Gate my first festival in 1994. This womon lights up the world with her smile, and has such a gentle, loving way about her that everyone feels welcomed. For the past two years, she's worked in the Worker's Kitchen, so we only meet occasionally. It's a treat when we do!
It was still over an hour before Night Stage would begin at 8 PM, so I scooted back to DART and hung out with the card players, Tangerine, Bea, Danielle and Marcia. I'd brought along a pint of raspberry sorbet from the Country Store, so I was a pretty popular gal. Ice cold sorbet plus Ed's fan/spritzer was the way to any womon's heart on this festi-day.
Even with the heat, my energy level was high. Probably the excitement of being back at festival. It continued to be like old home week when I got down to Night Stage before 8 PM. There was my dear friend, Ginni Clemmons the folk singer/songwriter, with whom I've been in email correspondence all year. As she lives in Hawaii, we only see one another at festivals. It felt particularly important to give her a hug this year because she'd just finished companioning her father in his transition through illness and death.
I tried to get pictures of the audience at Night Stage, but it was impossible to get them all in. I guess you'll just have to imagine 1000s of womyn with smiles on their faces, covering a large field surrounded on three sides by big old green trees. And after dark, spread out under a crowded canopy of sparkling stars in a midnight blue sky. Pretty darn idyllic.
The opening ceremonies and performances were wonderful. According to the performers, this Michigan stage crew is as good as it gets. From an audience point of view, it's heavenly.
Believe it or not, I still wasn't done after Night Stage was finished, so I scooted over to the August Night Café, the afterhours performance and snack space. While there I connected with another dear friend, Jo,and her old high school classmate, Joan. Jo, another womyn with whom I stay in close email communication, recently completed a Masters program in Boston, and will soon be moving to Germany to be with Chris, her partner. I met them both here on the Land a few years ago when they were workers at DART. The past two years, Jo has worked at the Festi-wear tent but we still manage to spend time together.
Tonight, Jo, Joan and I shared cheese popcorn and conversation until we all decided it was time for bed. I crawled into my tent at 1:30 AM and fell right to sleep.

In an interview later in the week for a Lesbian and Gay Quarterly article on handicap accessibility at MWMF, I was asked what is the most important part of Michigan to me. My answer? The womyn.
Womyn like Melinda, my longtime neighbor in DART. Believe it or not, she has been to festival 18 of her 20 years! Her mother, Liz, was a craftswomon and always brought her daughter with her. They still come to festival together, but things are different now. Five years ago, Melinda was in an accident that caused her to lose sensation in and the use of her lower body; three months later she came to festival for the first time in a wheelchair. It has been a privilege to see how this strong young womon has grown and flourished year by year. She gives Klark, her canine companion, credit for a lot of it. Here are Melinda, Klark and Rachel, her friend.
Another wonderful womon is Brenda. We first met at festival three years ago when she and her two sisters were festi-virgins. They've never missed since. Actually we see one another every so often at Detroit drumming events, but it's at festival that we really connect. Now, Brenda is famous for many things in the wider world--she's an expert troubleshooting labor negotiator who travels all over the country--but to me she's most famous here on the Land for a most unique habit. Brenda curls her hair every night at festival! Not only that, she wears full makeup. If there were a best-dressed award on the Land, my friend Brenda would definitely win it. And she has a great sense of humor or she wouldn't have let me take this picture! By the way, if you were ever curious about what our DART showers look like, you can see them up the path behind Brenda.
I had a hard time getting going this morning. The heat felt particularly oppressive and my body was like a lead weight. A cool shower helped but I was definitely not at my top form, so I just laid low. I visited with friends and then scooted down to the crafts area for awhile. Actually I was gearing up for the political activist workshop I'd seen in the program called "Women and the Corporate State". It looked like just what I'd hope to find here.
After an early lunch, I stopped at my tent to pick up the 30 copies I'd printed of Starhawk's eyewitness account and reflections on Genoa, and scooted down the paved path to Triangle and the workshop areas. On the way I passed Bush Gardens, one of 10 distinct camping grounds on the Land.
Actually Bush Gardens was used by Elvira Kurt, a most funny MC, in one of her routines on Night Stage. On her Top Ten List of how to tell if a womon was a Christian Right infiltrator on the Land, #6 was that she thought Bush Gardens was named for the President!
I arrived early--the workshop was scheduled to run from 1 to 3 PM--and was surprised to find so many womyn already there. On this extremely hot day, I'd wondered if folks would be up for discussing such a heavy topic. How wrong I was! We ended up with over 50 womyn, young and old, working class and professional, white and womyn of color, urban and rural, experienced activists and womyn who wanted to be educated, from Italy, France, Australia, Canada and the US.
Two activist/organizers from Toronto, Anna Willats and Helen Victoros, facilitated the workshop. I was most impressed with the description they'd written for the festival program:
WOMEN AND THE CORPORATE STATE
Talk, learn and teach about privatization of public services, the growing money gap between rich and poor/white people and people of color, use of police to repress people/defend owners, what's happening internationally, how to work in solidarity and fight back strategies.
They began with a brief presentation and then opened the floor (more like the ground) for discussion. Well, might I say we needed 5 days, not 2 hours! Such different perspectives, so much lived experience, information, websites to explore, groups to hook up with, issues to address. Anna and Victoria had their hands full just trying to make sure everyone who wanted to speak had the chance to do so. Even though we merely scratched the surface of this mammoth topic, I think all of us felt energized and educated by our time together. We agreed that we needed way more time than this, so we encouraged one another to offer more workshops next year. Actually the ideal would be to have a week-long Intensive so we could really delve into the issues and create a strong global network. Festival is the perfect place to do so.
There was one white-haired womon in the circle with whom I particularly resonated. It felt like our perspectives were in tune with one another and that our activism came out of similar places within ourselves...besides she obviously had her feet on the ground and a great sense of humor. Later in the week, Pat and I met on the path, reconnected immediately and agreed to work on presenting a proposal for just such an Intensive workshop next year. Her experience as a history/women's history high school teacher and longtime activist should fit well with my decades of group facilitation and current commitment to the anti-corporate globalization movement. I was especially encouraged when I heard her say, "We need to turn Michigan into a movement!" My sentiment exactly.
After the workshop I scooted over to Triangle, near the Crosstown tractor stop, to wait for a DART shuttle to take me out to the pay phones. It was time to call my sweetie. Fortunately, the Land is still not cell phone-friendly. I hope it never is.
While waiting for one of the 7 phones to be free, I met Eileen. I must say she had some of the most artistic tattoos I'd yet seen on the Land...and believe me, there were lots to see. Then after having had a good conversation with Eddie, I met Luanne, who was the next in line. Here's a photo of Luanne talking to her father in one of the tiny stand-up phone cubicles. Just wanted to show my sweetie what this looks like.
My, it was hot waiting for the shuttle to return! Even though we'd heard there was a thunderstorm on the way, there was no hint of it yet. All I could see, taste, touch was dust everywhere. The idea of rain felt like an impossible dream. But the day wasn't over yet.
When I returned to DART downtown--thank you, "T"--it was time to go to dinner. By now, the sky had clouded over and the winds had picked up. It looked, smelled and felt like rain was finally on its way. One of the DART workers said the storm had just hit the Front Gate. On my way over to the DART kitchen tent, I was Chicken Little, shouting, "The storm's at the Front Gate! Storm's at the Front Gate!"
There was a line of womyn waiting to get their food so I pulled in behind them. If indeed the stormwas at the front gate, there was no way I was going to get under the kitchen tent before it hit. But either the storm was extremely slow-moving, or my Chicken-Little information was premature because I managed to get under the tent and get my food before the sky fell.
What a glorious storm! Womyn were out dancing in their bare skins beside others who were bundled up in serious rain gear. Funny juxtaposition of images. Our DART kitchen tent was packed tight as sardines, which was actually loads of fun. My friend Kim enjoyed it because she got to hold Jessica's adorable baby boy, Jedidiah.
The rain continued for over an hour. During that time, some of us were treated to the best show of the week (in my humble opinion). Two lakes quickly developed in front of that large food preparation tent I'd showed you yesterday. Around the one closest to the tent, a circle of womyn and children formed. They were playing some kind of game like Rabbit Finds A Hole. In the middle of the lake closest to us, there was a pick-up football game.
Have you ever seen human bodies completely coated in mud? If not, I'm afraid you won't be able to imagine what we saw during the next hour. Oh, how I wish I could show you the photos I took, but if I did my site would probably be censored. But let me tell you, they are my favorite pictures of the whole week!
The circle players had a nice game going until one womon--isn't it always the way?--picked up a handful of mud and let it fly. It soon turned into a free-for-all. Then they started mud wrestling. All the while, the football players were muddy, yes, but still intent on their game. Not for long. All of a sudden, the mud wrestlers attacked the football players and that was all she wrote. No, actually, the football players soon went back to their game, just looking lots muddier than before! The next game was for the mud wrestlers to capture clean womyn who were walking by. They weren't rough on them, just determined to muddy them up. Fortunately those of us in the DART kitchen tent were off limits. Good thing.
You know, I went to the Night Stage performance that night and I'm sure it was good--they all were--but I can't remember a bit of it. The mud show is so vivid in my mind that it's hard for anything else to compete.
I do remember that that night we had our first fire in the DART firepit. It was good to sit with the womyn and sing and talk like we've done so many years before. And what great sleeping weather! I even crawled inside my sleeping bag for the first time.

By Friday, I had heard of the deaths of three of our most powerful DART womyn. I've already written of Laurie, my next door tent neighbor, whom I heard about in the shuttle coming onto the Land on Monday. When I later asked Robyn about Linda, whom she and her daughter Kate always assisted camping in DART, I learned that she too had died. Such sadness.
Linda was fragile in her body in the years I knew her, but with such a spirit of life and determination that her presence was unforgettably strong. She was here again last year with her friends and her loving canine companion, wheeling around the Land in her electric wheelchair with a smile on her face. I will always see her in my mind's eye at the Acoustic Stage in a state of bliss as she listened to her favorite womyn performers.
And then I heard of the death of Connie. How grateful I was that she had managed to come to festival last year. It was such an undertaking for her, but apparently was at the top of her list of enjoyable things to do. Last year she had two assistants to give her 24-hour care, a hospital bed, a lung-suctioning machine, oxygen and two tents for all her medical equipment.
I remember standing beside her bed having a good visit with her the last day of festival. Even though it was harder than ever for her to speak--she needed to be suctioned and given oxygen every few sentences--Connie was still full of projects! For instance she was asking every DART camper to fill out an index card with contact information so she could create a network for us to stay in touch. As an early disability activist, Connie had written and published books on the subject, and was a popular speaker and workshop facilitator. I'd benefited from her grace and wisdom my first year at festival in 1994 when I took a workshop she presented. It was the first time I'd allowed myself to come face-to-face with my new identity as a disabled womon. What a privilege to have had Connie as a model.
This morning we awoke to a gorgeous crystal clear sky and mild temperatures. Everything looked fresh and new after yesterday's rains. I dressed and scooted over to breakfast. Yum! A scrambled eggs morning! When I got back to my tent, I saw my didgeridoo friend and teacher, Merribeth, setting up for her noon workshop in the DART workshop tent. Setting up was a very big project as she'd brought at least 20 didgeridoos for the womyn to use. Merribeth runs a store in Indianapolis where she sells a wonderful assortment of artist-made items, including didgeridoos from Australia and the Southwest United States.
Her concern that not many womyn would come to "Learn To Play the Didgeridoo for Fun, Meditation and Healing" proved unfounded; more than 35 womyn joined us for at least part of the two hours. And they loved it,as you can see in this photo. And I loved it because Merribeth used me as a subject to show how to do a didgeridoo healing. Here are Merribeth and Ruth, her helper, showing us how to blow this amazing instrument.
After the workshop I scooted over to the Day Stage to catch Mz. Fishe and the New Groove. Well, they really got down and so did I! It was a blast to dance again with Rebecca--my dance partner from last year's festival--while I leaned against Ona the scooter for support. I did lots of dancing this week, some standing and some sitting. Either way, my body just couldn't stay still!
Friday was my big music day. Following the Day Stage performances, I scooted back to my tent to get my special plastic food container. I wanted to take dinner down to the Acoustic Stage performances scheduled to start in less than an hour. While in front of my tent, I snapped this picture of my neighborhood. Doesn't it make you want to be there? It sure does me.
I then stopped at Melinda's tent and hung out for awhile--as I often did--with her, Helen, Andrea (another power-filled womon on wheels), Liz (Melinda's mother), Phoenix, Denise, Chris, Rachel and other friends. Melinda's tarp-covered "front porch" was a favorite gathering place for a number of womyn in my neighborhood. We had most interesting discussions, some of which addressed subjects wheeled womyn know well, like how to handle bowel/bladder surprises and how to keep guide dogs working the way they should. I learned a lot from our discussions, humor and honesty being their trademark.
Soon it was time to scoot over to the DART kitchen tent, fill up my covered plastic container with savory casserole, three bean salad, tossed salad and corn on the cob, and make my way down to the Acoustic Stage.
I had missed most of Lucie Blue Tremblay's set but what I heard was wonderful. Then we were offered an unexpected treat. Usually we've at least heard of the festival performers even if we haven't seen them ourselves, but the next act, LAVA from Brooklyn, NY, was new to us all.
WOW!!! These five women pushed every movement envelope imaginable. From the trapeze to group acrobatics on the stage, they held us spellbound for over an hour. When they finished, the entire audience jumped to its feet and screamed for so long that two of the performers came back onstage with their cameras to get a picture of our enthusiastic response. No wonder their director, Sarah East Johnson, has won both BESSIE and OBIE awards for her work with LAVA. They are not to be missed.
Well, it wasn't over yet. The next performer was one of our favorites, Evelyn Harris. Maybe you heard her when she was with Sweet Honey In the Rock, but since going solo, Evelyn has really come into herself. And I particularly enjoyed seeing our One World Inspirational Choir accompanist, Esther Blue, performing with her on piano and hearing Gabrielle Schavran on the cello. It was an exquisite performance.
After the final curtain call, I was feeling so mellow I just sat in Ona savoring the beauty I'd just experienced. Jamie Anderson came up to chat and asked if I'd like to join her and some other womyn who would be bellydancing with Ubaka Hill's Drumsong Orchestra here at the Acoustic Stage on Sunday. Of course I said yes.
So a small group of us--I was the only wheeled dancer--worked out a simple routine. Luckily we were only going to dance for one number so it wasn't that big a deal. We then rehearsed with the Drumsong Orchestra who were having their sound check. How ironic that the year I'd decided not to be part of either the choir or the Drumsong Orchestra, I was going to be performing anyway! The quirks of Nature.
I then scooted over to the Night Stage...after picking up my obligatory snack and apple juice. I think this night it was cheez puffs. By the time the sun had set it was so cold that I scooted up to the Festi-wear tent (unfortunately, Jo wasn't there right then) and bought a fleece pullover, my first item of Festi-wear (clothing with the MWMF logo) ever. And was I glad I had it when I decided to stay for Le Tigre, a feminist, punk, electronic band from New York.
In recent years, Michigan has been actively trying to bring in performers that the young womyn like, and this was one such group. Actually, I liked them too. And I wasn't the only one. Dancing right beside me in the DART seating area--there were only three of us left--was a womon named Alice. Now Alice had the bummest knee I've ever seen but that didn't keep her down for a minute. We talked a little between the songs and I came to find out she was exactly my age (59), from Grand Rapids, MI (100 miles from the Land) and had not attended a festival since the 1970s. What a feisty womon!
We stayed and danced until the bitter cold end. I then scooted up to the DART firepit and hung around until I got sleepy. Back in my tent, it was so chilly that I stayed in my clothes and snuggled deep inside my warm sleeping bag.

I did something today that I'd never done before: I actually got up in time to watch the start of the Lois Lane wheelchair/running race. This is a traditional Saturday morning event that I'd heard from inside my sleeping bag for years, but had never seen. But, durn it, my friends were going to race in the wheelchair division at 7:30 AM and I just had to be there to cheer them on.
Melinda and Klark got off to a strong start, with Helen and Andrea not far behind. It was Andrea's first race and I really admired her for trying it. I knew from years past--when I'd used my 3-wheeled bike on the Land--that they were going to encounter some tough inclines. Well, the order of finish was Melinda, Helen and Andrea, but in my book they were all winners. And the way they cheered for one another one proved that.
After the wheeled womyn had completed their race, it was time for the running womyn to meet their own challenges. The start was rather crowded, but by the time these womyn had covered 5 kilometers on hilly dirt roads, things had thinned out a bit. We had a festi-clown coordinating the spectators so the finish was a lot of fun for everyone. Here's an early finisher named Nicky running through our balloon-coiffed crowd.
On my way back to DART--we'd been at the Community Center--I ran into a festi-friend whom I'd not yet seen this year. Julia had stayed in DART last year (her first festival) and we'd spent time together at meals and at Night Stage. A most interesting womon. Well, this year she had spectacular news: she's the Green Party candidate for Mayor of New York City! So if you're a resident of NYC, be sure to vote for Julia Willebrand.
By now it was time for breakfast so I scooted over to the DART kitchen tent. Once there I was delighted to meet up with friends from home. This was Janis's first festival and she'd brought her young daughter Sierra whom I knew from Notable Women chorus rehearsals. Turned out Sierra was loving festival and was particularly excited that she'd be celebrating her eighth birthday on the Land tomorrow morning. They were planning to leave mid-day so she could also be with her Dad for part of her birthday. Here's Sierra wearing (in her own unique way) the balloon hat I passed on to her.
While enjoying my scrambled tofu with vegetables and an interesting conversation with Naomi from the Bay Area, I heard what sounded like live music nearby. At first I thought it must be a sound check at one of the stages, but it didn't really sound like that. Naomi was the one who knew what was going on: it was a music jam at the kitchen rehearsal tent. Well, nothing could stop me from scooting right over to check it out.
Once there, I was invited to join the jam using any instrument I wanted. Since my Nigerian cowbell was hanging on Ona the scooter's handlebar just waiting to be rung, I chose that. As the morning wore on we ended up with a regular band--trumpet, sax, bass, guitars, mandolin, keyboard, harmonica, drums, tambourine, penny whistle and cowbell! We even had some vocals. I want to thank Zéalla Flores for offering this amazing workshop.
By now it was about 12:30 PM. I had business in the crafts area, so started to scoot down there. How happy I was to run into the Redheads Parade! I just had to join that. What most folks don't know is that before my hair turned white, I was a strawberry blonde, in other words, a redhead!
This is an annual parade that goes through the crafts area, the Day Stage audience, over to the kitchen tents and ends up in the Community Center. It is always lead by a lovely redheaded Raffle worker, and we pick up redheads as we move from area to area. There are traditional chants--like "Red on the head; fire in the bed"--and is open to redheads by birth and by choice. I added my own personal chant of "White head, born redhead!" Here are some of the redheads assembled back at the Community Center. Sure wish I'd taken their picture in the sun where they looked positively dazzling!
After that excitement I scooted back over to the crafts area. I was trying to decide whether to try to find some sharp outfit to bellydance in tomorrow, or to have my body painted and just wear my sarong. I was happy to elicit the help of my new friends from DART, Liz and Jody. Though officially MWMF festi-virgins, these womyn knew what was what. Of course the fact that they were longtime participants and workers at West Coast women's music festivals, meant they fit right in here.
Although there was an outfit they favored, I decided to check out the bodypainting option before buying anything new. But first, I wanted to go sit in front of my tent and chill out for a little while. It had already been a pretty full day and there was lots more to come.
Once there, another new friend stopped by to visit. Melanie from Toronto is an activist who had been introduced to my web site by a sister activist in Windsor, Ontario before coming to festival (her first). We had a good time talking about the Organization of American States (OAS) demonstrations in which we'd both participated in Windsor over a year ago. And she encouraged me to explore the bodypainting option because of her positive experience with a brand new henna tattoo. Festival organizers do not allow any permanent tattooing on the Land, but temporary henna tattoos are very popular here.
So, after Melanie went on her way, I scooted over to the tree under which Jane and a couple of other womyn had been bodypainting womyn all week. Penny and Janis, my friends from home, were sitting there with a good number of other womyn. Janis had already been painted earlier in the day, and Penny was patiently waiting her turn. There was one womon being painted at that moment; here is a backside view. Wish I could show you the full paint job, but again I'd probably be censored or something. Too bad. Their art was gorgeous.
The line of womyn waiting to be painted was very long, but Jane kindly offered to paint me tomorrow morning at 9 AM in the Community Center. That decided it for me as to what I would wear (or not wear) for my bellydancing performance!
I stopped to watch a great game of hackysack. I swear I'll never get over being in awe of the agility of womyn like these. They make it look easy and I know it's not.
It was now time to pick up dinner--Penne Pasta Puttenesca, corn on the cob, steamed broccoli and tossed salad--to take down to the Acoustic Stage. I missed most of the wonderful guitarist Mimi Fox's set, but was in time to experience Linda Thomas Jones and Ibu Ayan, a talented ensemble of percussionists, dancers, singers and actresses. They performed a dynamic mix of Yoruba and South African chants, Brazilian sambas, gospel hymns and spirituals, plus an original lullaby written by Linda Thomas Jones for her new grandbaby. And next up was the womyn's music icon, Cris Williamson. Though I'd recently seen her perform at the National Women's Music Festival, I was deeply touched by her beauty and sincerity here in this magical glen. Nonetheless, I left before her curtain call because I didn't want to miss a minute of the annual Gaia Girls Parade.
All week long, girls aged 5 and older have had their own activities at the Gaia Girls Camp, which is on the womyn's Land but in its own area. Boys from ages 5-10 go to a separate camp called Brother Sun; they are only allowed on the womyn's part of the Land through the age of 4.
Very soon, here came the girls, their mothers and caregivers, drummers, stiltwalkers (womyn from a weeklong intensive workshop) parading together down Lois Lane from the Gaia Girls Camp to the Night Stage. This was a highlight of the week for us all. In the parade we also saw, for the first time, the Festival Quilt that womyn had been working on all week (and others had been preparing all year), a quilt that would be raffled off at the Saturday Night Stage.
There was one more place for me to go before scooting down to the Night Stage. I'd heard that Lucie Blue Tremblay, the beloved womyn's music singer/songwriter from Quebec, had given our DART womyn an impromptu concert last night, and that she'd promised to do the same again before Night Stage this evening. What a sweet moment to share with my festi-sisters, and what a thoughtful thing for Lucie Blue to do.
The Night Stage performers--Zrazy, a fabulous duo who mix Irish music and jazz, Nedra Johnson, the R&B guitarist who blends her African heritage with terrific funky rhythms, and finally, the punk rockers, Amy Ray and the Butchies--all put on great shows. But you might not be surprised to hear that I ran out of steam before the music did. Last night's dancing buddy, Alice, couldn't believe it, but there it was.
So I scooted back home to DART where Jaime, one of our wonderful workers, walked with me to my tent and then drove Ona back to the office for her overnight recharging. Somehow the thought of using windchime walker to walk from the DART office to my tent seemed beyond my weary body's abilities tonight. And even though there was a dance at the August Night Café that started after Night Stage, I never heard another thing.

I had set my alarm so I'd be up in time to meet Jane, the bodypainter, at 9 AM as we'd agreed, but my body woke up on its own. I even had time to get some scrambled eggs with vegetables first. I knew this would be a long day with few opportunities to eat, so was happy to stoke my body-furnace before I got in the swing of things. It was rather chilly as you can see by the way the womyn sitting around the DART firepit were dressed. And I soon would be quite un-dressed. Brrr!
I'd already decided that I was going to live this day without my camera. Sunday at festival is such a sacred day that I just wanted to be there, rather than be looking for photo-ops. Besides, I couldn't imagine finding even one more picture that I'd be willing to delete from among the 82 allowed by my photo card. I'd already been through them countless times trying to free up some space. Of course, as it happened, I did end up deleting a few more and adding to my stash, but most of those I can't share here. Bodypainting necessarily means your body is bare. But don't worry, I'll give you one little eye into the process.
Jane was right on time and we got started immediately. I thought I had a busy day ahead! Jane was off to give a breast-casting workshop and then would be going down to the Acoustic Stage to paint members of the Drumsong Orchestra before their performance. She had mixed a royal blue with silver so I had a regal single-color paint job. I wish I could show you the entire finished product, but here's the belly dancer she painted on my belly.
Luckily the sun had warmed things up a bit by the time we finished, so I scooted over to a sunny spot in front of the crafts area to sit and let the paint dry (she uses acrylic paint). What happened next is what I spoke of later when folks asked what had been my most prized "Michigan moment".
I was sitting very still so as not to smear any of the images on my body. An orange and black swallowtail butterfly came and landed on my right breast. It quickly flew off, spiralled in the air above me, and came to settle on my left breast over my heart. And there it stayed. I watched it close its wings so the dusky underside showed, and then leisurely stretch them out completely with orange and black glistening in the sun. After timeless time, it flew off, spiralled above me again and landed briefly on my left leg. This butterfly continued to flutter around me until I was completely dry and had to scoot on my way.
As my intuitive friend Turtle said when I told her the story, "You are going to undergo a major transformation of some kind this year." In earthbased spiritual traditions like Native Americans practice, the butterfly in all of its cycles symbolizes change. I thought of her words later in the day when I saw a caterpillar crawling on the ground beside me at the Healing Circle. And even more so when Teresa, my DART helping hands, found another caterpillar crawling on the bottom of my tent as she took it down on Monday morning.
After Turtle--my official "dresser" for performances--had tied my sarong below my belly, I was ready to meet Jamie Anderson and the other bellydancers at Workshop Area 1 at 10:30 AM for our final rehearsal. Happily, our numbers had grown. We looked pretty spiffy, if I do say so myself. We went through our routine until we all felt comfortable with it. As the Drumsong Orchestra's performance was scheduled to begin at 11:30 AM, it was soon time for us to walk/scoot down to the Acoustic Stage. Jamie and I had a good talk on the way. I sure do like and respect that womon.
Once down in the Acoustic Stage glen, we met up with more of our dancers. What a beautiful group of womyn! Our dress went from traditional bellydance attire to bare breasts and flowing skirts to bodypaint and sarongs. And there was dear Jane moving through the crowds of performers with her royal blue/silver paintbrush, offering to paint whomever wanted painting. Jane was not the only one; another womon was adding lavender to the mix. Oh, we fairly sparkled!
Sunday is very special at festival. You could say it's our idea of church. Womyn who have spent at least three hours a day in Ubaka Hill's Drumsong Orchestra and/or Aleah Long's One World Inspirational Choir, offer to the community the fruits of their time and talent. First the drummers--usually close to 200 womyn--and then the smaller but no less power-filled choir perform on the Acoustic Stage before 1500-2000 womyn. Following these performances, there is an open Healing Circle for all who need to be healed and who want to share healing with others. Kay Gardner and participants from her weeklong intensive workshop, "Singing in Sacred Circle", join with the drummers to facilitate this sacred gathering on the Acoustic Stage lawn.
Well, what can I say about our bellydancing performance? Words can't begin to tell what it was like to be in front of thousands of smiling faces and cheering voices. The more we shimmied and bounced, the more they screamed. Pretty durn fun! And Ona and I did our part, you can be sure.
But fortunately we were only on for one number, so for the rest of the drumming and later, the singing, I could simply close my eyes and float on the wings of sound...or boogie down, as need be. To say many more words would diminish its wonder.
I will say that several times during the performances, I scooted away from the crowd onto the dirt road where I could still hear the music but all I could see were summer breezes rippling through heavy green leaves and puffy white clouds dancing across the bright blue sky.
In years past, I'd let my body get depleted of food and water during this Sunday marathon of song and healing. But not this year. Before the Healing Circle formed, I scooted up to the DART kitchen tent, refilled my water bottle and made a peanut butter (organic, of course) and honey sandwich and got a banana to go. Better to be late and nourished than on time and hungry or thirsty.
As I was learning to take care of myself, so were Kay Gardner and the Healing Circle facilitators. Instead of forming the circle in the blazing sun as we'd done in years past, they set it up under the huge grandmother oaks at the entrance to the Acoustic Stage. It had always seemed strange to come from a healing circle with a sunburn! But you'll see later that Sunday sunburns were still in the picture.
Again, I'm not going to try to put words to what happened under the sheltering arms of those mighty trees. We were each healed, whether lying in the center of the circle, going around from womon to womon offering healing, or holding the energy of the circle in the pulsebeat of our drum, the breath of song or the presence of silence. It went on as long as it needed to...and not a minute more.
While scooting slowly up the dirt road that cuts through a leafy green forest, I met Susa, the mother of a little girl who had been at the center of the Healing Circle. It was one of those graced moments when everything fits together and you know you are in exactly the place you are meant to be. We sat beside the road and talked for at least half an hour.
After eating a delicious dinner--curried lentil stew, banana yoghurt raita, sesame kale and tossed salad--I scooted over to the crafts area. Cynthia of Coyote Moon had asked me to return to her booth on Sunday afternoon; she wanted to give my new scooter a gift. Well, Ona now sports a beautiful new necklace made of driftwood, beads and stone. Thank you, dear Cynthia.I also had some present-buying to do for my sweetie...a beautiful deep-voiced windchime for his office.
The sun was lowering in the western sky when I decided it was time to remove my costume. That meant going to the DART shower and scrubbing until my skin was no longer blue but red. At first I thought the red color was from my vigorous scrubbing--acrylic paint is not all that easy to wash off--but I soon saw something that knocked my socks off (if I'd been wearing any). I had a fantastic body tattoo! Wherever there had been blue paint was now white, while everything around it was a bright shade of pink. A negative image of the original design.
Well, I'm here to tell you that I've never in my life been more excited about a sunburn. Everyone I showed it to was amazed, even longtime festi-goers, even Jane the bodypainting artist. Of course I was running around flashing my body tattoo everywhere I went after that. Wish I could show you but I'm afraid you'll just have to use your imagination.
Sunday night is the final night of festival. There is a traditional Candlelight Concert at 9 PM at the Acoustic Stage. One enters through a path lit by luminaria (candles sitting in sand in small paper bags), and instead of applause, the acceptable response to each song or dance or poem by the festival performers is an audible sigh. The Michigan Womyn's Music Festival, like any country, has its own--often unwritten--set of cultural expectations. Ruth Barrett, the well-respected Dianic Priestess, facilitates the concert, while Falcon, her partner, leads the flame-bearers who illuminate the stage. It is a tender, dramatic ending to a week of living in Womyn's World.
I say "ending", but that's not completely accurate. The final activity of the night is not quite so silent; it is a big dance with DJs, loud music and red, green and blue-lit treetops at the Day Stage. I did my share of dancing until the sky was lit by electricity of another kind. And then I barely beat a rousing thunderstorm that dropped buckets of water on this parched Land. My harbor in the storm was the DART office where I had fun hanging out with some of my favorite workers. Here's my final festival picture. It is of Debra, Maria, Deborah (from the UK), Kristin and Valerie (a former DART worker who was visiting).
When the rain let up I walked home to my tent for the last time, this year anyway. Happily, my thoughtful neighbors had put everything I'd left outside my tent into the DART workshop tent for safekeeping, so I would not have sopping wet things to pack up tomorrow morning. Thank you Laura, Kaya and Linda.
This is my final journal entry about the 26th Michigan Womyn's Music Festival. Although I've written them after the fact, I hope they capture the flavor of this extraordinary event. For me, it has been an opportunity to experience the magic in a way I couldn't do when I was in the midst of it. I am deeply grateful.

© 2001 Patricia Lay-Dorsey. Please use with proper attribution.
---
return to My Women's Music Festivals
go to National Women's Music Festival 2001
Mosh Pit Mama (MWMF true story)
Windchime Walker's current journal
Windchime Walker's home page