Michigan Womyn's Music Festival 2003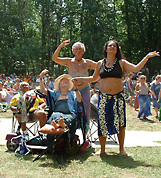 *The easiest way to navigate going back and forth between photo links and journal text is to click on your "back" button at the left of your tool bar.
* To see more photos, go to my Michigan Womyn's Music Festival 2003 Photo Albums
SUNDAY, AUGUST 10 through MONDAY, AUGUST 18, 2003

A question that is often asked as Festival winds down is "What was your Michigan Moment?"
For me, there were many...
--After at least a hundred of us campers, workers and performers had shared ritual, stories and song at our beloved Kay Gardner's Memorial Gathering on Saturday morning, after CoCo, Ruth and Falcon had buried her ashes under the Grandmother Oak where she'd facilitated Sacred Song Circles for many years, something happened that will stay inscribed on my heart as long as it continues to beat.
Carol, my online friend from Massachusetts, and I were sitting and talking quietly at the edge of the circle known as Workshop Area 15. Only about fifteen sisters remained. CoCo was still there, as were Linda (her Women With Wings singing sister), Ruth and Falcon. Suddenly we heard a voice say, "Look. Over there. It's a snake. A Blue Racer snake."
Slithering through the ferns and underbrush, perhaps eight feet outside the cleared circle was a big, beautiful blue snake. My friend Carol, who is a good judge of such things, estimated that it was at least three and a half feet long. One of the Sacred Song Circle womyn started a chant that we all began to sing.
Instead of disappearing into the woods as I'd expected it to do, the snake stayed in the underbrush about eight feet away away from the cleared area, and slowly moved around the perimeter of the circle. We continued to sing to it, with most of the womyn turned towards it, respectfully following its graceful dance. This went on for twenty timeless minutes.
To those who knew Kay Gardner, it was not surprising that she appeared in the form of a Blue Racer snake. Not only is it an Endangered Species in our bioregion, but what could better evoke the image of a flute--Kay's favored instrument--than a snake? After all, if her imminent passing was marked by a blazing comet over the stage at last year's Candlelight Concert, what would stop her from visiting us as a serpent this year?
--Another Michigan Moment came at the Acoustic Stage on Sunday. Young Leslie had just moved us to tears with her solo during the One World Inspirational Choir's performance. My scooter was parked sideways to the stage so that I could comfortably rest my broken ankle on a pillow-covered camp stool. There was no getting up and dancing for me this year, but I was finding ways to sit-down dance. Leilani, the beautiful Hawaiian dancer who had opened both sets for the Drumsong Orchestra and the Choir, was seated about twenty feet away from me. She and I had connected deeply at the conclusion of Kay's Memorial Gathering on Saturday. At that time she'd said that she'd be thinking of me later that afternoon when she was dancing onstage as part of the Evolution concert on the Acoustic Stage. As it turned out, I'd been unable to attend that concert so was feeling disappointed that I'd missed feeling her special energy directed my way.
The Choir had already raised a good number of womyn in the audience to their feet. I was doing my own in-seat dancing, when Leilani came up to me with her arm outstretched and joined me in my dance. Together we soared like birds.
When I got back home Monday night and downloaded my photos onto the computer, I discovered that I was dancing not only with Leilani, but also with Mauve, the "World's Tallest Leprechan." No wonder it felt so magical!
--It was Thursday afternoon and Alix Olson was performing on the Acoustic Stage. How can I describe the dynamic power, truthtelling integrity and sparkling wonder of this performance poet? Words fail me. All I can say is that since first experiencing Alix Olson at the National Womyn's Music Festival in June 2002, she has gone to the top of my list of performers-not-to-be-missed. I'd already seen her at the Acoustic Stage on Tuesday, and here it was two days later and I was back for more. The womon was on fire!
She had started her set with "Independence Meal" which resonated with all my heartfelt views about the current situation in America. Now she was performing "Womyn Before", a poem in which she celebrates the womyn who have gone before to mark the path. Bell Hooks. June Jordan. Kay Gardner. Ruth Ellis. She went through her litany of names. And then she pointed into the audience. "You" and "You" and "You." "And my Grandmother" (who was sitting in her usual spot halfway up the hill near the trees). "And Patricia, the Raging Granny."
My heart expanded and I felt like all those bitter cold winter days out on the streets, all those long hours of organizing, all my struggles to write lyrics about Bush's criminal attack on Iraq, the water cut-offs for Detroit's poor, Muslim immigrant "special registrations", Ashcroft's grab of our civil liberties... all of it had been seen, heard and valued. In an instant this womon, who could be my daughter, had restored my empty reserves and set me back on the path, strong and ready to RAGE some more. To her I am deeply grateful.
--During Tuesday Night's amazing Full Moon Ritual in Diana's Grove by the Night Stage, a lovely white-haired woman came to the center of the circle to help plan what we were going to do. I was scheduled to call in the North Direction, so was part of that inner circle. She introduced herself as Gretchen Lawlor. Well, anyone who has been using We'Moon calendars for years, as have I and thousands of other festi-womyn, would recognize her name. Gretchen writes the astrological segments that are among the most valuable parts of the calendar. During the ritual--which involved at least 150 womyn--Gretchen spontaneously led us in a playful acting out/dancing/vocalizing of whatever creatures wanted to join our circle. She then led a serpent line of dancers, and ended up in front of my scooter. We faced one another and let slithering snakes, bears, butterflies, wolves, kitty cats and all sorts of fanciful creatures pass through our hearts, voices, bodies and spirits. It was LOTS of fun!
Later in the week she came up and asked me to invite womyn to join her at the big tree in the middle of the Night Stage field for two workshops called "An Astrological Overview" from 12-1 PM on Friday and Saturday. I came on Friday. Gretchen shared with us the very special constellation of planets that was gracing and challenging us right now. Mars being the closest to the earth that it had been in 60,000 years and Uranus--the Trickster--at its apogee as well. With the moon in Pisces for the next few days, we were in for some interesting times.
After the workshop I stayed on, happy to sit in the shade of that Grandmother Oak during this very hot day. I asked Gretchen if she would give me an astrological consultation. She graciously agreed. Well. Again, words fail me. For at least an hour Gretchen made out my Birth Chart and explained it to me. She asked a few questions and shared deeply of herself. It was kind of amazing to see her face, hear her intakes of breath and listen to her voice saying, "Wow!" several times as she looked up the details of my Birth Chart in her books. Apparently what she found surprised her. It did not surprise me. Everything she said made perfect sense when seen through the lens of my 61 years of life. And what she projects will happen within the next 2-3 years fits my story like a hand in a glove. By the way, she gave no specific "predictions", merely an overview that gives me a container to fill myself. And even though there were no real surprises, this consultation helped me see my life within in a broader context and served to validate my past choices and current way of being in the world. It was truly empowering.
--One of a long list of gifts Kay Gardner's gave our community is Sunday afternoon's Healing Circle in the Acoustic Stage glen. In 1994, she and Vicki Noble facilitated the first Healing Circle at Festival. It was my first year on the Land and I well remember the extraordinary feeling of lying there literally vibrating under the hands of five healers who worked on my head, heart, belly, hands, arms, legs and feet at the same time. I have been there every year since, sometimes at the center of the circle and other times on the periphery, but wherever I have sat/stood/laid, I have always experienced the power of healing and being healed.
This year I arrived late because I was getting lunch for myself and Jenny, a new friend from DART. I scooted to the outside of the circle and parked under the shade of the trees. Inside the circle were dozens of womyn lying down and sitting up. Other womyn were walking quietly from womon to womon, touching, not touching, rattling, sprinkling water, each offering healing in her unique way. I sat in silence and let the chants and drumbeats sink into my core. As I sat, I watched. Almost immediately my eyes were drawn to a girl who was going from womon to womon. She couldn't have been more than nine years old, yet her presence and way of being was that of an ancient healer. She seemed to be listening to an inner voice that would lead her to a particular womon, and then instruct her as to which part of this womon needed healing. Sometimes she would place her hand on a heart, other times it might be the belly or throat or top of the head or hands or feet or third eye. Once I saw her squat directly in front of an older woman who was weeping as she sat and rocked, arms wrapped around herself. The womon obviously felt the presence of this ancient child and raised her head. Their eyes met and what passed between them was like a radiant beam of light. The grandmother opened her arms and the young healer slipped into her embrace as naturally as if she were going home.
I watched this child for an hour and never saw anything forced or contrived in what she did or didn't do. After the Healing Circle had officially ended, I asked a womon to call the young healer over to me. When she arrived, I asked for a healing. She complied with grace and dignity. We spoke for a few minutes afterwards and she said that both her father and her mother are healers. It was from them that she had learned how to heal. After she had helped to pass out cups of water to all the participants, I was happy to see this healer become a little girl again and go climb a tree.
--Not all my Michigan Moments were so public. Some were fleeting as the wind, but no less meaningful. Among them were...
The grasshopper who sat for an hour on my injured foot during Tuesday's Acoustic Stage performances by Alix Olson and Reno.
This classical mother-and-child image of Gillian and Serenity as they walked by my tent while I was resting one afternoon.
Finding myself going to bed earlier than usual because my new cot was so inviting. For the first time in nine festivals, I slept as soundly as though I were in my bed at home.
Waking every morning in my new scooter-accessible tent to the welcome sight of green trees and blue skies through the wonderful plastic windows built into my tent's rainfly.
Hearing the Michigan sounds of drums late into the night coming from the firepit at Triangle.
Being able to spend time with V one afternoon as she was selling raffle tickets on the path between Saints and the Crafts area. Everyone on the Michigan Womyn's Music Festival online Bulletin Board knows this courageous womon. A longtime festi-worker with her partner, Whitewolf, V had made the decision to come to festival this year from their home in the Bay Area even though her doctors had strongly recommended she not do so. As she said to me that afternoon, "I may only have one more year, and this is where I need to be."
A late night heart-to-heart talk in my tent with my friend Juli.
Finally meeting my online friend Lisa--a member of my Faithful Journal Reader's Club--soon after a loving community of womyn had helped me disembark from Judy's motor home, get on my scooter and begin to explore the Line on Monday morning.
A couple of meals spent with Julia Willebrand, a NYC Green Party activist and festi-friend, at which time we discussed many of the problems and some possible solutions to what is happening in the world today.
The unplanned gift of time with my longtime online and festi-friend, Ramonajane. Even though she was on her way to Risa's origami star-making workshop in the DART workshop tent, when she saw me resting in front of my tent across the path, Ramomajane came right over, sat on the ground, and spent a lovely half hour visiting with me. It is because of opportunities like this that I stay committed to my custom-designed Intensive Workshop that I call "Being With the Womyn of Michigan."
I had three or four opportunities to share meals and song with twelve of my Great Lakes Basin sisters from the O Beautiful Gaia CD project. Sitting with them at Night Stage on Friday and Saturday nights, and having the best view I've ever had of the stage and the dancing area off to side were among their special gifts to me.
As the Femme Parade was beginning, having a friend yell out, "Hey, Patricia! Why aren't YOU in that parade?" And so I was.
On a shopping trip to the Crafts area with my friends Sooz and Penny, we ran into Lori and her partner Carol at Cloud Dance's booth. Lori is the wonderful womon who facilitates the drumming circle before Night Stage at the Grandmother Oak Tree in the center of the field. Many of us drummers in Southeastern Michigan have benefited over the years from her enthusiastic and informative drumming workshops and circles. Today we encouraged her to try on a beautiful red and black silk jacket that suited her to a T. Rather than giving into our disappointment when she left the booth without buying it, Penny suggested we and our drumming sisters buy it for her. So we did.
After connecting by email for at least a year, Carol of the Atlantic New England region of our CD project and I were able to meet face-to-face and spend precious time together. The highlight was when we sang Carolyn McDade's "Serpent Song" together two different times--first, on Saturday at the Sacred Circle where Kay's Blue Racer snake had appeared, and second, on Sunday afternoon to Ubaka Hill when we met her in the Crafts area. Anyone who had experienced Ubaka leading her Snake Dance during the Drumsong Orchestra's performance that morning would know that she had a special heart connection with the spirit of the snake.
Carolyn McDade's Serpent Song goes like this:
In the places that reek of impossibility
The serpent of Life coils
She crawls upon the swollen stone
Crawls upon the swollen stone
Crawls upon the swollen stone
And loosens her only garment
And this is the way my friend Judy remembers Ubaka's Snake Dance chant:
Move like a serpent
Shed like a snake
Rest
I've got your back
I've got your belly
Because of my Eddie, I met a wonderful womon named Christy. I was making my last cell phone call to him out in the motel parking lot about 9 PM Monday night. After I hung up, a young, very tired-looking womon came up to thank me for my online festi-journal. She said it had helped her find the courage to come to Michigan for the first time this year. She had just arrived from her home in Missouri after having driven 15 hours by herself! Although she was beyond exhausted, she seemed content to sit and talk with me beside the pool. During our conversation Christy shared that we had the same diagnosis and told me a bit about her health struggles. I encouraged her to camp in DART where she'd get the support she needed and deserved. For me, one of the festival's greatest joys was seeing this beautiful young woman come more and more alive day-by-shining-day. By Sunday she was so radiant you needed sunglasses to look at her.
Speaking of festi-virgins, I'd guess at least thirty womyn came up to me at one time or another during the week to say that it was because of my Festi-Journal 2002 that they'd felt comfortable coming to festival for the first time. And at least thirty more, who were not festi-virgins, also took the time to thank me for my festi-journal and my postings on the BB. That was deeply gratifying.
Eight of my nine festivals I've signed up for Night Stage Security workshifts. I figure I might as well work where I'd want to be anyway. This year Katherine assigned me to work the Backstage Gate where I was to check for the proper color wristbands before letting womyn through. At first I was disappointed because my first shift was Wednesday, so it meant I wouldn't be able to see the Opening Ceremony. But I soon turned that lemon into lemonade. I told the workers and performers--many of whom I knew--that I didn't care what color their wristbands were, as long as I got a kiss. Hey, it was a tough job, but somebody had to do it!
A powerful opportunity for growth occurred during Thursday's workshift when my co-worker said things that really pushed my buttons and instead of staying silent and losing sleep over it later, I spoke my truth with forthrightness and integrity. Not pleasant, mind, but healthy.
I've always heard, "Ask for what you need." So on the drive to festival, I'd told my friend Judy that what I was most looking forward to this year was simply being outside in the woods. I was hoping to find a nice quiet place to sit and restore my soul. Since having broken my ankle, I'd been confined--with my scooter and Eddie's help and support--to the second floor of our house for the last 11 days. By the way, I'd chosen not to go have it x-rayed because I knew they'd cast it, and that would have made going to festival very difficult. Anyway, I needed a breath of fresh air...literally. After we'd checked in at the motel in the late afternoon, I told Judy I was going for a scooter ride. There was an unpaved drive that went a short distance up to a line of trees. I decided to explore. And there it was. Just what I'd asked for. Actually, more than I'd asked for because this wooded haven even had a PAVED bike path running through it. And no human was there but me. So I was able to scoot to my heart's content, watch and listen to all manner of birds, smell apples ripening in the nearby orchard, hear the song of rustling leaves, and see the lowering sun set the trees on fire. I was being healed and I hadn't even reached the Land!
The weather was an ongoing Michigan Moment. There were only two tiny rain showers all week--one of which produced a stunning rainbow--and sun every day. Now, some folks found it uncomfortably hot, but compared to Fest 2001, this was nothing. The evenings were cool enough to sleep, but mild enough so you never needed more than a sweater or a sweatshirt at the Night Stage. And we didn't even need to feel guilty about wishing for no rain as the ferns were green and sprightly this year. The ferns always tell us if the Land is thirsty.
I was deeply touched by Adrienne Torf, who performed solo piano at Acoustic Stage on Saturday. Apparently it had been twelve years since she'd performed solo, although she's accompanied many singers in the womyn's music scene on their CDs over the years. Actually she accompanied Holly Near and Cris Williamson during their set that followed hers. It was partly her music that sunk deep into me, but also her obvious vulnerability and joy at being at the festival again. She spoke to us with her heart wide open, and that is unusual for a performer to do. I bought her most recent solo CD and have played it over and over for a solid week.
One of my concerns before Fest had been how we were going to unload all my stuff from Judy's motor home so that the DART workers could then load it on the shuttle going to DART downtown. Her vehicle was too large--28'--to allow us to park in the usual DART unloading area, so I'd called the Festival office ahead of time to try to work things out. Dear Karen, the DART staff coordinator, had called me back to discuss my options. It appeared the best plan would be to unload my gear at the temporary RV parking area near the Orientation tent, and then get a couple of DART workers to bring over a cart and transfer my stuff to the proper place. But what I would need to find were womyn willing to help Judy unload my gear from the RV in the first place. I'd always prided myself on packing as light as possible for Fest, but this year was different. Not only did I have a 22 lb. cot, but I had not one but two scooters--one for day and one for night. So when Judy had parked the motor home by the Orientation tent, I went looking for strong womyn helpers. And I didn't have far to look. There were five young, obviously strong, womyn standing beside some bicycles. They graciously agreed to help, and one--Steph--even recognized me. Apparently she had found our Raging Grannies web page during the build-up to the Iraqi massacre and had downloaded many of our songs. She and members of the eco-village community in Missouri where she lives had sung our Granny songs throughout the day on February 15--the global day of anti-war protests--because they were snowed in and couldn't get out to the demonstrations. She called me her "shero." Well, very shortly, these five womyn had become MY sheros! It turned out that they had ridden their bicycles from Portland, Oregon to the Festival here in Michigan! They'd left on June 2, and four of them intended to continue on to New York after fest. As a former long-distance biker myself--but never more than 200 mile weekends--I was in total and complete awe. As I told them that day, they'd become festi-legends in their own time. And my prediction was borne out when MC/comic Elvira Kurt spoke of them on Night Stage Saturday night. And two of them were festi-virgins at that! [A postscript is that the four who were pedalling on to New York stayed two nights in Detroit with Eddie and me a week after festival. We had a blast!]
On Tuesday morning I wanted to go to Rhiannon's "Ceremony of Song" workshop, but my body had other ideas. Getting to the Line, unloaded and set up on Monday had been a lengthy, tiring experience and my body said very clearly, "Patricia, chill out". So I did. I took a much-needed shower, had a leisurely breakfast, wandered through Crafts, and then happened upon Jayne sitting under a tree over near the Dance Floor. Now, Jayne is a Michigan institution. She is our Body Painter Extraordinaire. In years past I've usually waited until Sunday morning to be painted, but here she was, ready and available. It wasn't warm enough yet for a full-body paint job, but face-painting would be sweet. I watched while she painted Beth's face, and then it was my turn. The experience of being painted was as special as it was to wear the final product. Jayne and I have become sisters, not just at festival, but in the anti-war struggle as well. We'd "just happened" to meet up at two of the mammoth demonstrations in Washington, DC last fall and winter, so have much in common. Such a committed, creative, open-hearted womon.
After lunch on Wednesday--a lovely, hot day--I scooted over to a shady spot under the trees between the Saints and the dance floor. While there I met a community of friends, three of whom were festi-virgins. Trish and Fran had come from the Bay Area, so we had a delightful conversation about my old stomping grounds. But soon enough, my new friends were on their way to manifest a dream, and that was to have Fran's lovely bare head painted with a henna tattoo. They let me come along. We found Jackie, a henna artist, in a Crafts tent and Fran, Trish and Jacqui proceeded to choose a design. It was Jackie's first bare head-painting, and she was delighted to have this opportunity. Throughout this entire process, Fran's dignity and grounded presence touched me deeply. I will not soon forget her expression of pure unadulterated joy as she surveyed the end result!


* To see more photos, go to my Michigan Womyn's Music Festival 2003 Photo Albums


© 2003 Patricia Lay-Dorsey. Please use with proper attribution.
---
return to Music Festivals

Michigan Women's Music Festival 2002
Michigan Women's Music Festival 2001
Mosh Pit Mama (MWMF true story)
Windchime Walker's home page