CONCERT OF COLORS 2001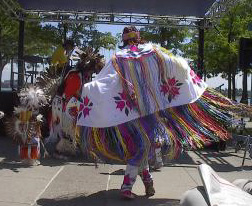 *The easiest way to navigate going back and forth between photo links and journal text is to click on your "back" button at the left of your tool bar.

FRIDAY, JULY 13, 2001
Tonight my friend Sooz and I went to one of Detroit's most glorious events--opening night of the Concert of Colors weekend world music festival--and now I can't get my digital camera to download its treasure trove of pictures. Darn! After a full hour, I've just given up...at least for tonight. Hopefully tomorrow will bring better luck. Of course it's just turned midnight so it's no longer Friday the 13th. Maybe I should give it one more try. Nope, no luck. OK, I'll just have to use words to bring you along with me to this amazing event.
Detroit's Concert of Colors is the largest free world music festival in North America. It is co-produced by New Detroit, a civic organization of business, educational and civil rights leaders who share a commitment to Detroit and its people, and ACCESS, a human services organization committed to the development of the Arab-American community. The Detroit area, specifically Dearborn, boasts the largest Arab-American population outside of the Middle East, and for decades the city of Detroit has been proud of its identity as a predominantly African-American city. So this festival is a celebration of our diversity.
And when they speak of world music, that is no exaggeration! For three days we will see and hear musicians from New Zealand, Nigeria, India, Algeria, Benin (in West Africa), Los Angeles (Los Lobos and War), South Africa, Japan, England, and North America-Cherokee, to name a few. Tonight we had a fabulous lineup starting with Te Vaka, a group from New Zealand that mixes South Pacific rhythms with western music while wearing Polynesian costumes. Their dancing brought people to their feet. They were followed by Los Lobos, the East LA Grammy Award winning musicians, who drew a crowd of dancers down by the stage and had the rest of us doing salsa dances in our seats. Finally, Femi Kuti, son of the legendary Fela Anifulapo-Kuti from Nigeria, brought everyone to their feet the minute he and his extraordinary musicians--drums, keyboard, sax, trombone, trumpet--and dancers appeared on stage. And most of them--including me--stayed up dancing during his entire set. That man has unbelievable energy!
Now what I love the best about this festival--I attended last year's as well--is the air of celebration that permeates everything. There truly are no strangers here. People smile and speak and dance with one another, even if they've never seen one another before and may never see each other again. When folks talk about "family" it can sound so trite, but that is the only way to describe what happens during this weekend in Detroit. I mean, I had a number of people come up to me with big grins on their faces, saying, "I remember you from last year. How ya doing?" And that's not to mention all the people I actually know who came up for hugs. As I say, it's family.
The other part of this weekend that defies description is the setting. An entertainment park on the shores of the Detroit River, with grassy knolls, lagoons, trees, and what will become five stages tomorrow and Sunday. Tonight everything was held on the main stage which is a mammoth tented two-tiered venue with seats and a stage open to the river behind it. So as you're listening or dancing to these great musicians, power and sail boats, freighters and tugs pushing barges pass by. Across the river is Canada. Does this sound idyllic, or what? It is.
And how can all this be free? Because Detroit is a corporate city and corporations--around here anyway--are happy to sponsor such events because they get good advertisement and lots of exposure. Seems to be a Detroit tradition. Without thinking too hard, I can come up with five huge free outdoor weekend music festivals, not to mention the almost weekly summer festivals at Hart Plaza on the riverfront downtown. This summer is even bigger than ever because we're celebrating Detroit's Tricentennial. Next weekend it'll be Stevie Wonder one night and Della Reese the next.
Well, I guess words are somewhat adequate to describe what happened tonight, but I promise to try to unglitch my digital camera so hopefully I can bring you real live images as the weekend progresses.
And now I've got to get to bed. After all, I didn't just go to the Concert of Colors today, I also swam 6 laps of the crawl, did an hour of water aerobics, and worked at the computer with my friend Sooz trying to install my new Zip Drive! And I've got tomorrow with music from 2-10 PM to look forward to.

SATURDAY, JULY 14, 2001
I look forward to sharing stories about the glorious 9 hours I spent at the Concert of Colors today, but it's going to have to wait until tomorrow. It's now close to 1 AM and I am beyond tired. Please check back as I'm anticipating even having some pictures for you, that is assuming the SanDisk software I bought this morning acts as it's supposed to act! See you then.

SUNDAY, JULY 15, 2001
All it takes to recognize the value of something in your life is to lose it, even temporarily. And so it was this weekend with my not being able to add images to this journal. I even had trouble enjoying the riches I was experiencing because I didn't feel I could bring you, my readers, along with me. But I kept taking photos anyway--48 of them--even though I couldn't download them to my computer. I just trusted that sooner or later the problem would be resolved.
And it finally was, thanks to these two men--Munir and Mike--at Circuit City. Yesterday morning they sold me a $30 SanDisk external download device. Of course, my frustration continued for a goodly while. As so often seems to happen these days, I spent hours trying to get the darned thing to work. But thanks to Joseph at SanDisk tech support, you are actually going to see pictures of my fabulous weekend of music at the Detroit Concert of Colors.
I've already written a general introduction to the Concert of Colors in Friday's journal entry. But now you're going to see what I saw!
My friend Sooz and I arrived at Chene Park's Main Stage about 5:30 PM as the first act, Te Vaka, the Maori group from New Zealand, was in the middle of their set. This tented performance space is not only huge--with a capacity of 2-3,000--but accessible as well. There were ramps I'd scoot up to get to what became my usual parking spot behind the last row of lower tier seats at center stage. It was a great people-watching place because I was smack dab in the middle of the aisle dividing the upper and lower tiers of seats.
And, of course, looking down at the stage was always a feast for the eyes, no matter who was performing. Sometimes the backdrop would be a passing freighter, other times it was pleasure boats that anchored to listen to the music, and at night we saw the twinkling lights of Canada across the river.
One of the advantages of living in a city for a long time--I've been 35 years in the Detroit area--is that most places you go, you run into folks you know. And so it was for me all weekend. First it was two drumming sisters, Veronica and Ella, who were sitting with Veronica's mother, Nancy. Next, Pat K. appeared with the Antioch students who came to the festival before driving back to their Ohio campus later Friday night. They stayed at Dayhouse last week while participating in Detroit Summer, an annual community service/educational program founded by Detroit's 86-year-old activist icon, Grace Boggs. Soon their faculty advisor, Rick, came over to chat with Sooz and me. Later, Carol and Lori came by and posed for a picture with Veronica. Lori is an exceptionally gifted drumming teacher/facilitator with whom I've worked and played for years. And during the wonderful set by Los Lobos, my water aerobics friend Joan came over to visit and dance to the music.
Believe me, there was a lot of dancing this weekend! And I did my share, both in my scooter seat and sometimes on my feet. Pat, who sat with Sooz and me during Friday night's performance, is seen here clapping and moving to Los Lobos. Almost everyone around us was on their feet during both Los Lobos' and Femi Kuti's performances. The more serious dancers usually crowded around the lip of the stage.
One of the challenges of the music sending folks to their feet was our sometimes-view of people's backs. But that was easily remedied--we simply moved. No one ever yelled, "Down in front!"; I mean, how can you expect anyone to stay in their seats during performances by artists like Femi Kuti, his band and dancers from Nigeria! Their high energy was contagious.
Saturday's schedule was much more full: there was music on five concurrently-running stages from 2-11 PM. And the weather could not have been more perfect: bright sun, blue skies, moderate temperatures with a sweet breeze off the river. A day that I used my straw hat to great advantage.
Lori and Carol picked Ona the scooter and me up at 1:30 PM and we were down to the festival about an hour later. What a busy weekend on Detroit's waterfront! The Gold Cup hydroplane races off Belle Isle, a Ribs 'N Soul festival at downtown's riverfront Hart Plaza, and this 3-day Concert of Colors at Chene Park, halfway between the other two events. Traffic along Detroit's primary waterfront artery--Jefferson Avenue--was predictably backed up.
The first performance that caught my eye was the Swirling Wind Native American drummers and dancers on the World Rhythm Stage. It seemed that most of the performers--aged 3 to 50--were related in one way or another. They represented a Great Lakes tribe, but I missed hearing which one. A couple of men drummed--only men are allowed to "sing the drum" in their culture--while a father and son danced together. Well, the 3 year-old actually stood and looked at his Dad with a pained expression, kind of like he was saying, "Get me out of here!" Then a young woman and a little girl of 6, who was a fine dancer, did a "ladies dance". The young woman was wearing what was described as a butterfly lady costume. It felt quite sacred.
I then scooted over to the Main Stage to see one of my favorite performers, Poncho Sanchez and his Latin jazz band. I'd heard them at last Labor Day's Ford International Jazz Festival and had loved how they got folks out of their seats and dancing the salsa. Again I was merrily dancing in my scooter seat, but this time it was captured by Jim, the photographer. Actually, he'd already taken a few pictures of me over by the Swirling Wind performance, where we'd gotten to talking. Seems his daughter has also been diagnosed with MS, so I gave him my web site address for her to check out. Apparently, Jim's a free lance photographer who is taking pictures during Detroit's Tricentennial celebrations. Nice man.
After listening to a few numbers by the next act--Algerian superstar, Cheb Mami--I went down by the water to enjoy the shade and lovely breezes. Other folks obviously had the same idea. I was taken with this view of a piece of sculpture against industrial stacks--very Detroit! On my way over to the Children's Stage, I saw two fellows asking folks to sign a "Free the Weed" petition; made me feel like I was back in San Francisco.
I began to discover that the smaller stages were more audience-friendly than the huge main stage with its crowds and loudly reverberating sound system. For the next couple of hours, I experienced excellent performances at the Children's Stage by Gemini, a brother team who had us all singing along, and the Harold McKinney family jazz band, after which I went to the Embassy Stage where I heard Lo Jo, a superb band of French-speaking musicians. Scooting back from that stage--which was located in the parking lot--I saw this view of Chene Park with its lagoon, venders' booths and main stage tent. It's a lovely space.
I was happy to encounter the community drum and dance jam. On the World Rhythm Stage, drummers of all abilities were invited to gather, while on the pavement in front, dancers of all ages were being taught movements by an African man, Biakuye. The Nigerian cowbell that hangs from my scooter Ona's handlebar came in handy as my percussion instrument. On the grass off to one side I saw a number of women I've drummed with at Detroit circles and the Michigan Womyn's Music Festival. It was fun to make music with them again as the dancers started to weave a conga line.
By now it was time to go back to the Main Stage for the evening performances. On the way over, I ran into BJ, Pat K.'s sister, and once there, met up with Sooz who sat with me the rest of the night.
The first performer was Angelique Kidjo from West Africa, an exciting vocalist with a superb back-up band, who blends African and Western music to create her own unique sound. Unfortunately, the picture I took gives you absolutely no idea of this woman's extraordinary presence with her long glittering red beaded gown, burnt copper complexion and practically-shaved head. She is a wonder. It was also her birthday so the band played "Happy Birthday" and one of the producers brought out a cake blazing with candles. A homey touch.
The final act of the night absolutely blew me away! I'd certainly heard of War, and had loved many of their songs, but I'd never seen them before. This is a band that was formed in the 1970s and named themselves War as a protest to the Vietnam War that was still raging at the time. Do they ever stand the test of time...and did this Detroit audience ever love them! To start off, there didn't appear to be an empty seat in this huge outdoor tented auditorium. I'd never seen it like this. And from the moment they appeared on stage, folks rose to their feet and many of them never sat down. Not only did we dance, but we sang along with them as well.
A family with mother, father and daughter was sitting right in front of Sooz and me. As soon as War started playing, this tot--perhaps 4 years old--stood up on her seat and began to dance. Could that girl ever dance! I began to copy her motions and she kept looking back at me and grinning. We had a wonderful time together, without exchanging a word, until she finally cuddled up in her Daddy's arms for a well-deserved nap.
This festival is about so much more than music. They bill it as a celebration of Detroit's diversity. That can sound like a catch phrase, but in this case it's true. I'd say the Concert of Colors does more to bridge Detroit's still-painful racial divide than anything I've seen. Not only race but class, age and gender divides find healing here. In the middle of one of yesterday's many performances, I found myself almost praying, "God, but I love this city!" For all its wounds and ugliness, there is a magnificent grace and dignity that I have not experienced anywhere else, not even in my beloved San Francisco. It's almost as if Detroit's beauty comes from the same source as its deepest wounds; like a diamond formed through inordinate pressure.
Well, this diamond sure sparkled this weekend.

© 2002 Patricia Lay-Dorsey. Please use with attribution.
---
return to Music Festivals
go to Concert of Colors 2002
go to Concert Of Colors 2003
Windchime Walker's Journal
Windchime Walker's Home Page