CONCERT OF COLORS 2003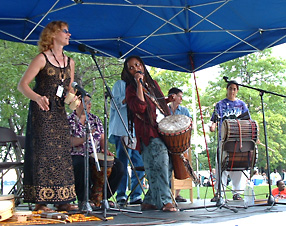 CCO
*The easiest way to navigate going back and forth between photo links and journal text is to click on your "back" button at the left of your tool bar.

FRIDAY, JULY 11, 2003
I know I always say the same thing after attending the Friday night performances at the Concert of Colors, but it's true: Detroit is family. There's no other way to describe the feeling of belonging, of joy, of acceptance, of celebration that permeates this free world music festival held each July down by the Detroit River. And Friday night especially. That is when we all meet again after a year apart, all of us Concert of Colors regulars. When we greet people whose names we don't know but whose spirits have fed us year after year, folks we've danced with, sung with, with whom we've shared amazing moments of high energy and/or tender musical performances, drummed with, photographed and been photographed by. It's hard to put into words what we share on this one weekend each year. Whatever I say can only begin to touch on the feelings of wonder and gratitude that swept over me as I sat--more often stood and danced--during tonight's performances at the glorious Chene Park stage that backs on the Detroit River. And tonight especially...a full moon night that transformed the water into sparkling diamonds. It was so beautiful that even War, the 1970's icons, stopped playing, turned and pointed at the full moon that only they could see (the tent hid it from the audience). But we could certainly see its glistening path reflected in the dark waters behind the stage. Quite magical.
Speaking of War, they were the final act on tonight's lineup. How to describe what happened during their performance?! All I can say is that some sort of energy passed between the stage and the audience, an energy that got just about every one of those thousands of people up on their feet, singing along, dancing, swaying, clapping, waving their arms and smiling. Everyone was smiling. You couldn't help it. Your mouth just turned up and your eyes shone whether you wanted them to or not. Now, I must say War was very smart because they were actually recording this performance live for a CD. That is going to be some CD!!! Because of recording the CD or just because they were having so much fun, War performed for a solid hour and a half! What a night.
And it wasn't just War that had the audience on their feet. Before them, we'd seen and heard an African legend, Oliver Mtukudzi, perform with a band called the Black Spirits. Their energy was equally magnetic to War's; it was simply more mellow. But it still got us dancers on our feet and kept us there. I don't know how old Oliver Mtukudzi is, but I do know he has been around a long time. A lovely spirit of peace emanates from that man. At one point he called out to the audience, "Is any culture less than another?" The audience yelled back, "NO!"
It was like that all night. At every opportunity to stand for peace and solidarity with all nations, we here in Detroit made clear where we stand. When the gifted singer/songwriter/guitarist, Patty Larkin, sang her song called "Beg To Differ", the audience was almost reverential in its support of her words of peaceful dissent. For me and my friends, this was an amazing moment. Just a month ago three of us had recorded a CD in which we had sung lyrics that said, "Listen to the voices that beg to differ from the rest." We felt like we'd come home to a collective truth.
There was a lot of truth in that audience tonight. I saw, spoke to, danced with, hugged so many friends from the peace and women's communities in Detroit, Ann Arbor and Windsor, not to mention all my Concert of Colors friends...and even new friends like Douglas whom I met last night. During the evening, two members of the New Detroit staff came up independently and introduced themselves to me. Both said how much my photo-journal of the Concert of Colors 2002 had meant to them and to everyone at New Detroit. As co-sponsors with ACCESS (Arab Community Center for Economic and Social Service) of this 11 year-old gift to our community, the folks at New Detroit apparently appreciated seeing the festival through the eyes of a festival-goer. If you recall, they even put up a photo and link to my Concert of Colors photo-journal on the New Detroit web site after last year's festival. Ed King, the webmaster, and I talked last night about the possibility of my getting a media pass for next year. I told him I consider myself Brenda Starr reincarnated. He agreed ;-)


SATURDAY, JULY 12, 2003
It's the heart that makes this festival so special. Yes, the music is superb, the venue beautiful, the event well-coordinated, and certainly the price is right, but the heart is what keeps me, and thousands of folks like me, coming back to the Concert Of Colors year after year. I work my summer schedule around this weekend, and it never disappoints me. If anything, I am always surprised and delighted beyond my wildest imaginings.
An example was the Taiko Drum Clinic put on by the Kiyoshi Nagata Taiko Ensemble from Toronto. I was excited enough just to know I would see and hear this ancient Japanese art form in such an intimate venue as the Rhythm Stage. Ever since I'd seen a PBS documentary years ago on a taiko drum school in Japan, it has been among my favorite instruments. There is something about the vibrational energy of these mammoth drums that sets your mind/body/spirit in balance. How could I ever have imagined that I would have the opportunity to PLAY a taiko drum myself?!! And not just me, but so many of my sisters and brothers here in Detroit, individuals of all ages and backgrounds. What an unexpected gift. And not only were we able to play the taiko drums ourselves, but we were able to experience them being played in original ways by members of this amazing group of musicians. As so often happened this weekend, this ensemble cut across all boundaries of ethnicity, national origin and gender. Kiyoshi Nagata is obviously committed to the idea that the taiko drum is for everyone, that is, everyone who is willing to work very hard, become incredibly strong, and integrate the spiritual into their music-making. The hours spent with this ensemble of musicians from Toronto were among the highlights of my festival weekend.
Another special moment occurred late Saturday night. Huge numbers of people were crowded into the Main Stage listening--and I'm sure, dancing--to the 20-piece Big 3 Palladium Orchestra with the sons of Latin-Mambo greats Tito Puente and Tito Rodriquez. But it was a little loud for me, so I scooted down to the smaller Diversity Stage. And there I found the down-home sound of the Blue Runners, a roots music group from Louisiana. There were lots of people up and dancing--women with women, men with men, and families together--but what will stay with me was the conga line that spontaneously formed (helped, I'm sure, by my sister in the peace community, Julie Beutel, who was behind the girl in the lead). The line grew as it wove in and out of the rows of chairs, and the smiles on the faces of its youngest members must have lit up the darkest corners of the world.
What touched me most deeply during this very full day was the sense of community, those moments when people came together with unselfconscious exuberance and let themselves experience unconditional love and acceptance. I personally saw it happen at the Taiko Drum Clinic, in the conga line at the Blue Runners' performance and at the Community Rhythm Circle, but I'm sure it was happening everyplace. This is not to say that the performances at the Main Stage weren't special too. They were.
I'd started my day there, dancing to a band called Bandoleros, who had a terrific mix of Funk, Latin and Rock. Even though it was early in the day, I wasn't the only one who was ready to get up and dance to that group! As evening approached, Third World took to the stage and utterly enthralled a huge audience. Lots of folks were up and dancing then; they didn't even bother to leave their seats.
But, as I say, it was the small moments that caught my eye and my heart. Moments like this little girl and a man sharing a drum--garbage pail in its former life--at the Community Rhythm Circle. Or the beautiful women who formed an impromptu dancing line as the drummers drummed. And especially this proud new father who was onstage drumming as his little one lay in her/his pouch resting on Daddy's chest. It must have brought back recent memories of hearing Mommy's heart beat in utero.
Detroit being the small town that it is--at least among those of us who love music and people--this festival was also an opportunity for me to see many old friends and meet new ones. My former bookstore co-workers (and voice teacher), Tamm and Robert were there. My new peace community friends, Birgit and Maik were there with their little ones Charlotte and Philipp. Shameeka, Shaneeka and Grisca were there. As were the photographers, Frank and Frank, whom I have see at many Detroit area events throughout the years. Some women I know were performing, like Judy Piazza and Debby. And among many other friends--old and new--I met a delightful couple, Nicole and LaRon, who had recently become engaged with diamond ring and all.
The commitment to diversity by folks like Judy Piazza (who has organized the Rhythm Stage in recent years), meant that we not only saw traditions from other countries but from our own land as well. For the past three years (at least), the Rhythm Stage has hosted drummers, dancers and singers of Native American traditions. This year, the Swirling Winds Singers and Dancers returned (they'd performed in 2001). On the stage a circle of men drummed and sang, while a young man and a young woman danced in full costume on the grass beside the audience. The elder used this opportunity to share with us some background about his culture, and at one point the audience was invited to participate in a community dance--one line of women and one line of men--led by the young dancers. As always, I especially enjoyed a small moment that was obviously not part of the program.
But one of the most spectacular shows of the day was unplanned as well...at least by the festival organizers. As day turned to night, we saw a radiant sunset to the west and a stunning moonrise to the east.
SUNDAY, JULY 13, 2003
Peace is no dream. I know that now. After a weekend when the world was in every way exactly what I would want it to be, I can no longer say that peace is a dream. No, peace is a reality. It exists here and now. I know because I saw, heard, touched and was touched by it. It IS...no longer simply what we wish would be.
Now when I use the word peace, I am speaking of more than the absence of conflict or violence or war. I am talking about a world where everyone is equal, where no one is left out or ridiculed, where everyone has a place on the dance floor. Because that is what I saw all weekend long at this glorious festival called the Concert of Colors.
Tonight's performance at the Rhythm Stage by the Trinidad Tripoli Steel Band was just one of many examples. On the dance floor (concrete sidewalk in another life) there were persons of all ages, abilities, ethnicities, religions, races, educational and economic backgrounds, national origins. We were ALL represented on that dance floor. No one was left out. No one was less than another. No one was different. There was a place for each and every one of us. And isn't that our dream?
Well, here in the city of Detroit, Michigan--a wounded, often divided city--we experienced the world as we now know it can be. Even with our government's leaders waging wars. Even with a greater divide than ever between rich and poor. Even with corporations having the ear of politicians more than the people they are supposed to represent. Even with our earth and air and waters under threat by unthinking decisions by us all. Even with all that is out of balance in our world, those of us who were fortunate enough to be at Detroit's Concert of Colors this weekend know that we can live in balance and peace and equality and justice. We know it because we lived it. And we know that we can do it again. That this experience does not need to be a once-a-year occurrence. That we can make choices from here on out that will continue this wondrous way of being together in our world. I, for one, pledge to do everything I can to make it happen...starting with myself.
How to describe this day? For me it was joy from start to finish. I'd spent the morning and early afternoon at Pt. Pelee National Park in Ontario with my Great Lakes Basin sisters, the women with whom I'd recorded eight songs for a CD in mid-June. We were together today to sing in solidarity with our Atlantic Canada sisters as they recorded their portion of the O Beautiful Gaia CD that 150 Canadian and American women have worked on since last September. So by the time I got to the Concert Of Colors at 5:30 PM, my heart was already open and full to bursting.
And there was Ubaka Hill up on the Rhythm Stage, giving it everything she and her sisters--all of whom I know and love--had to give! Ubaka and I go way back as drumming sisters and as sisters of the heart. She is an authentic ambassador of joy and unity whom I have been privileged to know at the Michigan Womyn's Music Festival for years. And did she and her drumming sisters ever have that audience going! Audience isn't the right word; it was more of a community. Folks were dancing, clapping, waving their arms in the air, doing the limbo--elders and youngers--everybody was up on their feet or just plain getting down. But for me the highlight came when Ubaka sang of our unity with our sisters and brothers around the world. In Iraq, Afghanistan, Palestine, Israel, Africa, Asia, Central and South America. Where one suffers, we all suffer; where one heals, we all heal. For, as Ubaka always says, WE ARE ONE. Today we could hear and feel her message in a deeper way because it was what we were living here on the shores of the Detroit River during this magical weekend.
Because of Ubaka, I could feel my oneness with Carl in a way I might not have done before. And I could feel my oneness with the Egyptian singer/dancer Natacha Atlas who performed on the Main Stage with the talented musicians from Du Oud. I thought it fitting that an ocean-going freighter passed behind them as they performed. For we were the World. People like John Spiver, the fine arts photographer whom I met as we waited out the rain before Natacha came on, and Hanifah and her sister Kim. Hanifah who had painted a magnificant henna tattoo on my foot and ankle at last year's Concert Of Colors. Phillis and Mary from the Ann Arbor Area Committee for Peace who danced beside me as Ubaka sang and drummed. Ella, a friend whom I hadn't seen in almost two years, who also danced beside me during Ubaka's performance. Sue Hamilton-Smith and Horacio Vargas, organizers with New Detroit, who were everyplace I looked throughout the weekend, helping things run smoothly. Lori Fithian and Carol who were also everyplace, but their gift being to hand out hundreds of homemade percussion instruments like spice bottle rattles, plastic pail drums, wooden sticks, and a good number of "real" instruments like tambourines, drums and cowbells. Because of them, the Rhythm Stage was truly collaborative much of the weekend. But the crowning moment came at 7:45 PM tonight when it was time for the Community Drum Circle facilitated by Lori. Again, we were all ages, races, ethnicities, educational and economic backgrounds, religions, national origins. There was a place for everyone in this circle. Even me! I leaned up against my scooter for balance and had a ball beating out rhythms on the big drum. But I left a little early because I had a date with Fruit over at the Diversity Stage.
While everyone else--well, an awful lot of folks--were making their way into the Main Stage area to see Bo Diddley, I had a real hankering to experience this young award-winning group from Australia. When checking out the Concert Of Colors online schedule of performances, I had clicked on the link to Fruit's web site. The awards they'd already garnered plus listening to a couple of their audio selections had me hooked. I wanted to see them in person.
Wow!!! Was I ever glad that I did. These three women (guitars, vocals and one of them on everything from trombone to flute and soprano sax) and two men (one on electronic bass and the other on drums) were exceptional performers. All of their music was original, much of it coming from the raw stuff of life. I already have September 11 circled on my calendar to see them at the Ark in Ann Arbor.
I've been so busy describing the music and the people that I almost forgot to show examples of the vendors that also graced this festival. Although I only bought food--Middle Eastern, of course--I certainly enjoyed seeing the creativity and color evident in every booth. Again, they represented many ethnic cultures and demonstrated the wonderful diversity right here in our own city. I think most of the vendors were local. Here is a sampling of five vendors--#1, #2, #3, #4, #5. And this area also had tables for organizations that work for diversity and justice in our city, groups like the ACLU, the Blue Triangle Network, and the Concert Of Color co-sponsors, New Detroit and ACCESS (Arab Community Center for Economic and Social Service).
Have I made you want to come down to Chene Park for next year's Concert Of Colors? I sure have whetted my appetite! It's going to be hard to wait a whole year, but I can tell you that this free music festival is ALWAYS at the top of my list of summer-events-not-to-be-missed. My deepest gratitude to all who made it happen this year. See you next July!
© 2003 Patricia Lay-Dorsey. Please use with attribution.
---
return to Music Festivals

go to Concert of Colors 2002
go to Concert of Colors 2001
Windchime Walker's Journal
Windchime Walker's Home Page