Ford Detroit International Jazz Festival 2001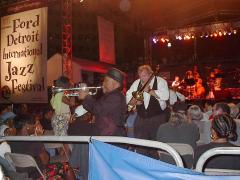 *The easiest way to navigate going back and forth between photo links and journal text is to click on your "back" button at the left of your tool bar.

FRIDAY, AUGUST 31, 2001
I'm writing this in the early afternoon, which I expect will be my pattern for the next four days. Labor Day weekend in this city means the Ford Detroit International (formerly Montreux Detroit) Jazz Festival! And for a jazz lover like me, everything else is put aside for these four days and nights. Pat K., a sister jazz lover, will be arriving here in about an hour to stay for the weekend. That way she and I can easily drive downtown together every afternoon and stay until the music stops at midnight. Last Labor Day weekend we listened to 30 hours of jazz!
As is so often the case in Detroit, the entire festival is free of charge. It's held at Hart Plaza on the Detroit River downtown, involves four stages of continuous music running from 1-12 PM Friday, Saturday and Sunday, and 1-9:30 PM on Monday. It is a glorious place for jazz fans to be: great music, a good mix of older stars and young up-and-coming musicians, attentive audiences, all set in the Noguchi-designed Hart Plaza with its dramatic views of skyscrapers, river vistas and Noguchi's fountain that locals irreverently call the stainless steel donut-on-legs.
The fact that it's free means everyone shows up! The street folks who regularly sleep in this plaza, suburban auto execs and union activists, politicians looking for votes in Detroit's September 11th primary, high school and university jazz musicians from all over the city and state, young families with strollers, members of Detroit's old Graystone jazz community, out-of-towners and anyone who wants to enjoy a great party weekend.
I adore everything about it!
So I'll take photos at the festival, then write and put up my journal entries each morning or early afternoon before we take off for another day of music. And have fun yourselves doing whatever gives you pleasure on this last summer holiday weekend. Talk to you tomorrow.

SATURDAY, SEPTEMBER 1, 2001
WOW!!! It's going to be tough not to dither on and on about how great last night was at the Ford Detroit International Jazz Festival. I mean if you weren't there, how can I help you experience the wondrous music we heard? I don't use audio on this site, and even if I did, it couldn't begin to match the joy of hearing music live and in person. Especially at an outdoor city festival on a perfect afternoon and evening.
What I can share is one of the best photographs I've ever taken. And I feel as though I had little to do with it. All I did was turn around to catch a quick shot of the audience clapping for the young piano wizard, Benny Green (this is not the special photo!). I didn't even look closely through the viewfinder; I just snapped. And when I downloaded it this morning, this is what I saw. Yipes! That's Detroit's tallest building in the background--the Renaissance Center--and the audience is sitting in the Noguchi-designed sunken Amphitheatre. When I showed Ed this photo, he suggested I submit it to the Detroit Free Press; so I did.
Now, aside from my excitement over the photograph, it's the music that will stay with me...especially the poured molasses notes that Detroit-born jazz-great, Tommy Flanagan, found within his piano. If you have never heard this man, please do yourself a favor and listen to one of his CDs. He makes it sound like every other pianist in the world is just working too durn hard, even masters like Oscar Peterson. When Tommy played Gershwin's "Lady Be Good", the audience literally gasped aloud in awe.
Don't say I didn't warn you about dithering on and on!
And it wasn't just Tommy. We got to the festival a little after 5 PM and came in via the new Riverfront Promenade. Our favorite parking garage--$5.25 for Friday evening and $3.50 total on weekends and holidays!--is beside Hart Plaza down by the river. We happened on an artist I'd wanted to see--Faruq Z Bey, the Detroit poet and jazz saxophonist. Again, what happened next was a pure surprise. Faruq and his brother sax, bass and drum players were wonderfully experimental in the sounds they put together, but it was when a guest artist joined them that things really started happening. This artist was a woman named either Bickey or Mickey Alexander who was on the baritone sax.
Have you ever seen or heard a baritone sax? It is a huge, obviously heavy instrument that, in its lowest notes, vibrates your innards like the didgeridoo. Unbelievable! Well, these folks got an improv going that will stay with me as long as I live. The power was enhanced when Faruq added his poem "Speaking in Tongues" to the mix. No one wanted them to stop, but this festival has to stay to a tightr schedule to try to pack everything in.
It is now close to time that Pat and I need to get back down there so I'm going to breeze over some parts that really deserve more atention...but, hey, you do what you can do!
Christian McBride, the young bass extraordinaire, with his quartet of exceptional musicians--piano/keyboard, soprano and tenor sax, drums--proved to be not only musically excellent, but personally engaging. He wore an almost continuous smile and a Detroit Tigers shirt and baseball cap, utterly delighting this homegrown crowd.
On our way from seeing Christian McBride at the Amphitheatre to seeing Tommy Flanagan at the more intimate Pyramid Theater, we ran into two CPR (Committee for the Political Resurrection of Detroit) friends, Elena and Jim. They were in front of the Noguchi fountain I'd told you about yesterday...which looks like a pretty elegant donut-on-legs at night!
There's one more sight I want to share with you before Pat and I take off for downtown: that is the lights of the Ambassador Bridge that connects Detroit to Windsor, Ontario. This picture was taken on the Riverfront Promenade last night.
OK, I'm out of here! See you tomorrow.

SUNDAY, SEPTEMBER 2, 2001
I've decided that I must define the term "extrovert", if an extrovert is one who is energized by being around people. Because energized is a small word for what I experienced yesterday, on the second day of the Ford Detroit International Jazz Festival downtown! And part of the greatest fun was making new friends.
Friends like these two elegant women, Doreen and Frances, who were sitting behind Pat and me at the Amphitheatre stage for five hours last night. And later, their husbands, Donald and Charles, and Marcia, the woman who was sitting behind them. Through taking these pictures I got to know Joe and Gloria, who were sitting in front of Doreen and Frances. They come up every year from their home in Elyria, Ohio near Cleveland, stay at a downtown hotel and immerse themselves in the Jazzfest. Then there was Louise, who was sitting on my other side. She comes to the Jazzfest every year from her home in New Jersey, stays with her son John and his wife Pat, and joins them here day and night for the music, which she loves. Here is a photo of Louise, Pat and John.
A most special connection happened when I turned to the women standing behind me to say, "Don't you just love this woman bass player (Melissa Slocum), who's playing with Kevin Mahogany?" One of the women said, "You know, my son is the pianist!" Well, didn't we have fun talking! Turns out Gertrude came up from her home in Youngstown, Ohio to see her son, James Weidman, perform with Kevin here at the Jazzfest. She's staying with her sister, Logania, who lives in Detroit. She told me a little about how James is a regular member of the vocalist Kevin Mahogany's band in New York, in addition to teaching at a university there. Here's Gertude and Logania.
And it wasn't just new friends who gave me joy, but older friends--not in age but in the amount of time we've known one another--like Jackie and Ann with Rafaella, their precious daughter. We laughed about how different this festival is from last year's for them. At the 2000 Jazzfest, Jackie was within a week of delivering Rafaella and was here, but not exactly comfortable sitting for long periods of time! I couldn't resist taking one more picture of Ann and Rafaella as Ann wrote down the spelling of their little one's name for me.
And of course it wasn't just the people who gave me joy. After all, we'd come for the music! For me, there were a couple of wonderful surprises. Thornetta Davis, for one. A well-known Detroit blues vocalist, this woman plumb knocked my socks off (if I'd been wearing any)! What a power-filled delivery and exciting presentation, not to mention an amazing voice. She had the huge crowd on their feet, dancing and clapping.
And then there was James Carter and his "Chasing the Gypsy" band. I don't even know how to put words to what this young man does with a saxophone--actually, the soprano, tenor, alto and baritone saxes. He makes you think you've never heard that instrument before! And he is such a kindly, enthusiastic, gentle soul who obviously loves and respects the incredible musicians in his band. Now get this! His band includes a woman (YEA!!) on violin, and men on drums, piano, bass, guitar and accordian! What an eclectic mix of instruments and it works fabulously. Detroit adores this hometown musician-made-good (he's been in New York for 6 years now).
And it wasn't just people and music! The sights were special too...the Riverfront Promenade with the Ambassador Bridge to Canada in the background, a cityscape from the promenade area near our parking garage, the Renaissance Center sparkling in the sunlight behind the path into Hart Plaza, a photo of the Amphitheatre Stage taken from the circular railing above it, the audience there--with Brazilian flags waving--clapping for Rich K Brazil & Beyond. And for pure delight I couldn't top this picture of four boys enjoying Noguchi's fountain from the inside, so to speak! Well, I guess this photo Pat took of me scooter-seat dancing to Thornetta Davis would have to be up there too.
And as soon as I put up this journal entry, we're off again! I just can't get enough of it...

MONDAY, SEPTEMBER 3, 2001
LABOR DAY
I thought Saturday's photos of joy-filled folks would be hard to top, but I didn't figure on meeting the man who put this whole Ford Detroit International Jazz Festival together! Now if you want to see a happy face, just click on this picture of Frank Malfitano. It probably didn't hurt that it was taken immediately following Freddy Cole's set, Nat King Cole's grammy award-winning brother.
Frank came to Detroit last September as artistic director of the Music Hall for the Performing Arts. That position included being director of the Ford Detroit International Jazz Festival as well, the largest free music festival in North America. What a fabulous job he has done! He trimmed the hours and the number of stages, put a giant video screen in the middle of the plaza, improved the live televised portion of the weekend so we didn't have to wait through commercials or talking heads, and has brought in the most diverse, interesting lineup of performers I've ever seen. When you see him, it's as though this man is levitating in pure bliss! I was so happy to be able to connect with him and give him the kudos he so richly deserves.
You know, after three full days of jazz--10 hours yesterday alone--you'd think I'd be ready to stay home. No way!! I can't wait to finish this journal entry and get in the car and go downtown for more! And I'm sad to think today is the last day. How I love this Detroit weekend.
Where to start? Well, I guess I could start at the beginning. On Sunday, Pat and I got down to an already crowded Hart Plaza about 2 PM. We started at the Pyramid Theatre, probably my favorite venue because of its intimacy and great acoustics. We were delighted to find a shady spot under the sound engineer's tent...well, it was shady for awhile! The performer was a local guitarist named Paul Abler who, with his musicians, put on a wonderfully mellow Sunday afternoon concert.
After his set, we walked/scooted up toward the Jefferson Avenue Student Stage. It's always fun to see and hear these high school and college-age musicians, some of whom are pretty darn good. But the special treat for me was running into my old friends Pat and Steve. We hadn't seen one another in a number of years so I had to hear all about their kids, David, Adrian, Zachary and Lauren. The kids and I used to go on regular outings together back when they were younger; it's hard to imagine David is now in his third year of college and little Lauren is in fifth grade. It was particularly sweet to hear that this was Pat and Steve's 19th anniversary. Good for them!
This is the view we saw of Hart Plaza as we walked/scooted back into the thick of things.
By now we were ready for some serious shade. That drew us down to the river near the Waterfront Stage. Lots of folks had the same idea, including Pat's sister BJ. We happily hooked up with her for the rest of the day and night. I took a picture of Pat and BJ, and Pat took a picture of me before we headed down to the Amphitheatre for some performances we wanted to see.
We set up in a great spot right behind the VIP barricade to stage right. Our view of the stage included buildings and people lining the circular walkway above the sunken Amphitheatre. Happily, Bob was stationed there, a festival volunteer we'd gotten to know on Saturday night. Without his kindness in allowing us to walk/scoot through a corner of the VIP section after James Carter's set, we'd still be there today. The crowds that night were unbelievable!
Well, we sat in that same spot--one of the best in the house--for seven full hours of music. Before Freddy Cole (here's a picture of his audience), we saw a Detroit flutist, Debion Jackson, and her wonderful friends on harmonica, congo drums, percussion, bass guitar, guitar, harmonica and vocals. Great fun!
After Freddy we were treated to one of my favorite acts of the weekend...and it was no one I'd ever heard of before. A bass guitar/vocalist named Richard Bona, from the Cameroon. He brought together the most global band imaginable--an incredible sax player from Seattle, guitarist from Israel, hand drummer from Puerto Rico, percussionist from the Bronx, and keyboard player from the Sudan.
Ah, how can I describe the magic that man and his band wrought? All I can say is that when he sang a ballad from his native country, I was transported beyond the limits of time or space. He also got me on my feet during the fast numbers, dancing my heart out while hanging on tight to the barricade to keep my balance!
Actually that very dancing helped me connect with a most interesting woman. She'd been sitting in the VIP section and came over to speak to me after Richard Bona's set. Turns out she remembered me from a flight we were on together maybe 3-4 years ago. At the time she was coming home from Portland, Oregon and I figure I must have been coming home from San Francisco. Anyway, we didn't speak on the plane but she noticed me. Since then she says she's been seeing me dancing at every Detroit festival! Her name is Carolyn Robinson, and to add to the story, she and her sister Joan Whitfield--both of them jazz producers--wrote this festival into being back in 1973 or 74. As she said with a smile, "But we were young and just gave it away. At that age, we didn't know any better."
For the first time this year, Pat and I stayed for the late show. But, I ask you, could we have walked away from a chance to hear Herbie Mann on flute? I doubt it. To tell the truth, it was his companion, Dave Farentin, who absolutely blew me away with his music. Zowie! A fella to watch. Here is a somewhat blurry picture of Herbie and Dave fluting away.
Now it's time for another day of music. Happy Labor Day.

TUESDAY, SEPTEMBER 4, 2001
I awoke this morning already feeling jazz-deprived. After spending 32 hours--four days and nights--at the Ford Detroit International Jazz Festival at Hart Plaza downtown, it feels strange not to be rushing to get down there again today. Well, I am under a similar time deadline because I'm scheduled to take house duty today at 3 PM at Dayhouse, the respite home for women and children near the old Tiger Stadium.
Yesterday. What a glorious day! Not just the music, the people and the setting, but the weather. Actually, the weather was perfect this entire holiday weekend. Bright sun, clear blue skies, light breezes, no humidity, comfortable temperatures in the evenings...and even a full moon! That being said, I have to admit that yesterday's sun was pretty intense; so much so that Pat and I went from shady spot to shady spot as best we could. Our few ventures into the sun brought forth Pat's umbrella that handily became a dainty parasol. Now, this search for the sun meant that we didn't always have the best view of the stage. For instance, this is all we could see of the National Jazz Orchestra of Detroit's Tribute to Harold McKinney and later, Jane Bunnet & Spirits of Havana, both at the Waterfront Stage. But with jazz the important thing is the sound, and that was just fine, thank you.
It was in one of our shady spots that I got two of my favorite pictures of the day: this one of Shantell and her brother Corey climbing a tree, and another of 2-year-old Ausar, who didn't even know Shantell and Corey, but who wanted desperately to climb too. Another favorite was of these little ones playing in the fountain. Actually I had to work pretty hard to get this picture because they kept running and running around the fountain, rarely stopping to take a breath!
It was a truly festive crowd yesterday. Among them were families with kids, elders walking strong and those using canes, disabled folks in wheelchairs (I only saw three other scooters all weekend), some teenagers and the middle-aged masses. On the whole, jazz seems to appeal to a more mature crowd. Of course, with all these people hanging around for hours, special accomodations were required. I was particularly impressed by the elegant setting for this row of porta-johns, my favorite being the accessible one on the far left.
With downtown skyscrapers to the north, the Detroit River and Windsor Ontario to the south and the Renaissance Center to the east, Hart Plaza is a beautiful urban setting for such a festival. Nochuchi's fountain is at its hub with the two main stages--the Amphitheatre and the Pyramid--having rows of cement seats that drop down from street level. You can see the arrangement of the Amphitheatre in this photo I took as we listened to the fabulous 93-year old swing violinist, Claude "Fiddler" Williams. It was one of the few times we didn't go down to sit close to the Amphitheatre stage.
Of course it would be pretty tough on the tushe (spelling?) to sit on cement for 10 hours a day, so all savvy festi-goers carry their own fold-up chairs and/or seat cushions. Not just chairs, but their food as well. Although there is a large food concession area at Hart Plaza, most of what's offered is fried, whatever its ethnic origin. So Pat and I brought assorted Middle Eastern fillings for pita bread, fresh tomatoes from her garden, chips, cookies, fruit and Odwalla juices in her canvas cooler every day. With the addition of the free Planter's snack packs being given out all weekend, our food needs were deliciously met!
I connected with a couple of friends while listening and dancing to the soprano sax player, Jane Bunnet, and her Spirit of Havanna band spin a web of Cuban-inspired music in the late afternoon at the Waterfront Stage.
Marion and I always seem to meet wherever there's music, whether at our city's many free festivials or at the monthly Detroit Women's Coffeehouse. By the way, she's one of the best dancers I know. And Margaret is a political activist and organizer I've learned from and demonstrated with in her home city, Windsor, Ontario. As she's fluent in Spanish, committed to and tremendously well informed about Latin American issues, and married to Pedro, a delightful fellow who was born in Colombia, South America, I wasn't surprised to see her at Jane Bunnet's performance. It was great to have her join us in our shady spot under a tree. Here's a picture of Margaret and Pat enjoying the music.
As soon as Jane Bunnet and her group ended their set, it was time to go over to the Amphitheatre to check out the latest glittering star in the jazz vocals world. For at least a year, I've been reading in the New York Times about Jane Monheit, a 23 year-old singer who's being compared to such jazz greats as Ella and Sarah. In every story, however, mention has been made of the dramatically differing assessments of her talent and potential staying power. But at least for now, she's as hot as they get. I wanted to see, and more importantly hear, for myself.
And my assessment? Jane Monheit has an exquisite instrument, no question about that. But I guess I'd like to close my eyes and simply listen to her voice until she matures a bit. I found her posturing and pouting quite off-putting, especially during solos by members of her band. It'd be better if she weren't so doggone pretty, but I can't really expect her to do much about that. As they say, time will tell.
Speaking of time, it seemed all too soon that we were watching the final act of the weekend, Marcus Belgrave and the Detroit All-Stars Tribute to Louis Armstrong. After four days of pretty serious jazz, this felt like a family reunion! That's not to say the music wasn't great--it was. If I didn't know better, I'd think Satchmo had taken up residence within this longtime Detroit jazz musician's trumpet and gravelly voice. And the All-Stars were just that--some of our city's finest jazz musicians. Maybe it was that most of the out-of-towners had already left; maybe it was simply that no one wanted it all to end; and maybe it was the magic that Marcus Belgrave can bring to a stage...whatever it was, we felt like family there in that packed Amphitheatre last night. Folks were shouting encouragement, whistling, saying things like, "You sing it, brother!" and "Let it rip, sister!". And all this on a warm night with the full moon rising behind us. What more could we ask?
Well, a couple more sweet things did happen! Emily and Jason showed up to give Emily's mother, Pat, and me, her goddess mother, big hugs and kisses. And then, shortly before the close, Marcus and the other horn players surprised us by parading through the audience with trumpet, sax and trombone wailing. At the finish, the audience was on its feet, with wide smiles on every face, applauding not just Marcus Belgrave and the Detroit All-Stars, but a perfect weekend of music and fun.
And I say thanks to Frank Malfitano for so creatively putting together this 22nd annual Ford Detroit International Jazz Festival, and to all the sponsors they had us clapping for all weekend, especially the Ford Motor Company. Now everybody, let's get out there and buy a car!

© 2001 Patricia Lay-Dorsey. Please use with attribution.
---
return to Music Festivals
go to Windchime Walker's journal
Windchime Walker's home page