Reflections on Tragedy and War: Year One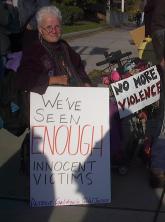 Since the September 11, 2001 attacks on New York World Trade Center, the Pentagon, and the hijacked plane that crashed in Pennsylvania, I have struggled with feelings of shock, horror, anger, fear, sadness, grief and a plethora of emotions that cannot be named. As I write this, we still don't know how many died as a result of those attacks, but the number is estimated to be between 5-6,000 lives lost.
The feelings of suffering and loss have not simply affected those who personally knew a victim of this tragedy; every human person who has come head-to-head with the events of September 11 has been touched in a profoundly life-altering way. Among those who seem to be carrying more than their fair share of suffering are persons of Arab descent. Brutal attacks, murders, verbal harrassment, death threats, destruction of mosques, businesses, cars and homes, loss of business and jobs, being kicked off commercial planes for no reason...all these and more prejudices and abuses continue to plague members of the Arab American community.
Then on October 7, 2001, the leaders of the country in which I live started dropping bombs and shooting missiles at the already-suffering country of Afghanistan in what they call a "War on Terrorism". Again I was gripped by strong feelings: pain, horror, anger, disgust, sorrow, determination.
Through it all, keeping my daily online journal has grounded and comforted me. It has offered a safe place to express all that is churning within and around me. What follows is a selection of journal entries that give an eye into my personal responses to tragedy and war.
*The easiest way to navigate going back and forth between photo links and journal text is to click on your "back" button at the left of your tool bar.

TUESDAY, SEPTEMBER 11, 2001
I didn't even want to write this date knowing how it will live in our memories.
Words. Words are totally inadequate today. And to be honest, I'm not very comfortable trying to create words on my keyboard tonight. Unfortunately, I took a fall this evening and banged up my right index finger so I'm trying to do my usual 2-fingered typing using my third finger on my right hand. Not too terrific.
Actually I tried to go to bed without writing a journal entry at all today. By the time I got home at 11 PM after 13 hours working at our CPR Detroit "campaign headquarters" at Dayhouse, after the daylong anxiety about whether our niece who works in NYC was all right, and after Eddie and I had stayed up talking until midnight, I was beyond tired. But I couldn't sleep for thinking about all the families and friends of the dead and injured who can't sleep either. So I decided to get up and see if I could write something.
I am filled with a mixture of raw feelings. Shock and disbelief even after seeing TV pictures of the World Trade Centers dissolving into smoke and flame. Relief that we finally found out at 10:45 PM that our niece Carolyn was out of town instead of working in downtown Manhattan today. Anger at my country for so arrogantly antagonizing other countries and their people so something like this was bound to happen eventually. Fear over what the US leaders will do to retaliate. Exhaustion from working hard all day on the Detroit city primary elections (that went on even though everything else in the city closed down). Gratitude to have been with sensitive, politically aware, like-minded folks who gathered at Dayhouse after the polls closed tonight. Sadness for all the suffering this tragedy has caused innocent people, their families and friends. Distress over what this will mean in terms of increased military spending, the more-likely construction of Bush's Star Wars missile shield, even greater restraints on our already-compromised freedoms of speech and assembly, an increase in anti-immigrant feeling among the American people.
What hard times. How I would like to think America could learn from this rather than use it as an excuse to escalate their already violent attitudes and actions towards other countries, especially Arab nations in the Middle East. Whatever happens, we will never forget this day when America finally discovered it was vulnerable to the same horrors so many nations and their people have faced for countless generations.
And now to try to sleep.

THURSDAY, SEPTEMBER 13, 2001
If you're like me today, you're on information and emotional overload. Too many words, too many horrible images, too many fears, too many questions. I just want to calm down, sit in a quiet place and reflect on what I know. For instance,
I know who suffers when a nation's leaders decide to exact military retribution.
I know the love I've experienced from my Arab-American brothers and sisters.
I know how rich life is when persons of different ethnic/national backgrounds meet and become friends.
I know that the butterfly does not make a distinction between the colors of the flowers whose pollen she spreads.
I know it is better to stand back and see the whole picture before rushing in with a quick "solution".
I know the redwood trees can teach us patience and endurance in the face of threats to our feelings of security.
I know threatening clouds either bring rain or dissolve in time.
I know the children have a right to play without fear of being the victims of someone else's war.
I know that if people sing together they cannot stomach killing one another.
I know those who love the creatures of this world cannot make decisions that will cause their death and destruction.
I know the tide comes in and goes out without needing human intervention.
I know the calla lily will not resist the snail's slow travels across its surface.
I know people can get along given half a chance.

TUESDAY, SEPTEMBER 18, 2001
Children. Aren't they the perfect antidote to the swirl of feelings that have assailed us this past week? Not that they haven't suffered too; they have. It's just that they are such present-livers that it's hard to stay stuck in grief and fear around them.
The children in my life right now are two little girls, aged 6 and 9, who live at Dayhouse with their Mom. Domestic violence brought them to the shelter so I can't show you their picture--darn it!--but I can try to share the essence of their wonder and simplicity of spirit. Even last Tuesday as I sat with them after school and listened to their concerns about the terrorist attacks...even then, they were filled with life and energy. And the fears they felt were not of their making, rather they had come from insensitive remarks by a "lunch parent". Imagine telling 9 year-olds that they couldn't go out and play in the playground because a plane might come and attack them! Talk about speaking out of fear. Well, I guess none of us was at our best last Tuesday.
You know, I never did put up the digital pictures I took that day. Actually, I didn't even download them until Friday. It wasn't that they were depressing, it's just that I couldn't think about dealing with photos...or much of anything, for that matter. I now know I was able to take pictures on Tuesday because I was in a state of shock.
I had not heard anything unusual that morning. I was busy trying to get ready to work the CPR (Committee for the Political Resurrection of Detroit) telephones at Dayhouse for the primary elections. Although I listened to CBC radio 89.9 FM in the car on the way over, it was not time for the news and I only heard the usual classical music. I parked in the driveway beside Dayhouse, got windchime walker out of the back seat, and started making my slow but steady way up the front walk. I was halfway to the front steps when Pat opened the door and came out. I remember her face had an expression on it that I'd never seen before.
"Have you heard? Someone's run a plane into the World Trade Centers! They've totally collapsed; nothing's left at all. And another hijacked plane crashed into the Pentagon. They're saying there might be more planes still up in the air."
I remember feeling a sort of numb shock, like somehow I couldn't take it in. I stood there with my mouth literally hanging wide open. It felt like I couldn't move. But I did.
And as the day wore on, I seemed to get somewhat used to it. But I wanted nothing to do with the television that Pat had going in the living room. After she went off to class, I muted the sound so I wouldn't have to listen to it anymore. I sat at the table Pat had set up with all our polling materials and turned my back to the TV. But somehow I couldn't quite turn it off. Every so often I'd catch a glimpse of images of people running through the streets of New York, of white soot-covered firefighters scrambling in the middle of rubble, of news anchors--I think we were watching Peter Jennings--with faces like masks and mouths always moving. It all seemed surreal.
But I had a job to do and I kept doing it. Allan and Cindy came over to get their poll challengers' badges and letters of authorization. Elena and her twin 13 year-old daughters--whom she'd taken out of school--came over. She and the girls watched the television, but I didn't join them. Later, they hung our CPR Detroit banner from the front porch overhang and Elena took this picture of me standing under it. Unfortunately the banner didn't make it into the picture.
After they left I decided to sit out on the porch beside the curtain of morning glories. I'd brought my mobile phone from home so I could continue doing my job out there. I fielded phone calls and took down the voter counts our people were gathering at precincts all over the city. I read the P.D. James mystery I was in the middle of. And it was out there that I talked to the girls when they returned home from school.
I didn't cry at all. Not then anyway.
But my anxiety was rising because Ed and I had not yet heard from our niece Carolyn who works in Manhattan. He and I must have phoned each other at least 10 times that day. And although he'd left numerous messages on Carolyn's phone machine, we heard nothing back from her. I tried calling her myself several times on my cell phone, but got no answer. Then I tried her brother, our nephew John, in Washington, DC. Busy, busy, busy. Ed started saying things like, "I think we should prepare ourselves for the worst." But we just kept trying to reach her.
Jeanne, a longtime friend of Dayhouse, came over to spend the afternoon. Before going inside to watch the television--the guests were now glued to it--she sat with me out on the porch. Her energy was so grounded and peaceful that I could feel myself settling down. Jeanne just smiled and said, "I want to pick some flowers." She went to the stand of cosmos beside the parking lot and picked a small bouquet of delicate pink flowers. She then calmly stripped the stems and deadheaded the blooms that had gone to seed. When I asked if I could take her picture for my web site, Jeanne smilingly agreed.
Pat made a delicious dinner of macaroni and cheese cooked with onion. And because she'd removed the tomato plants from her garden the day before, there were green tomatoes to fry up like my southern Mom used to do. I ate two helpings of everything. Of course, I hadn't eaten a thing all day.
After dinner, the CPR Detroit poll workers started assembling. Pat had put out the Middle Eastern food I'd brought, crackers and cheese, chips, her macaroni and cheese, salad, cherry tomatoes, lemonade and iced tea. We'd assumed folks would be plenty hungry after working the polls all day, and we were right. Soon the house was full of people--close to 30--and I was busy writing down everyone's voter count numbers. The television and/or radio was on for much of the evening until folks got tired of hearing the same things over and over. A lively discussion soon started about all that had happened that day. It was a comfort to be with similar-minded folks...left-wing progressives all.
We never could get much election information on either the radio or the TV. By 10:30 PM almost everyone had left and I got ready to go home myself. Before leaving, I tried to call Ed to tell him I was on my way, but our phone machine took my message. By now I was beginning to feel it was likely that our niece Carolyn had perished.
There were few cars on the expressway. As I started to make the turn onto the street next to ours, I saw the phosphorescent lights of an animal's eyes. I stopped so as not to hit this cat or dog, whichever it might be. That was when I saw a light-colored furry animal, the size of a small dog but definitely not a dog, cross right in front of my headlights. It was a fox! No question about it.
Now I've never seen a fox around our neighborhood in the 30 years we've lived here. I mean we live in a totally residential community. Actually, Ed once saw a fox on a grassy median perhaps 4 miles from our house, but that was at 4 AM on an early morning bike ride. This was now 11 PM on a Tuesday night. On the Tuesday night.
I finally pulled into our garage, exhausted. Ed came right out and said, "Carolyn's OK. She was out of town!" I burst into tears and sobbed my way into the house.
And here I thought I was going to write about the girls tonight. Ah well, this journal definitely has a mind of its own.

WEDNESDAY, SEPTEMBER 26, 2001
We never know when our shell is going to crack wide open and our inner stuff is going to come spilling out. Usually it is at an unexpected, often inopportune, moment when we're in the middle of doing something terribly important.
Well, my shell cracked this afternoon as I was exercising on my stationary bicycle. I was alone in the house and would be for another hour. Not bad timing, as these things go. And what precipitated the breaking open of my heart? Lots of things, I guess, but the immediate instrument used was a voice. A voice in song. Carolyn McDade's voice in song, to be specific. And what spilled out? The depths of my feeling about the deaths of 6,000 people on September 11. A pain I had kept carefully hidden--from myself--by anger and action. Hey, it was a lot easier to move directly from shock to the streets carrying banners, and to the computer writing words and forwarding emails. Being an anti-war activist was lots more comfortable than being a broken-hearted sister to thousands of persons lost forever in those burning, crumbling infernos.
So there I was minding my own business, pedalling along to Carolyn and her friends' CD "As We So Love". After 12 meditative minutes, I stopped moving my legs and started rotating and stretching my arms and shoulders. It was then that I heard Carolyn's voice swelling over and under the others. I've listened to this portion of the CD countless times before, and have always been moved by what happened when she let her voice out of the cage of choral singing and finally allowed it to soar on high with all the passion of which she is capable. And that is, believe me, a lot of passion!!!
Well, this time her voice penetrated my heart-shell like the beak of a chick pecking from the inside. Soon I was not just crying but sobbing, moaning, wailing. And it didn't stop. Not until I came to the heart of it.
"Stop it! Someone, stop this cycle of hatred!"
And my voice then went to a place I didn't want it to go. "It's my cycle of hatred! I've got to break it myself!"
As I said when I started writing this, "lots of things" brought me to this place. Not just Carolyn McDade's voice in song. No, it was her invitation to me yesterday to "stop and give in to beauty." It was my doing exactly that. It was the email I received today from a man I didn't know; an email that thanked me for yesterday's journal entry and said, in part, "Recently I've been too much anti-war and not enough pro-peace. The difference is subtle, I know, but the first one drags you down, the second one lifts you up." It was Marietta Jaeger signing my guestbook this afternoon. Marietta who goes all over the world as a powerful spokesperson against the death penalty. Marietta who of all people in the world has every right to want revenge after the torture, rape and murder of her 7-year-old daughter Susie back in the 1970s. Marietta who wept as much over the suicide of David, her daughter's killer, as she wept over Susie's death in telling me the story during an interview in the late 1980s.
Not too surprising that my shell cracked, I guess.
So what now? I'm going to try to do as Marietta told me she did during a black night soon after Susie's death: I'm going to try to learn how to love. Not just the innocents but the terrorists. Not just Rep. Barbara Lee but President George W. Bush. Not just my friends but those who have hurt me. And I'll use Marietta's rule: no speaking ill of the "unjust", either by me or by anyone around me. If I get a forwarded email that tars President Bush with the unkind, demeaning brush I've so happily wielded myself in the past, I will ask that I not receive such emails in the future. I will not defend him, but I will love him.
Oh my. Please hold me in good energy, dear friends, for I can already tell I've never taken on a more challenging task. But if I don't stop the cycle of hatred and violence within myself, where will it all end?
And that word "love"? It is about as sentimental as a bulldozer, isn't it? Tough pledge, but it's time. For me anyway.

SUNDAY, OCTOBER 7, 2001
And so it begins
Another war against a helpless people
More bombs dropped in the name of democracy
Or anti-terrorism or "infinite justice" or just because
Another war against a helpless people
For what? To get one man they declare The Enemy?
Or anti-terrorism or "infinite justice" or just because
To fight hatred you breed more hatred, is that it?
For what? To get one man they declare The Enemy?
Yet bombs kill people not one person or an "ism" or ideas
To fight hatred you breed more hatred, is that it?
There is but one weapon to wipe out hatred: love
Yet bombs kill people not one person or an "ism" or ideas
More bombs dropped in the name of democracy
There is but one weapon to wipe out hatred: love
And so it begins
TUESDAY, OCTOBER 9, 2001
I don't know about you but what I need today is to hear sane voices. A new journal reader named Thomas has offered me a couple of threads to follow toward that end. He wrote to tell me that the poem, "Rest In Peace" that I quoted as written by Thich Nhat Hanh was actually influenced by Thich Nhat Hanh and written by Frederic and Mary Ann Brussat. The poem and their reflections can be found on the web at: http://www.spiritualityhealth.com/newsh/items/blank/item_3297.html
Another place I visited to find wise words of peace was Starhawk's web site. Her URL is: http://www.starhawk.org
And for news stories that make sense to non-flagwaving peace folks, I like to go to http://www.alternet.org and http://www.commondreams.org
The most important thing to remember during these trying times is that you are not alone. You will not learn that from the mainstream media, whether on the television or radio or in the newspapers. They would have you believe that everyone in the United States is in support of bombing Afghanistan and getting Osama Bin Ladin "dead or alive", as the US president from Texas put it.
That is simply not true. I have personally only talked with three people since September 11 who believe that military retaliation is the way to go; everyone else--progressives and traditionalists alike--voices concern that dropping bombs or firing missiles or sending ground troops will only feed into the cycle of violence. But their voices are not heard in the media or press. Why? Because war is good for the economy and the communications industry is dependent on the financial support of corporations and businesses. I'm stating a fact not making a judgement.
Stay connected with like-minded, like-hearted folks. Join a group that is discussing the issues, planning teach-ins and/or on the streets demonstrating. If that is not feasible, get together with friends who you know are peace-loving people, or telephone or email them. Go to web sites that give you this other perspective. Feed your spirit through art, music, dance, meditation, being out in nature or attending worship services--whatever it is you do to restore yourself. It is your spirit that will give you strength these days. Avoid people, places and things that do damage to you in any way.
I personally cannot stomach looking at television news, reading the newspapers or listening to radio news during times such as these...so I don't. I learned to set clear boundaries for myself during the Persian Gulf War 10 years ago, and those boundaries still apply. Don't listen to people who say you must stay informed. Much of what you see, read and hear is propaganda anyway; you certainly don't need to take that toxic substance into yourself. I learn everything I need to know through personal conversations, emails and online resources. That's all I need to take in right now.
Please don't isolate yourself from others. Community is essential to make your way through these days, weeks, months, who-knows-how-long. Stay active in working for that which you believe. Do not get discouraged or depressed when it seems your work for peace is not changing one single thing around you. It is. It's just that the effects of our work are more subtle than the effects of bombs and missiles. Stay clear and focused. Believe in yourself and your own inner knowing. You are the only authority you need right now. Even if your partner, family members, friends and co-workers are responding differently from you to this war, don't give in or give up. We need your voice and courage to bring peace to our world.
And come visit this website anytime you want. My voice will continue to ring out the truth as I see it. Whatever you do or don't do, please take time to appreciate the beauty around you and to say "Hi!" to your neighborhood friends. We're all in this together.

TUESDAY, OCTOBER 16, 2001
It is more than my Mom's diminishment that I'm grappling with here. And more than the weariness I feel after the successful day sorting family things with my sisters. It is the continued bombing of Afghanistan day after day. It is living in a motel awash in American flags and government military workers and a loud TV that is always tuned to CNN that I must pass everytime I get off the elevator. It is being away from home, from my sweet Eddie, from my friends and communities. It is being here in the Washington, DC metro area, in the belly of the beast, so to speak.
I want to go home.
But that is not yet possible, so I do what I can to support myself. I read Mary Oliver's poetry. I write my own poetry. I swim laps in the motel pool. I go off on my scooter knowing the rains are coming but needing fresh air more than I need to stay dry. I visit Mom for an hour instead of yesterday's ill-advised marathon. I have a delicious Thai dinner with my sister Carolyn. I call Pat at her friends' house and leave a message that instead of extending our trip to include an overnight in Virginia's Blue Ridge mountains, I want to go home on Thursday. And I share my poem with my faithful journal readers who are an ongoing source of loving support to me.
What I knew no longer
serves. My world view is too
small, too innocent, too pure.
These times insist on new ways of
looking at things.
It is not enough to say that
life is simply as it is. It is not
enough to say humans are destroying
the planet and all living creatures. It is
not enough to say think globally and act
locally. It is not enough to say my mother is
tired and must be allowed to close her
eyes and pass on if she wants.
No words can say
what must be said.
I cannot continue to walk around avoiding
the sound of television news. I cannot grind my
teeth everytime I see the flag of my
country waving from a car antenna. I cannot
turn away from those who say this war is
right and just and we must have the stomach
to fight for decades to protect the American
way of life.
I cannot keep my head in the sand without
suffocating.
More than the towers of commerce blew
up, burned and crumbled that blue-skied
day in September. More than 5-6000 persons
perished.
Those three planes crashed into our
confidence that this country of malls,
skyscrapers, banks, computers and
SUVs would always be safe from
attack.
More than the country of
Afghanistan, Osama Bin Laden, the
Taliban and terrified women, children,
elders and men are being bombed
every night.
Those bombs and missiles are causing
collateral damage not measured by the
Pentagon; they are blowing up our
national soul.
So now what?
How to live in a world
gone mad, a world where
hatred reigns, a world
where what they call news is
lies, where what they call
democracy is a police state,
where what they call
patriotism is revenge.
Don't forget the warm touch of
sun on your face or the rise and fall of
the cicadas' acappella chorus on hot
muggy afternoons.
I cannot crawl into a dark
cave and hide. I cannot surround
myself with a stockade fence of
like-thinking persons and call that
living in the world. I cannot feel in
the muscles, lungs, heart and gut of
my body each and every bomb dropped
and survive.
A new world view, a new way of
being, must arise from the ashes, from
the millions of tons of rubble, of my
formerly-held assurances. Yet I must
be willing to exist in this painful, discomfiting,
unsettled in-between space until then.
And maybe I will never find a
container large enough or flexible
enough to hold the events that are to
come. If that be so, I must find a
way to exist in the unknowing.
Don't forget the bite of ice crystals
in your nostrils or the scent of rain hanging
heavy in the air.
How many persons in how many
lands have walked this
treacherous path before me?
It is surely time that I, that
we, trudge along at their sides.
Remember the gurgling smiles of
a baby and the feel of your strong
arms churning through the water.
Don't forget the taste of life.

MONDAY, OCTOBER 29, 2001
"If someone hit me I'd go tell the principal. He'd take care of it."
"I'd hit 'em back."
"You could count to ten."
"What about asking them why they did it?"
"Or you can just walk away."
"I'd go inside the school and stay out of their way."
"I'd act like I was walking away and then I'd turn around and trip 'em."
These are some of the answers from a fifth grade art class today as we discussed different ways the U.S. could have acted after the attacks on the World Trade Center and the Pentagon. I had asked them how they would act if someone came up and unexpectedly hit them. Their answers pretty much covered the options the U.S. government had had after September 11.
The discussion came after their art teacher had introduced two new projects the fourth and fifth grade classes will be working on: 1) connecting with a class in another country as art pen pals, where they'll create and send drawings that show some of their life and the things they like to do; and 2) being part of a global project called Art for Peace that is gathering 10,000 drawings of peace from schoolchildren in the U.S. to send to Muslim children in wartorn countries like Afghanistan.
Since so many of our kids have family still in the Middle East or in other countries, the teacher is hoping to connect the pen pal project with a class that is known to our students and their families.
It was interesting to see how differently each class--two fourth and two fifth grades--responded to these projects and the resultant discussions. The fifth grade class that got into it most heavily had a boy who asked, "Who's winning?", when the teacher mentioned the war. It was then that she invited me to facilitate the discussion.
After I'd elicited their ideas of different ways one can respond to aggression, I asked what happens when one hits back. We agreed that it just makes things worse. Then I mentioned how impressed I was with the idea of asking the person who hit me why they'd done it. That way you could try to find out if they'd just gotten up on the wrong side of the bed or maybe there was something you'd done earlier that had hurt them. We talked about how it's always good to talk together and try to understand one another whenever you can.
In relation to the suggestion that you tell the principal and let him deal with it, I brought up the United Nations as a body that can act like a principal and handle issues that two countries can't handle on their own. The UN could even set up a court to jail, try and punish whomever had acted as a worldwide criminal. In that discussion we agreed that in our own country we don't just kill people who kill others. They are arrested, jailed, brought to trial, found guilty or innocent, and then given punishment decided by the court. Couldn't the U.S. have handled the crimes on September 11 by letting the larger world body--the United Nations--bring the terrorists to trial and set the punishment?
What an amazing and unexpected opportunity for me to talk peace with children! Was I ever grateful that I'd been refreshed and renewed by Carolyn McDade and the wonderful women in our singing circle this weekend. Because of what had transpired there I was better able to hear the kids and be more tolerant of different perspectives.
By the way, don't ever imagine that children don't know exactly what's going on in the world and have their own ideas about things. They hear everything that is said around them, they soak up the news on television, and they especially learn by example. It gets pretty tough to tell kids not to hit back when someone hits them if all they're seeing and hearing models violent retaliation. Especially retaliation that is applauded and openly supported by their parents, government leaders, churches or mosques, and even some schools. Kids are great learners...too good sometimes.
The fact that probably 98% of the students I was with today were Arab American seemed to make little difference in their attitudes regarding September 11 and the so-called War on Terrorism. I'd guess what I heard from them was pretty much what I might hear in any school across the United States. So much for the current prejudiced views against persons of Arab descent that would say "they" are either terrorists themselves, related to terrorists or support the terrorists. Believe me, I see as many American flags in house and store windows and flying from cars in Dearborn as anyplace else in the Detroit metropolitan area.

MONDAY, NOVEMBER 19, 2001
It is 6 AM and I can't sleep. Something has been niggling at me all night and I must write about it so I can straighten out my thoughts.
Before I went to bed I received an email message from a friend. In it she wrote, "I always feel that the very best we can do for the world is to look inside ourselves and be the kind of person we admire and respect." I've heard variations on this theme expressed by countless friends and acquaintances during these past months. It sounds so good.
So why does it not sit well with me?
First of all, it feels too narrow in scope. If each individual simply works on her or his own personal issues, who's going to look at the broader picture? Who's going to hold their governmental leaders accountable? Who's going to try to change the systems that have created and/or promoted this global disruption? Who's going to study the causes and consequences of decisions and actions that have affected countries and persons we know little about? Who's going to offer new creative constructs and ideas? Who's going to help shift the paradigm?
Each person is a spiral of thoughts, feelings, intentions and actions. The inner coil is what sets the tone for the circles that radiate out from it. So, yes, what is at our core is of utmost importance. From that place of innerness spirals our personal relationships with loved ones, family, friends, neighbors, co-workers and members of the community. Connected to this circle of relationships is the broader circle of our work, whatever we determine is our place in the running of the society of which we are a part. For many people, the spiral seems to end here.
And that's the rub. For me anyway.
Maybe before September 11, that was enough. But now? I so firmly believe that the tragic events of that day opened a door that not only our country but all human persons must walk through. It is the door of global awareness, the door of connection with all who inhabit this planet. We can no longer view life through the lens of ourselves, our families, our neighborhoods, our communities, our nations. It is past time for that. Actually it was that attitude that led to the events of September 11 and to the US governmental leaders' decision to drop bombs on Afghanistan night after night. As a woman in my neighborhood said, "It's them or us." That kind of attitude can destroy life as we know it on this planet.
So when friends or acquaintances--all good-hearted people--say it is enough simply to become a person of peace in their individual lives, I respectfully disagree. That is the start, but it must go much farther than that. The spiral must extend beyond our own environs to cover this planet earth. And one of the most effective ways to extend our spiral is to educate ourselves through studying the current issues and delving into the history that has brought us here. Another spiral-enhancing tool is engaging in dialogue, especially with persons who hold different opinions and have different world views than ours.
Out of this expansion of consciousness will emerge our unique place in the whole, that very particular piece that only we can bring. Our offering may take us back to one of the smaller circles of the spiral, such as our neighborhood or community, but how we approach it and what it comes out of is born of the whole...like a star in the galaxy.
I think of someone like Carolyn McDade. She lives in a small town on Cape Cod and is raising her granddaughter. She is a musician who writes songs, records them with groups of women and gives community-building retreat weekends. How easy it would be for her to stay on the surface of things and make folks feel cozy and comfortable as they sing her beautiful melodies. But she doesn't. Carolyn says she writes love songs, not to individuals, but to movements. And this consciousness is born of decades of work and study as an activist in the struggle for liberation and justice. Not just for people but for our planet. She defines her work as cultural transformation...and it is. No one sings her songs, listens to her CDs, or attends one of her retreats without being changed. It's in the fiber of the music and what it comes out of. Carolyn's spiral is all-inclusive.
I must say here that this kind of consciousness and life-born-of-awareness does not appear full-blown. No, it spirals its way into being, bit by bit. Each of us starts from where we are and stretches towards the whole. And for each one, the path will take unique twists and turns until finally one day we look around and see ourselves in a larger space than we could ever have imagined. The spiral has an energy of its own, even its own direction to take, but what it requires of us is assent. And assent implies movement. We must be willing to push the boundaries of our zone of comfort. We must be willing to risk change. And what else is life but change?
The timing will be uniquely our own. So if I'm tempted to judge someone who seems to be a few rungs back on the spiral from me, that isn't fair. Each of us creates the music of our life in our own key and tempo. I guess I just want to hear a few notes of your song as we pass. If all I hear is dead silence, it makes me wonder. Are you there? Are you still becoming, or have you given up and closed down? Is the spiral expanding or contracting?
The primary agent that causes spirals to contract is fear. And fear has been so prevalent since September 11. We have all experienced fear of one kind or another since that heart-stopping day. The question is, did we get stuck there? Are we acting, thinking, deciding out of fear? If so, we will experience a narrowing of our views of life and the world. It seems that the current "war on terrorism" with its bombs and erosion of civil liberties comes out of that contracted spiral of fear.
For fear is a spiral too. The difference is that fear spirals in on itself rather than out to others. Its circles become tighter and tighter until it finally implodes on itself.
The opposite of fear is love. I hesitate to use that word because of how it has been distorted by misuse. But, as with the American flag, I will not allow others take away an important word or symbol. The kind of love I'm referring to is not sweet or soft or sentimental. It is tough and deep and dangerous. Dangerous because of its capacity to transform one who lives it. The kind of love I'm talking about is not a feeling; it is a way of being in the world. This kind of love creates cultural upheavals like those wrought by Gandhi, Martin Luther King, Jr., Vandanva Shiva in India and Maude Barlow in Canada. It is a choice one makes, and once made, love takes control.
See what happens when you start writing in a journal? You go from something as mundane as a niggling discomfort over a sentence you've read in an email to discussing the most profound issues of life. Maybe there should be a notice on the covers of journals (or the keyboard of a computer) saying "Caution: Keeping a journal may be dangerous to your set ways of thinking."

TUESDAY, DECEMBER 11, 2001
Do you ever wish you were not so conscious, aware, informed? On days like today I can understand the 90% of Americans whom the polls say support President Bush and his actions since September 11. It would be so comforting to give up my need to know, my responsibility to look at the larger picture, my commitment to truth and justice, and let someone in power tell me everything is black or white, good or evil, us or them. It would be like returning to childhood when Daddy was the arbiter of ideas, opinions, decisions and actions. It would be much much easier than trying to make my way through today's confusing, contradictory, complex international and domestic situations and come to responsible decisions that lead to actions for which I am willing to hold myself accountable.
The news that dumped me into a pot hole of discouragement was that Fast Track--Bill HR 3005--passed the House of Representatives by one vote. Fast Track is "a procedure through which Congress gives the president authority to negotiate trade agreements and provides special rules for considering those agreements. Fast Track transfers constitutionally-mandated powers of Congress to the Executive Branch." It almost certainly means a speeded-up expansion of NAFTA to the rest of the Western Hemisphere through the Free Trade Area of the Americas (FTAA). And the oligarchy gains ground.
How to remain hopeful in these times? How to continue the struggle for truth and peace and justice when public dissent has been declared an act of terrorism (see the Patriot's Act of 2001)? How to console yourself when, according to the polls, only 10% of the American people are not in lockstep with President Bush and his advisers?
If I simply stayed in my head, I'd be lost. I must go to another part of my being, the part that believes the words and music I sing--the spiritual within me that resonated today as I read an email from my friend Marcia. In it she quoted these words of our mutual friend, Carolyn McDade: "May I be faithful."
If Carolyn were speaking religiously, I would not give it a second thought. But she's not. She is a woman of global consciousness, courageous action and unrelenting truth. Someone I love and admire. A model of how to live in today's world with your eyes and mind and heart open. Creatively, authentically, passionately.
And so I ask myself, what does it mean to be faithful? To what am I faithful? The answer is halting but clear. I am to be faithful to what I feel called to do and be in today's world...a voice of truth, peace, justice and reconciliation. I am not to worry about what happens or fails to happen because of my words or presence. The outcome is not my concern. That does not mean I do not want the best possible outcome; it simply means that whatever happens will not stop me from speaking and being as I must.
I can't help but believe we have been prepared for these times, that in some profound way they are the reason we are here. I think of the persons of courage who dared to say the emperor was wearing no clothes during the McCarthy era. They paid mightily, often with their jobs, sometimes with their lives. So here we are again. The political pendulum has swung far to the right, and the small numbers of truth-seers and truth-sayers in our midst must be willing to stand up and be faithful to all that they know and believe.
To be faithful means to be yourself no matter what. May I be faithful.

WEDNESDAY, DECEMBER 19, 2001
The following is a copy of an email I sent to the Committee for the Political Resurrection of Detroit (CPR) listserv at 7 PM today:
I have just returned home after spending the afternoon with Rabih Haddad's family, friends, character witnesses and representatives of the media/press in the US Immigration Court waiting room in Brewery Park, Detroit. The bond hearing itself was closed because of "secret testimony" by the government.
I'd estimate 200 people turned out to support Mr. Haddad, a well respected member of the Muslim community in Ann Arbor. They only allowed as many people into the waiting room as there were chairs available; I was fortunate that I'd brought my own "chair" in the form of my Amigo scooter, so I was allowed to stay. A number of supporters offered their chairs to witnesses who would not have been able to stay otherwise.
My new friend, Fadi Kiblawi, a University of Michigan student leader who had driven in from Ann Arbor (even though he has a hard exam tomorrow), was one of those who gave up his seat to a witness. I'd met Fadi out in the parking lot where he kindly said yes to my request that he help me unload my scooter from my car and assemble it. He even stayed with me when I had to return to the car with my camera after the guard refused to let me take it into the court waiting room.
In our conversations I learned that Fadi, a Palestinian whose family left Kuwait in 1986, is a member of the executive committee of the Arab-American Anti-Discrimination Committee, U of M. He'd been instrumental in planning the September 28 anti-war demonstration at U of M that drew 5000, as well as the more recent meeting called to inform more than 500 Arab men on student visas in the Ann Arbor/Dearborn area of their rights regarding the FBI letter they'd received requesting that they "voluntarily" report for questioning.
Fadi also told me of the importance of Rabih Haddad's work as co-founder and organizer of the Global Relief Foundation. As he described it, this is one of only two Arab relief organizations that has been actively gathering funds to help the Afghan refugees and victims of war. A major part of Ramadan is to give aid to those in need, so the Global Relief Foundation has been an essential part of that effort. Fadi said it was particularly unfortunate that Mr. Haddad was arrested and the Global Relief Foundation's assets were seized by the government on Friday, the day before Ramadan ended with the celebration of Eid. Many Muslims would have donated great amounts of money on Eid to help the suffering people in Afghanistan. A note of cruelty to me was that Rabih Haddad was not even allowed to bring his Quran into jail on one of the most important Muslim holy days of the year.
Today's bond hearing got under way at 2:30 PM but it was not until all Mr. Haddad's witnesses had testified that the judge postponed the hearing until January 2. The reason given was that the government witnesses were not present. We didn't hear this news until 4:30 PM.
When we left the waiting room, the halls were crowded with media cameras--they weren't allowed in the court area--and downstairs was a large gathering of supporters. Salma Al-Rushaid, Rabih Haddad's wife, spoke calmly to the press and media before she and her children left to return to Ann Arbor. I'd had an opportunity to spend some time talking with Salma in the waiting room and found her to be a most courageous woman.
I encourage everyone to come out to the Immigration Court on January 2 to support Rabih Haddad's rightful effort to get out of jail on bond. I'll be sure to send an email to the group as soon as I hear the time of the hearing.
in peace and solidarity
Patricia Lay-Dorsey
I've just finished listening to/singing with Holly Near's song "1000 Grandmothers". That's what it was like today--I was a grandmother offering the presence of truth and love to a people who needed a grandmother. How did I know so strongly that I was meant to be there today? Why did Rabih Haddad's arrest and detainment disturb me so much when I read of it on Sunday night? I can't answer these questions. But when I was one of the few who was allowed to stay in that court waiting room, I knew there must be some reason. All I could do was be present, and so I was.
I sat most of the time with my eyes closed, offering peaceful loving thoughts to all involved in this hearing. Rabih Haddad himself, his lawyer, Salma and the children, the judge, the INS agents and lawyers, the witnesses, Mr. Haddad's supporters, and every representative of the media and press. The phrase "May truth prevail" kept going through my head like a mantra. And so I sat until one time I opened my eyes and saw Salma, whom I'd never met or seen before today, shyly smiling at me. I returned the smile and continued to sit in silence.
And then at a particular moment I knew it was time for us to meet. So I scooted over to where she was sitting with her friend and the children. Her face lit up with relief, as if indeed she were seeing the face of her grandmother. I don't know exactly what I said but I know it was what she needed to hear. And I know she needed to have her hand held in mine. What a mystery!
And so I ask all who read this to hold Rabih, Salma and their children in especially good energy. They need and deserve it. When I asked Salma what we can do to help, she shook her head and said, "I don't know." I then said, "Prayer?", and she cried, "Yes, oh yes! That is what I am asking of everyone. Prayer is what we need--pray that the truth will come out."
What a gentle-spirited courageous woman. And she has a good sister/friend at her side in Huda. As I told her, "You are not alone. There are people all over the world who are with you and your husband in this. Stay strong. The truth always wins. It may take awhile and we may have to stay strong for a long time, but the truth will come out."
May it be sooner rather than later.

THURSDAY, JANUARY 10, 2002
The bad news is that Rabih Haddad is still in jail. Today's appeal to reverse the denial of bail was not successful. It will be four weeks tomorrow since this respected Muslim leader and global humanitarian was taken from his home in Ann Arbor by three INS (Immigration & Naturalization Service) agents and held without bond for a minor visa violation. He has had no actual charges brought against him so it is hard for his lawyer to mount a defense. That seems to be the post-September 11 version of "due process."
I didn't really hear what will happen next, but whatever it is will surely be conducted with the utmost secrecy. All three hearings thus far have been closed to everyone except Rabih Haddad's lawyer. On January 2 and again today, the entire grounds where the Immigration Court is located were closed to everyone except those on a secret list. Does this sound like a democracy?
The good news is that we had a spirited demonstration in support of Rabih outside those locked gates. We also had lots of photographers and reporters from local and national press, including The New York Times. Publicity is what we want! This issue of justice, due process and civil liberties is so much larger than one man. Rabih Haddad stands for the more than 1200 Arab-born men and women who have been detained in US jails since September 11, most with no charges being brought and no hope of bail.
So why does someone like me stand out there on the sidewalk, chanting and carrying signs with a community of women, men and children who were strangers to me until a little over three weeks ago? Someone today carried a sign with the quote that has gone through my head over and over these past weeks. It is the words of the Reverend Martin Niemoeller, a German Lutheran Pastor who was sent to Dachau.
In Germany, the Nazis first came for the communists, and I didn't speak because I wasn't a communist. Then they came for the Jews, and I didn't speak because I wasn't a Jew. Then they came for the trade unionists, and I didn't speak because I wasn't a trade unionist. Then they came for the Catholics, and I didn't speak because I was a Protestant. Then they came for me, and by that time there was no one left to speak for me.
And so now these people are my people; we are members of the same family. When I see Salma, Rabih's wife, I know she is my sister. When I hear the voice of her son leading chants, it is my own boy I see. It was like that the first time I sat with them in that horrible Immigration Court waiting room back on December 19. We connected in a heartfelt way then, and every email we've exchanged since has only strengthened that bond. And Salma's friends are my friends. Like Huda, her husband, two boys and niece--the gracious family who invited me into their home on December 24, and with whom I've been in email contact ever since. We will always be family.
So when I say the bad news is that Rabih Haddad is still in jail, I must add that the good news is that, in his unjust imprisonment, he has managed to bridge cultures, religions, countries of origin and create a sense of community unknown until now. Isn't it strange how, in times of crisis, an individual's suffering can transcend the personal and touch the universal? That is what I feel is happening with Rabih Haddad.
There was a brightness to today's demonstration. Lots of smiles, enthusiastic chants, children, great signs, and the hope of success. It certainly didn't hurt that it was a mild sunny day.
Of course, as a word person, the signs always speak to me. A few of them were:
National security & civil liberties are not mutually exclusive
Free Rabih Haddad. He's a peaceful, law abiding, loving Dad...one of us
Toto, I don't think we're in the U.S. anymore
I was delighted to see Abayomi and Margaret from CPR (Committee for the Political Resurrection of Detroit) marching with us today, and to be joined by my friend, Lisa, who took off from work to attend. It was Lisa who took many of these pictures.
Now the demonstration itself was superb, but I have to admit I had some quirky experiences with the so-called security at today's event. Even though I figured the hearing would be closed, I got there early and drove up to one of the two guarded gates to see if I'd be admitted. I was shocked to be waved in by the guard who didn't even stop to give me a parking pass. I wasn't going to press my luck, so just kept on driving to the parking lot outside the building that houses the court.
As always, I trusted I'd find someone to take Ona my scooter out of the car and assemble her. This time it was John, the TV cameraman whose van was parked next to my car. The news anchor sitting beside him asked if I was one of the protesters. I reframed her question by answering, "Yes, I'm one of the supporters." "Well", she said, "They're not allowing any protesters in here today." But, of course, that didn't stop me!
I made it as far as the court waiting room before being turned away because I wasn't on "the list." Even then, I didn't give up. I decided to wait beside the fourth floor elevators to greet Salma and the kids with a smile and a familiar face before they went into the waiting room. But when Rabih Haddad's lawyer came upstairs, Salma wasn't with him. "Oh", he said when I asked, "she's out front with the protesters." So I went downstairs and headed outside.
I picked up my sign--still in its plastic bag--from the car, and scooted toward the front gate. It was not the gate I had entered, so these guards didn't have a clue who I was or what I was doing there. I expect they thought I was media or press since they were the only ones allowed into the inner sanctum. Anyway, I asked if I came outside the gate, would they let me back in. After all, my car was parked in there. They said they would. So I scooted through the gate and met up with my friends Huda and Lisa. Huda tied my sign onto the basket of my scooter and I joined the march.
A couple of hours later, when we were waiting at the gate to hear the verdict from Rabih's lawyer, I smiled at the head guard and said, "Now, you're going to let me back in, aren't you?" He said in an ominous tone, "I'd like to speak to you in private." I backed my scooter into a less populated spot and underwent a terse interrogation about how did I get in and what was I doing there. I told him the truth. He was obviously irritated and said, "Well, when you go back inside, you'll be escorted by security." I said, "Great! They can help me put my scooter back in the car."
And so it happened that a very nice older African-American security guard named James disassembled and stored Ona in my car for me. Now the fact that the head guard was calling me a liar--he didn't believe the guard at the other gate had simply waved me through--did not particularly please me, but hey, everything worked out pretty well, considering.
Now we just have to free Rabih!

MONDAY, MARCH 11, 2002
Six months later, where am I? What have I learned and how have those learnings impacted my life? I could ask "What have we learned, as a country, as a culture, as a people?", but I couldn't answer that. It is too early to know. Maybe it's too early to ask that question of myself, but something in me wants to answer it, even if my answers are sketchy and hard to articulate.
September 11 was a defining moment in my growth...as an activist, as a member of the human family, as a tiny part of this planet. It was an awakening, a painful, heart-tearing, mind-expanding awakening. Time is now divided into two segments: pre-9/11 and post-9/11. And where pre-9/11 retains an air of innocence, I know that I was not an innocent in the traditional sense of the word. I was well aware and actively involved in the struggle for justice, equality, peace and humanity. I'd been out on the streets and trying to inform myself for over a decade about militarism, globalization, racism and oppression. So what changed for me on September 11? I realized in my gut, not my head, that the people of the world were me and I was them; we were one and the same, no separation between us. What happened on the Gaza Strip, in Iraq, Colombia, Sri Lanka, Northern Ireland, El Savador, Bosnia, South Africa could and would happen here. The planet became a seamless whole, no national boundaries, no isolated political issues, no economic or social divisions. I had known all this with my mind for a long time, and had occasionally experienced it in my heart--as when the U.S. started bombing Iraq in January 1991--but now it was different. What had been a fact of life for untold people the world over had come home to the country in which I lived. Terrorism changed from being a foreign concept to a domestic reality.
My response to September 11, to this awakening, was to act. In a matter of days I was out on the street demonstrating against the likelihood of military retaliation and in solidarity with the Arab community that was already under attack by individuals and the government. I received and sent hundreds of emails in an attempt to hear and share current news, historical perspectives and informed views that portrayed in truthful terms what was happening, had happened and might happen. By then what was called "news" was propaganda. I started to rethink my recent refusal of an invitation to do volunteer art therapy in a predominantly Arab public school in Dearborn. By the end of September I'd met with the principal, art teacher and my friend who had hatched the idea and we had arranged for me to begin sitting in on art classes once a week. I immediately went to the library to research Islam and the Arab-American culture. I ordered 15 books and 2 videos.
As I say, action was my initial response to the events of September 11. At that time, my action was fueled by feelings of rage toward the government of the country in which I lived, rage over what I perceived as actions and attitudes that had made September 11 or something like it, inevitable. It was weeks before I discovered the deep wells of grief that lay hidden beneath the rage.
As time passed my action solidified into an ongoing commitment to non-military, internationally-based responses to September 11. I also became deeply troubled over how Arab citizens and non-citizens were being treated by the government and the general public. The two wars on terrorism--domestic and international--disturbed me greatly. Even as the President and Pentagon coordinated bombing attacks of the already suffering people of Afghanistan, the U.S. Attorney General quickly took away civil liberties we'd thought were guaranteed by the Constitution. Except for Representative Barbara Lee, the Congress rolled over and played dead.
In mid-December I became aware of and active in the upswelling of community outrage over the unjust detention of an Ann Arbor Muslim leader named Rabih Haddad. Through Rabih--whom I have never met--I became friends with two Arab Muslim women, his wife Sulaima (also known as Salma) Al-Rushaid and her friend Huda. This is a grace and gift that I doubt would have happened without the events of September 11.
So where am I now? Certainly in a more stable place than six months ago. The inital rage and secondary grief have been replaced by a deep-seated determination to do all that I can to be a truth-sayer and worker for peace and justice. No longer do I see activism as something separate from my daily life; I am always an activist, whether in educating myself, conversing with others, writing in my journal or playing with friends. That flame is always lit. And I now see that the struggle will never end. I am not looking for success or accomplishment--sweet as that would be--I am looking to be faithful to the struggle in every thought, word and action that make up my life. It is activism and creativity, activism and play, activism and beauty, activism and truth, activism and spirit.
In a word, the answer to my initial question is integration. I feel more integrated and of-one-piece than I did six months ago and in the years before that. May it continue to be so.

WEDNESDAY, APRIL 3, 2002
How does one respond when the Universe, or whatever one calls the Divine, has its own idea of what one is to do? I guess one just says, OK. And so I say, OK.
I had intended to show you some wonderful pictures I took of my friends today at Simply Supper. I actually downloaded them a few minutes ago but, you know, they just disappeared into some computer-version of a Black Hole. I can't find them anywhere.
So that was what I'd intended to write about tonight, my friends at Simply Supper. But, to be honest, that topic flew out of my heart as soon as I looked at today's mail and saw an envelope with my address printed in pencil. The return address was Rabih Haddad 30189-039, MCC Chicago, 71 Van Buren, Chicago, IL 60605. And the date on the envelope was February 21. It had taken over 5 weeks to be delivered!!! Gawd, I knew my mail service here was screwed up, but this beats all.
Anyway, I opened it up and found 3 sheets of yellow legal-sized lined paper covered on 5 sides by a long letter written in a mature, steady hand using a blue ball-point pen. It started, "Dear Patricia, Dear Sister". That's when my eyes began to well up.
As close as I have felt to this man, his wife and family, this was the first time I had ever had direct contact with him. We have never met or spoken. But somehow when I read that December 16th group email from an activist friend in which they told of this well-respected Ann Arbor Muslim leader's arrest and imprisonment without bail, I was as touched as if I were reading about an old friend. Then when I ended up being allowed to stay with his wife, children, witnesses and Muslim friends in a small Immigration Court waiting room that Tuesday afternoon (December 19), when I felt compelled to be a silent witness for peace and justice in that room filled with shock and fear, when I scooted over and took his wife's hands in mine and told her she was not alone, that there were thousands of people the world over who were with her and her husband during these difficult days, I knew we were members of one family who loved and cared for one another.
These almost 4 months of demonstrating on the streets with Rabih's Muslim community from Ann Arbor, becoming friends--actually more like sisters--with his wife Sulaima (also known as Salma) and her friend Huda, writing countless group emails and journal entries about what has been happening to Rabih and the injustices of his case, helping to get Congressman John Conyers involved through what he read in one of those emails, talking regularly on the phone and exchanging emails with Sulaima, writing Rabih only one letter but telling his story formally and informally everyplace I've been since coming to San Francisco in January, and now hearing his voice speaking to me in a letter all feels like a lifetime of knowing and caring about this family.
I want to share parts of Rabih's letter because I know many of you have been with him in spirit for as long as I. I want you to know what kind of man you have been supporting.
This is how his letter begins:
Dear Patricia,
Dear Sister,
This letter has been long overdue! I've grabbed my pen countless times to write and gotten choked up and overcome by emotions every single time. My story with you started Dec. 19. That's the day Sulaima met you for the first time. During our phone conversation later that day, she gave me the details of your encounter which brought tears to my eyes. Later she would tell me of your efforts and activism. Needless to say how blessed I felt to have you as supporter and, more importantly, as a friend who seems to know and understand the innermost flickers of our emotional, mental, and psychological plight. Your words are dipped in the nectar of hope, they sap of compassion and sympathy and I have suckled on them (as I'm sure Sulaima did also) repeatedly.
I have only received one letter from you. I also read one of your emails to Sulaima along with your appeal to Amnesty Int'l, but it doesn't take much to be touched and moved when words are coming straight from the heart. I've always said that sincerity is like two wings attached to the words that take off from the heart of the sender and land them directly in the heart of the receiver. Your words have landed in my heart, and like it or not, you've gotten yourself a friend for life.
Rabih then writes of the way he is being treated in prison and how it feels. This was back when he was allowed one 15 minute phone conversation with his wife per month, and only 4 hours in visits per month. He wrote just days after Sulaima had been sent the 250 miles back home without being allowed to see him because the warden had not told them the 4 hours could only be used in two 2-hour visits rather than four 1-hour visits. Rabih said that when " I pleaded with the warden later in the afternoon that no one had mentioned to me that the 4 hrs. can only be utilized in two sessions, his answer was, 'Well, now you know."
He described many ways in which he was being treated differently from other inmates also being held in solitary confinement. [Rabih was in solitary confinement from December 14 until about two weeks ago after Congressman Conyers had made an "oversight visit" to Rabih's cell at the Metropolitan Correctional Center, a federal prison in Chicago]. For instance, his visits, unlike the others, were to be "non-contact", meaning he and his wife and children were separated by bars and heavy plexiglass. Also his shower days were different from all the others, and he and only one other inmate--a man from Saudi Arabia--were watched by camera around the clock. He told of the suicidal condition of the inmate from Saudi Arabia and how Rabih managed to counsel him by yelling through the sound-proofed walls of their adjacent cells, that is until the authorities separated them so they could no longer have any conversation. He told how there were two "inmate orderlies" in his unit who usually ran small errands for the inmates like getting them toilet paper, soap and picking up their empty food trays. But these orderlies were not allowed even to come near Rabih's cell or that of the man from Saudi Arabia, in essence "making our isolation complete." He told of the strip searches, especially degrading experiences for a Muslim man who "is bound by his faith to cover his private parts." He also wrote of having his hands shackled to his waist and chains on his feet whenever he left the unit.
And this is a man who has been charged with no crime, has never broken any law in his life and who was not allowed bail because he owned a registered hunting rifle from Kmart, a rifle with which he and his sons used to hunt geese.
Yet, after describing these horrendous conditions under which he was living--he has recently been moved out of solitary into a shared cell with the general population--Rabih went on to say:
All this has driven me to a state of transcendence (I'm not sure the word exists). I feel like I'm looking at all that is happening to me from a distance. That's when I begin to feel sorry for my jailers because in actuality they are the prisoners and I am free. I am free because my spirit is free and that allows me to look at matters from afar. But they are imprisoned by their fears and apprehensions, by their rules and regulations, by their never-ending striving after worldly wreckage that someday they will have to leave behind. I am free by my faith and refuge in Almighty God. Their increased cruelty only increases my hope in my imminent deliverance.
Your words of encouragement and solidarity, your commitment to see this ordeal through till the end are major contributing factors to my endurance and perseverance. Your encouragement and support of Sulaima have done wonders for her, believe me I know. Her and the children are all I think about. I can't begin to tell you how proud and blessed I feel for the way they've carried themselves through these difficult and trying times. The credit goes to Almighty God first and then to Sulaima. God knows I wasn't there for them as much as I should have because of my relief and community work. But my solitude has given me a chance to take a long hard look at what are the most important things in life and I've rearranged my list of priorities to have my family right there at the very top!
So this is the man the INS wants to deport to Lebanon because he has overstayed his tourist visa, while they want to deport his wife and three of their four children to Kuwait. The 8 year-old boy would be allowed to stay in the U.S. because he is an American-born citizen, but of course Rabih and Sulaima wouldn't leave him here by himself! When I talked with Sulaima on the phone Monday, she told me of their joint deportation hearing at Detroit's Immigration Court--Gratiot at Russell if you can attend--at 10 AM on Wednesday, April 10. I'd spent this morning sending group emails to Detroit-area activists urging them to join what I'm sure will be a large demonstration in support of Rabih, Sulaima and the children that day. How I wish I could be there myself, but I will certainly be with them in spirit.
Isn't Rabih an amazing person? As I wrote in my letter to him tonight, Gandhi, Nelson Mandela and Martin Luther King, Jr. come to mind when I think of him. May his story have a happy ending.

MONDAY, MAY 13, 2002
Every time I do this, it has more power, for me anyway. "This" being demonstrating by myself in front of the White House. I did everything I could this morning to talk myself out of it. I didn't have time. I should be with Mom, or even allow myself to relax and watch a DVD movie on my computer. But nothing worked. I had to go down there.
I'd brought my signs with me into the motel on Saturday, just in case. Well, today was that "just in case". It took me an hour to make the trip by Metro, what with having to change trains at Metro Center. And then, of course, the first thing I saw when I hit Pennsylvania & 18th was Dad's old office building. Eighth floor corner office on the White House side of the Executive Office Building. My Dad who briefed Presidents Truman and Eisenhower every day. Is he turning in his grave or thanking me for what I do these days? Who knows. But it sure is what I have to do.
And I was glad I made the effort today. The only other signs of conscience I saw in that bustling, self-absorbed city were the Lafayette Park Peace Campfolks--Conchita and Don--and a man named Dave who, during his lunch break, walks over from a nearby office building a couple of times a week, wearing his sandwich board with messages about the effects of the sanctions against Iraq printed on the front, and about the US history of supporting military dictators on the back. No, that's not completely true. The other sign of conscience I saw were the ADAPT disabled activists stopping traffic--with police protection--at 17th & H.
I joined them for a short time. While there, I met Kurt from Colorado who told me what it had been like for him at age 20 to have to live in a nursing home. I also talked with the ADAPT contingent from Boulder, Colorado who travel all over the country to attend ADAPT's national demonstrations twice a year. The thrust of ADAPT's message this time was for the federal government to fund in-home attendant care rather than warehousing disabled folks in nursing homes. As they pointed out, the difference between prison and a nursing home is that in prison there's a chance of parole; in a nursing home, you're in for life.
I only sat across from the White House for an hour with my signs, but it was enough. Don from the Peace Camp sat with me and we talked about what's going on in the world, how the Bush adminstration is handling things, what's happening among activists, how it is for them to have been out here 24 hours a day, 7 days a week since June 1981, how he feels like their encampment is used by the government and the tourist industry as a "living example" of the freedom of speech, how we both feel the US is moving toward becoming a police state. Just lots of good old activist talk. He obviously appreciated my being there; Conchita even took my picture. It must get lonely sitting there day in and day out, not to mention the strangeness of being across the street from a place that has such bad energy. At least Don divides the time--he does days and another guy does nights--but I suspect Conchita is there all the time. I remember buying a rock from her years ago that had a peace dove painted on it. She still paints them.
While I sat there holding my signs, tourists busily snapped pictures of one another in front of the White House. Of course, Don had done the same thing for me. A couple of folks nodded in agreement with my signs, a few took photographs, many folks at least read them, and some passed by as if I didn't exist. Kind of like being a street person. As always, there was the ubiquitous unmarked van parked nearby taking photos to add to people's files. As an activist friend said lately, "I'd be embarrassed if I didn't have a file by now!" Well, mine must be pretty extensive seeing as how it was started in the late 1950s when I had my first summer job at J. Edgar Hoover's FBI headquarters here in DC.

TUESDAY, JULY 30, 2002
Tolerance. How does one get it and keep it? How do you have strong principles yet not impose them on others? How do you converse on anything but a superficial level with people who see things diametrically opposite to you without getting confrontational? Is there a way to live side-by-side with mutual respect and still hold totally different views on important issues? How can I personally get over my ten-and-a-half-month tendency to grind my teeth every time I see the American flag? How can I look at the face of the president of my country without turning away?
I'm being real honest here, maybe too honest, but these questions are not letting me rest. I think of someone like Thich Nhat Hanh, the Buddhist monk from Vietnam whose work as a peacemaker was born out of his and his people's suffering during my country's war against his country. I think of how he has reached out to the people of my country with love and forgiveness. I think of Nelson Mandela who spent three decades in prison where he was tortured and then was able to come forth as a leader who reached out his hand to the white leaders who had ordered his imprisonment and torture.
How do people do this? Where do they find the deep wells of tolerance that would enable them to go beyond our natural human instincts toward bitterness and revenge? Is there some secret? If so, I want to find it because I'm getting tired of poisoning myself and my environment with negative thoughts and feelings. I've got to find some way to live more comfortably and peacefully in the world as it is today.
September 11 happened. It made people, and especially our government's leaders, fearful, and that fear has translated into violence towards and oppression of those whom they fear. Countries like Afghanistan and now Iraq. Individuals like Rabih Haddad. Religions like Islam. Anyone who looks to be of Arab descent, especially on airplanes. Groups and individuals who hold dissenting views from those put forth by the government and the government-informed press and media. It is not meanness but fear that fuels this unending war on terrorism. And my judgemental attitudes added to their fear does not do anything but fan the flames. If I say I am for peace, than I must become that peace myself.
I know I've written about this before; seems to me it was early on, perhaps late September. But my efforts to find that peace-within got lost in the struggle for dissenting voices to be heard, the need to work against the wars, losses of civil liberties, unjust imprisonments, escalating hatred of Middle Eastern and Central Asian people, governmental support of violent regimes. Just a never-ending list of struggles. The growth of tolerance, a subtle work, didn't have chance when my mind--and often my body--was racing here and there trying to put out one forest fire after another. Well, now I feel like it's time to allow new growth seedlings to get the sun and rain of my attention, especially the seedling of tolerance.
If anyone has suggestions, ideas, stories, poems, insights about this subject, I'd sure appreciate hearing from you. Just click on tolerance and send me a message. As they say, it takes a village to raise a child. Well, I believe it takes a village to raise ourselves to new levels.

THURSDAY, AUGUST 1, 2002
The "dog days" of summer (July 15-August 15). I don't know why they're called that. On a day like today smart dogs wouldn't even go out. It was--and still is at 11 PM--HOT. After spending the morning and early afternoon doing what I could to fight Bush's plans to attack Iraq, I needed a scoot, badly. I went down to Ed's office where he treated me to a big cup of lemon-flavored ice water and a pail of cold water in which to plunge my feet. They both helped. But what helped the most was twenty lengths in the pool around 5 PM. Quite glorious, in fact.
Don't want to forget...here's a beautiful hibiscus flower that caught my eye on the way to visit Ed.
Then, after tonight's scoot beside the lake, Ed checked our mailbox. There was a small package from my friend, Susan, who lives in Sebastapol, CA. She and I have been part of a women's group in California for a number of years, and had talked on the phone last Sunday night. At that time, I'd told her about my plans to stay in Michigan for the winter so I could be part of the Carolyn McDade women's circle singing CD project. So what was in the package? A magical necklace with a globe-shaped pendant that has a picture of a bird in flight on one side and the word "SING" on a shocking pink background on the other. Her note said she couldn't resist getting it for me after she'd heard my news. What a dear woman!
I'm so glad that life is made up of such a mix of threads, for if it were all the color and texture of the activist threads that I wove this morning, it could get pretty discouraging.
I'm trying to do what I can to sound the alarm about the impending war against Iraq, but I don't really hold out much hope of stopping it. The president seems determined to attack this beleagured country in October even though there's been no provocation by either Saddam Hussein or his military. There are so many unanswered questions, like why now? What is their objective and how long do they intend to have troops in Iraq? What plan is there for getting them out? Why are Secretary of State Colin Powell and other top military leaders against this war? Why are almost all of our allies oppsed to it? Won't this destablize the Middle East even more than it is now? And won't the Arab countries hate the US even more after such an attack? What will it cost in human lives, both Iraqi and American? What will it cost the American people in dollars? The questions go on and on.
The Senate Foreign Relations Committee is currently hearing the Bush Administration's arguments to go to war with Iraq in October. Unfortunately, almost all the witnesses are in favor of war. So far, Scott Ritter, the former Marine and UNSCOM weapons inspector in Iraq for seven years, has not been slated to speak. Why? Because he is adamantly against going to war with Iraq. He says Iraq is of no danger to the US; it has no weapons of mass destruction of any kind. He also maintains this proposed war against Iraq is politically motivated. At a recent public appearance, Ritter, a Republican who voted for Bush in 2000, was quoted as saying, "This is not about the security of the United States. This is about domestic American politics. The national security of the United States of America has been hijacked by a handful of neo-conservatives who are using their position of authority to pursue their own ideologically-driven political ambitions. The day we go to war for that reason is the day we have failed collectively as a nation." By the way, it was Scott Ritter's testimony before NATO that turned their unquestioning support of Bush's war against Iraq to opposition by 16 of the 19 countries represented. (See a most interesting article by William Rivers Pitt called, "The Coming October War In Iraq").
I have received emails from numerous organizations that are opposed to this war. Two that I found to be of particular interest were from MoveOn.org and the ADC (American-Arab Anti-Discrimination Committee).
Not only did I send a number of group emails regarding this issue today, but I also telephoned the offices of the Senate Foreign Relations Committee Chair Senator Joseph Biden and both of my Michigan senators, Debbie Stabenow and Carl Levin. When I asked Senator Biden's Foreign Relations Assistant why Scott Ritter, a proven expert on Iraq's weapons capabilites, was not testifying at the hearing, he said that Ritter's supervisor on the UNSCOM weapons inspection team did testify yesterday. When I asked what he had said, it appears that he had added to the fearmongering by reporting that Iraq was indeed capable of continuing to produce weapons of mass destruction because the materials needed are indigenously available. And the drums of war beat on...
I've encouraged everyone I know to contact their senators and the members of the Senate Foreign Relations Committee to ask questions, to give their opinions and to request that Scott Ritter be allowed to testify. This may well be our final opportunity to have a say in what would most certainly be a disaster for Iraq, the US, the Middle East, the world and the planet.
In his talk at a Boston law school building on July 24, Scott Ritter said, "The clock is ticking and it's ticking towards war. And it's going to be a real war. It's going to be a war that will result in the deaths of hundreds, if not thousands, of Americans and tens of thousands of Iraqi civilians. It's a war that is going to devastate Iraq. It's a war that's going to destroy the credibility of the United States of America. I just came back from London, and I can tell you this - Tony Blair may talk a good show about war, but the British people and the bulk of the British government do not support this war. The Europeans do not support this war. NATO does not support this war. No one supports this war."


THURSDAY, SEPTEMBER 5, 2002
No one wants this war on Iraq, except the few who pull the strings.
I took my sign to the White House today, met up with my friends Don and Conchita at the Peace Camp (circa 1981) across the street, demonstrated for a short time but soon realized this was not the place to make any kind of impact. There were few tourists, and because the street is blocked off to traffic, no one just happens by. I took my activism over to the Senate Office Building instead.
Now these folks can have some say (hopefully) in what happens in the next few months. I first went to visit both of my Michigan senators--something I have never done in all my years in this city. I just have to feel like I've done everything I can to try to stop this madness before it starts. To speak out for my sisters and brothers, mothers and fathers, children and grandchildren in Iraq--the invisible ones--takes priority over most everything else for me these days. I feel fortunate to have this opportunity.
At Senator Debbie Stabenow's office I talked with her Staff Assistant, Katherine Knauf. I found her to be receptive, informed and actually very much on my "side." She was so moved by my sign when I unrolled it to show her, that she wrote the message down with descriptions of the drawings to share with the Senator. Carl Levin's office felt a bit more "establishment"--of course, he's been in office for over 20 years--but, even there, I felt a kindredness in their not seeming to want war. I hope my perceptions were right since Senator Levin is the chair of the Senate Armed Forces committee and was one of the eighteen Congressional leaders Bush met with yesterday. In both offices I was told that they are being inundated with phone calls from persons who do not want to go to war against Iraq. That's encouraging.
It felt odd to move through these halls of power. I didn't have my sign out but my scooter flag has a painting of the peace symbol, so my politics are pretty obvious. Although I saw some persons of color and a number of women, this is obviously a white man's club. They dress alike, walk alike, talk alike and have such an air of importance about them. Actually, I couldn't help thinking of boys playing games. Which I guess is what they're doing; it's just that the stakes are pretty darn high.
After my visits inside the buildings--there are three connected Senate Office buildings--I scooted outside the Dirkson Building and set up my own individual demonstration. More like a silent sign-holding presence than a protest. The responses were mixed. Many folks walked by without looking at me or my sign. Some glanced my way. Others carefully read what I had to say. Many had blank expressions on their faces, but a few smiled and maybe six gave me a thumbs up. The one that tickled me the most was the suited fellow who was with two other suited men. As he passed me and my sign, he put his arm behind his back and discretely flashed a thumbs up.
It felt like a worthwhile bit of activism.
On the way back to the Capitol South Metro stop, I saw two buildings that had meaning to me. The first was the Supreme Court building. What I noticed were the words engraved above the pillars: "Equal Justice Under the Law." How I wish that were true for my brother Rabih Haddad. The other building was the Library of Congress. Believe it or not, that is where I used to research term papers in high school and college. It was common practice among the locals. A pretty impressive resource!
When I got over to Mom's--I'd been on the road from 9 AM to 3:30 PM--she was delighted to see me and to hear about my adventures. As I'd been making my sign in her room yesterday, she had been very supportive of my plans to demonstrate today. She kept saying, "You're really something!" After sharing my stories, I curled up on the recliner chair in her room and fell asleep. We both napped until 6 PM. She then let me help her with her dinner and stayed alert while I read aloud portions of her beloved Washington Post. Here is my sweet Mom, and here is Muriel, one of her wonderful caregivers.
Tomorrow morning I'll check out of the motel, pack up the car, visit Mom for a couple of hours and start off for home about 2 PM. I plan to stay overnight again in the Cranberry Township, Pennsylvania Red Roof Inn, and finish the trip on Saturday. Wish me well.
Unfortunately, the tragedies and wars continue, so there is now a new web page called "Reflections onTragedy and War: Year Two." To access it, simply click on the link below.

© 2001-2002 Patricia Lay-Dorsey. Please use with proper attribution.
---
Tragedy & War: Year Two
Windchime Walker's home page
Windchime Walker's journal