WORD ART: Pen & Ink Activism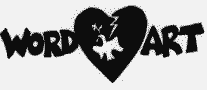 As an artist, I respond creatively to world events...particularly those that make no sense to my intellect and tear at my heart. So it was with the Gulf War.
On January 17, 1991, United States-led forces started bombing Iraq. Destruction continued from the air and on the ground until mid-March. As a peace activist, I was devastated. It felt as though all our efforts to avert this tragedy had failed. As though we had failed. As though I had failed.
For three weeks I retreated from people and outside activities. Art raged in long pain-filled nights and days. By the end of the war, I had seventeen pen and ink drawings based on newspaper photos, using quotes from a book indigenous to the Middle East. Friends and activists with whom I shared the images encouraged me to send this work into the world. Thus was born WordArt.
A heightened commitment to non-violence, social justice and global transformation soon led me to the words of Gandhi, Martin Luther King, Jr., Thich Nhat Hanh, Flannery O'Connor and others. Images were inspired by newspaper photos, what I saw around me and my imagination. For several years, I converted drawings to postcards, posters and T-shirts...vending at peace conferences around the country. I invited free use of the drawings--with proper attribution--and they were reprinted in United States' publications, as well as travelling to Canada, Germany, France, Haiti, Iraq, India, New Zealand and South Africa.
I offer free use of these graphics. I only ask that WordArt be acknowledged as the source, and that the images be used in a manner respectful of their intent as emissaries of peace. If you feel inclined to provide a link to this site, please do so with my appreciation.
To view the drawings, click on each of the following:
---