NATIONAL WOMEN'S MUSIC FESTIVAL 2002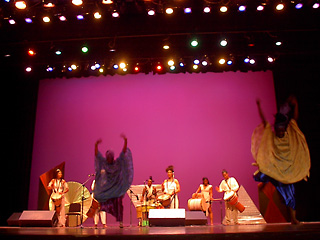 *The easiest way to navigate going back and forth between photo links and journal text is to click on your "back" button at the left of your tool bar.


THURSDAY, JUNE 6, 2002
This is already a very mellow festival. Of course it's just the first night and not everyone is here yet, but I'm experiencing such a sweet feeling of being with old friends. This is my sixth National Women's Music Festival so I've known many of these women, at least by sight, for years. Each time I come, there is more of a family feeling.
That sense of family happened right away. Less than five minutes after I'd pulled up in front of our main dorm here at Ball State University, I heard, "Hi Patricia! Do you need any help?" It was Deb who has helped at Access Central for years. She assembled Ona my scooter, loaded my stuff on my dolly--I bring my own--and helped me get registered and set up in my room. She even made my bed and parked my car! These women at Access Central really know how to make it easy for those of us who need help.
There was a minor glitch with the housing folks, but they quickly set it right. I'd paid for a single and was surprised when a woman I know came to my room and announced that she was my roommate. I explained the situation to her and went back to the housing folks to clarify that I was to have a single. "No problem", said they, and that was that.
While there I ran into Bobbi and Beverly, friends from last year. We went to the cafeteria together and enjoyed a good visit and good food. After that, I came back to my room, organized things a bit and then scooted off to the Crafts Market. Happily my favorite vendor--Helen of Down Cellar Clothing from Connecticut--was back so I was able to increase my wardrobe! Can you believe I bought two pieces of clothing and neither one was purple? Miracles will never cease. I'll be wearing them during the weekend and will be sure to have someone take pictures.
At 8 PM a song circle was scheduled with my old friend from the Michigan Festival and WoMaMu, Jamie Anderson, facilitating. I got there a bit late and there were already more women than could fit in the circle, but everyone was included. Jamie went around the circle and asked in turn if anyone had a song, poem, story or dance to share. Some women sang original songs, others sang popular songs, and some, like Jamie, taught songs to the circle. I did all three at one time or another myself. My friend Bobbi both sang and recited some of her poetry. And my online friend Laura--whom I met for the first time after the circle broke up--shared several of her original songs. One woman told a story that engaged us all in wonderfully silly ways. Probably my favorite part of the evening was when we older women started singing old camp songs like "Tell me Why", "The Ash Grove" and "The Bear Song".
The circle closed pretty early--about 10 PM--because most of us had travelled a fair distance today and were ready for bed. At least that was true for us over-50s festi-goers. I read in my friend Laura's blog that the young uns did things very differently indeed. Good for them!


FRIDAY, JUNE 7, 2002
I never eat breakfast except at festivals. Of course, part of it is that I get up earlier than usual and need fuel for the long days and nights ahead. So this morning I enjoyed the scrambled eggs and spicy salsa I've grown to love here at Ball State University. By the way, their food is great, lots of choices for seafood-eating vegetarians like me.
I met up with the Opening Circle participants a half hour late but happily was in time to join them as they paraded chanting through the Registration area. Once back out on the front lawn, everyone was given bubble wands and soap. Wow!!! Was that ever a success! Drummers drummed as dancers circled amid bubbles of all sizes, some of them positively huge. The children did their part and I heard many whoops of pure joy. What a great beginning to the weekend! And for me it was a special treat to reconnect with Wahru who had created a hand-decorated drum and had it delivered to me as a gift at the Michigan Womyn's Music Festival last August. Thanks again, Wahru.
My first workshop was the Reader's Theater rehearsal with Carolyn Gage. We were to perform her play "Battered on Broadway" Saturday morning in front of an audience, so had lots of work to do. Carolyn is a courageous lesbian-feminist playwright who calls it like she sees it; her plays are funny, hard-hitting and extremely well-written. The mainstream may not be ready for her but, believe me, women definitely are. Whenever she performs one of her plays at women's festivals, it is usually standing-room-only. In recent years my time had been committed to the NWMF chorus, so I'd missed seeing her perform. Was I in for a treat!
As it happened, ten of us showed up, just the number needed for the play. The basic outline of the plot is that seven women from Broadway musicals of the past--women like Aldonza in "Man of La Mancha", Bess in "Porgy and Bess", Julie in "Carousel", Maria in "West Side Story"--are invited by Nellie Forbush Debecque of "South Pacific"to an organizing meeting/press conference for a new battered women's shelter they want to build on Broadway. Of course, you need a bit of conflict to make things interesting, so in comes Annie from "Annie" who arrives unexpectedly and announces she is going to blow the whistle on little-girl-abuser Daddy Warbucks at the press conference. This puts the women, especially Nellie, in a bit of a state because they've just received word that Daddy wants to donate ten million dollars to help build this shelter; besides Nellie fears Annie will totally upstage the show. I won't tell you any more--you'll just have to go to Carolyn Gage's website or Amazon.com or your local bookstore--hopefully, an independent women's bookstore--to order your own copy of "Battered on Broadway". Or even better, bring it to your local feminist-friendly theater and put on the show there, or simply have a reading at a friend's house.
Our rehearsal went well and we were excited about tomorrow morning's performance. By the way, in Reader's Theater, cast members sit in a semicircle in front of the audience and use their scripts to read lines. After my morning playing Nellie Forbush Debecque, I began to think I'd be interested in doing this kind of thing more often. I used to act in high school and college and have performed as a storyteller since then, so it wasn't completely new to me. Maybe next winter in San Francisco--I know there's a Reader's Theater that performs at Ft. Mason. It's the perfect solution for a person with disabilities who would like to be cast in non-disabled parts.
I had a lovely lunch with Julia and Anne from Indianapolis. Throughout the weekend I consistently chose to sit at meals with persons I didn't know. It's a wonderful way to hear interesting stories of the lives of women in urban and rural settings around the country, stories I might not hear otherwise. And I can't forget to thank the Access Central workers like Michele who made it possible for me to eat by carrying my tray and filling the plate with whatever my heart desired. Have I told you what a perk it is to be disabled at women's festivals? Help is there whenever we need it; we get front row seats at concerts, and dorm room doors at NWMF that open with the swipe of a plastic card. Pretty cool.
Oh, by the way, here is the picture I promised you of my new blouse that I bought yesterday from Helen of Down Cellar Clothing. I like it lots.
After lunch I went to a workshop/discussion facilitated by Margie Adam, a foremother of Women's Music who was scheduled to perform on Mainstage tonight. The workshop was titled, "Feminist values and politics in women's music--who cares?" Well, 50 women showed up who do care. To me, one of the most interesting times in the workshop was when we went around the room with each woman telling her name, where she was from and what form of activism she was currently engaged in. That sparked a discussion about the current state of the feminist movement in America, the younger generation and their different ways of doing things, the challenge of keeping events like this festival alive financially, and our responsibility to support women with feminist values in music and politics. Margie encouraged us to end by sharing ways to stay hopeful in these times of challenge. I talked about my admiration of the young activists who have been teaching me what it means to be informed, committed and part of a community as we work for change.
Before taking a much-needed nap, I made another trip to the Craftwomen's Marketplace. Yesterday I'd looked at a pair of earrings with stars and a crescent moon fashioned in white and bronze-toned silver with small amethyst and turquoise stones. They were made by one of the finest jewelry artists--and most healing women--I know, Feather of Feather Spirit Jewelry. Today I bought those earrings and put them right on. My 60th birthday present to myself! I then went to the booth where I'd seen a woman painting henna tattoos yesterday. She was free so I sat down and offered her my left hand to paint in any way she saw fit. Well, White Wolf painted a glorious design on my hand. She said later that she kept seeing trees of life that wanted to be painted, and so she did. Now you realize, this picture is of the henna-dyed mud. After that dries, one flakes it off and the design remains stained a lighter reddish-brown on the skin for a week or two.
The evening Mainstage performances were spectacular: Kara Barnard and Wishing Chair, Margie Adam, Saffire--the Uppity Women Blues Women and comedian Vickie Shaw as MC. By the time it was over at 11:15 PM, I was ready for bed. I hated to miss the late night activities--a dance, drum jam or Goddess Jam coffeehouse--but my weary body had the final say.

SATURDAY, JUNE 8, 2002
I awoke to a glorious warm sunny day. On my way to breakfast I encountered a radiant spirit named Amy. She is just finishing up at Ball State University and was working the desk in my dorm. The students who did such jobs during our festival really helped things run smoothly.
After drinking a quick juice, it was time for me to get over to the Cave where the Reader's Theater was going to perform. Carolyn Gage and her partner Julie Soon made us feel like professionals with their encouragement and helpful suggestions. When we cast members--photos one and two--arrived at 9:30 AM, the audience was already beginning to gather. As I said, Carolyn is a very popular artist/playwright in the women's community; she even won this year's Jeanine Rae award for the Advancement of Women's Culture that is given by the Women In the Arts, the group that has put on the National Women's Music Festival for 28 years.
By 10 AM the seats were all filled, each stair had one person sitting on it, a semicircle of women was sitting on the floor in front of us, and more were standing off to the side. A little intimidating for a Reader's Theater cast that had rehearsed a total of one time! But, you know, it went great. Some of our cast members were experienced theater people and did a smashing job. It was lots of fun for us and the audience seemed to love it. After we bowed to enthusiastic applause, Carolyn invited whomever wanted to stay for a post-play discussion. I, for one, learned a lot about lesbian/feminist politics in theater. What an eye-opener!
On my way back to the dorm I was delighted to see some women allowing themselves to mellow out. It was just that kind of a summer day.
Lunch tasted especially good because I hadn't had any breakfast. When I asked a cafeteria worker where I could find the tunafish salad--I'd had it yesterday and it was delicious--she went in the back and made me some! That's another plus about Ball State U--the people who work in the cafeteria not only make great food but are so thoughtful. And speaking of thoughtful, Access Central worker Linda was my smiling food-carrier for several meals. Thanks, Linda.
I sat with two interesting women, Carol and Pat. Actually, Carol Miller and I made a significant connection regarding her work on the fourth edition of her textbook, Nursing Care of Older Adults: Theory & Practice. She's been looking for new photos of active older adults and persons with disabilities. After I shared about my web site, especially this photo-rich journal, she exclaimed, "I knew there was something special you had to offer when you sat down!" It would be great if my site could be a resource for her. Just what I like to hear.
My next activity fit into today's theme of "Do something you don't usually do." In honor of my upcoming 60th birthday I had said to myself to just go for it, whatever "it" might be. In this case it was singing my Body song at the Open Mic. Happily, some of my friends preceded me: first, Laura sang a terrific original song--that woman has talent!--and second, it was Heidi reading her poetry. It didn't hurt that the MC was Debra whom I've sung with for years in the One World Inspirational Choir at the Michigan Womyn's Music Festival (here's a picture of Debra with her partner Carole).
What a blast! I could see smiling faces everywhere I looked, so I never even got nervous. You know, I've finally figured out why I no longer get stage fright, no matter how large the audience or who's in it: it's because I no longer fear making a fool of myself. I mean, who cares anyway? If I mess up, everyone understands. We've all been there, right?
Since the Open Mic was in the Crafts area I just had to take advantage of that. Surprise, surprise! This time I found gifts for someone besides myself ;-) My goddess daughter Emily is graduating from high school so I wanted something special for her. Thanks to Feather, I found the perfect bracelet to grace her long lovely dancerly arms. And I wanted a gift for Susan, the art teacher who has been so generous as to allow me to join her classes this year. I won't tell you what I got her because she reads my journal. I want it to be a surprise.
On my way back to my room for a little quiet time before dinner, I saw an amazing vision. When I asked if I could take their picture for my journal, these two women gave me the best they had to offer. Dumb me! It was Bitch and Animal, who were performing at the much-acclaimed SheRocks! Concert. One of my few disappointments of the weekend was that I couldn't take in that concert too. But it is simply impossible to do everything, says she who tries her darnedest!
Do you want to hear my only other disappointment? It's that I didn't think to take a picture of Jamie Anderson, her partner Leigh and their two Moms. Jamie's mother Joy had come from Arizona, and Leigh's mother Jo had come from Wyoming. Now that deserves to be celebrated with a picture! Jamie may find one that someone else took; if she does, I'll put it right here.
I want to celebrate a really cool woman I met today. Her name is Carol and she was carrying the most beautiful handpainted cane I've ever seen. When I asked her about it, she showed me the hidden cats prancing throughout the design. Definitely my kind of woman.
I can hardly remember dinner because of what happened next. Mainstage opened with one of the most incredible acts I've ever seen...and that's saying something! Giwayen Mata is what they call "a dynamic, soul-stirring all sistah dance, percussion, and vocal ensemble" out of Atlanta. How would I describe them? A blend of popcorn popping on a hot fire, summer nights on the front porch watching shooting stars explode overhead and being nestled deep in your mama's womb. That's the best I can do. All I can say is, book them at your festival, local concert hall, conference, college or ask them to give a workshop! Anytime you want a taste of life, energy, exuberance, talent, excitement and community-building, call on Giwayen Mata. Besides, they are simply delightful individuals. You know where I want to see them? The Michigan Womyn's Music Festival. Let's lobby for it to happen in 2003!
Now I don't want to make it sound like they were the only great act on Mainstage tonight. We had two of my favorite performers. The first was Laura Love whose blend of Afro, Celtic, folk, Applachian and hip-hop has to be heard to be believed. That is not to mention her yodelling. Actually I had my five seconds of fame during Laura's set. She was teaching the audience to yodel when her partner said, "Now why don't you try it on your own...go ahead, lady in red!" She was pointing at me, so I belted it out. Went pretty durn well, if I do say so myself. Whoopie!
The final act was Suede. I've been trying to think of how to describe Suede's voice. What comes to mind is somewhere between a warm knife sliding through cold butter and the slippery feel of buttered hands pulling hot taffy. Sorry for sounding so oral but there's where she sends me. That woman has one of our time's great voices, and I haven't even mentioned how she accompanies herself on the piano, guitar and trumpet. Yes, trumpet! She does it all and has the audience in the palm of her hand the whole time. I was ecstatic to hear she has a new CD, "On the Day We Met". I'm listening to it right now and find myself pushing the repeat button over and over. Buy it! Trust me.
You may wonder how I got these photos of the performers since you're not allowed to take flash pictures in settings such as this. Well, I have Carol Daniels, NWMF photographer, to thank. She told me that the stage lights are so bright you don't need to use a flash. By durn, she was right. Happily, now I can finally show you the fabulous lighting and staging at this festival. Actually, every performer I've ever heard raves about the professionalism of the stage crews, sound and lighting of every women's music festival they play.
Remember last NWMF and what is now called the "Mainstage Miracle"? That was when they raised over $30,000 to save the festival, essentially by passing a hat--OK, more like passing the comedian Vickie Shaw and singer/songwriter/bellydancer Jamie Anderson--around. We saw a more sedate version of that fundraising technique tonight with Vickie Shaw doing things like sitting on people's laps--like that of lucky Heidi--and letting women who gave donations unpin WIA (Women In the Arts) buttons from strategically-placed parts of her blouse and shorts. This year's fundraising miracle was an auction that netted $21,000. Festi-goers will do whatever's necessary to keep NWMF alive and healthy...and have fun doing it!
I'm happy to say I didn't crump out tonight. After the Mainstage concert I ran into my Detroit friends, Nancy and Judith, and together we went to the late night drum jam. Wahru was facilitating, some members of Giwayen Mata were there, dancers moved to the rhythms, and women with drums covered every inch of that lounge. When I left right before 1 AM, they were still going strong.


SUNDAY, JUNE 9, 2002
I'm home! I'm home! Tired and happy all at the same time. Tired because I stayed up drumming at Wahru's drum jam last night until 1 AM, then downloaded and worked on yesterday's journal pictures until about 2 AM, and packed until I fell into bed at 2:30 AM. This was after a very full napless day. I did let myself "sleep in" until 9:30 AM this morning, but from then on this day was non-stop. No complaints, mind, just stating a fact.
Remember, I said tired and happy. I am happy because I had an absolutely glorious weekend at the 28th annual National Women's Music Festival at Ball State University in Muncie, Indiana!
As for today, my first order of business was breakfast, followed by loading the car with all my stuff. That stuff included two drums, my cow bells, Vietnamese wooden frog instrument and digeridoo, not to mention clothes, pillow and blanket. By the way, I want to say a huge thank you to Carol for doing that job with such grace and patience. After the car was loaded--I'd already handed in my dorm room key--I scooted over to the auditorium where the festi-goers were performing on the Limelight Stage. I was over an hour late but managed to see, and more importantly hear, the fabulous NWMF Drum Chorus perform with Wahru their inspired and inspiring director. They were also fortunate to have two members of last night's Mainstage sensations from the drum/dance troupe Giwayen Mata drumming with them. I apologize for the blurry pictures but they give you some small idea of the life and energy that was on that stage.
Next up was the NWMF Chorus (pictures one and two). This was the first time in three years that I've not sung with them, so it was a special treat for me to sit in the audience and hear my sisters sing. They were excellent! And this excellence didn't come easily. Justina Golden, the NWMF Chorus director for 2000 and 2001, hurt her back the night before she was to come to Muncie, so the woman who was scheduled to give Balkan and Shape Note singing workshops arrived on Thursday to the news that she was the new chorus director for 2002! As if that weren't enough, the airlines lost her luggage and as of today it had still not shown up. Is this woman on a learning curve , or what! But Amity Baker and the chorus members pulled together in creative ways and put on a superb concert. Amity taught them two songs--one Balkan and one Shape Note singing--and Brandy, one of the chorus members, taught an original composition, while another member taught a song her chorus at home had performed. I was especially tickled to see that five of the sixteen members of the chorus were my friends from Detroit's Notable Women Chorus. And, although I didn't get a picture of her, the chorus was fortunate to again have Sherry K the composer/performer, as piano accompanist. Ruth Rowan signed the songs for hearing impaired members of the audience...beautifully I might add.
The final act captured our hearts--it was the annual NWMF children's parade/performance. The little ones who had been in child care during the weekend treated us to songs, dances, a parade, animal sounds and just their delightful young selves. And the adults on stage--some parents, some child care workers and volunteers--were as wonderful to watch as the kids. When you look at the picture linked to the word "parade", you'll see a tiny girl dressed in a tie-dye romper. Well, she looks positively sparkling in that photo, but a few minutes before, she was in tears--see the first photo linked to "songs". Would that we adults could go from tears to smiles so quickly!
Walk/scooting back to our main dorm, I joined Wahru and a cofounder of Giwayen Mata (I wish I knew her name). Wahru was in a hurry so I was surprised when she stopped suddenly and started peering intently at the sidewalk. She said, "Hey, look at this!" There were two ants carrying a twig at least ten times their size; on one end of the twig was a small worm. These workers were slowly making their way across what must have seemed like an endless expanse of sidewalk, trying to get to the other side and the safety of grass. The three of us were looking down at this wonder of nature when two festi-goers approached. They were obviously on their way to the dorm too. We said, "Isn't this amazing?" or something like that. One of the women glanced down at the ants and immediately picked them and their twig up and threw them onto the grass. I guess she thought she was saving them from being stepped on but there was something so unthinking about this action that I found myself crying out, "Why'd you do that? Why'd you mess with nature? They were doing OK." I mean she hadn't even looked to see in which direction these worker ants were going. Actually she flung them back where they had come from. She and her friend walked on as the three of us stood there, rooted to the spot. I was visibly disturbed but Wahru burst out laughing and pointed to the side of the sidewalk where the ants had landed. There was one ant trudging back up onto the sidewalk carrying her/his treasure. As Wahru said, "Nothing's gonna stop that ant!"
I thought of this story later tonight when I read an email from Sulaima, the wife of still-imprisoned Muslim cleric Rabih Haddad, with the subject heading, "It really hurts." May we be like that worker ant and just keep on keepin' on no matter where we're flung.
Once back at the dorm, I got a quick lunch. Then Kiwa from Security helped put Ona my scooter in the car. By 1:30 PM Central Time, I was on the road heading north. That five hour drive felt pretty long but with the help of my air conditioner--hot, hot day!--and my CDs, I made it home in one piece by 7:30 PM Eastern Time. It was hard to miss the always-hilarious Comedy Stage, but if I'd stayed it would have been more like 10 PM before I'd gotten home. As the chorus to my song says,
Body, body, do what you can.
Body, body, I'll try to understand.

© 2002 Patricia Lay-Dorsey. Please use with attribution.
---
return to Music Festivals
go to Windchime Walker's current journal
Windchime Walker's home page